Kaepernick's Value In Question After Disaster Game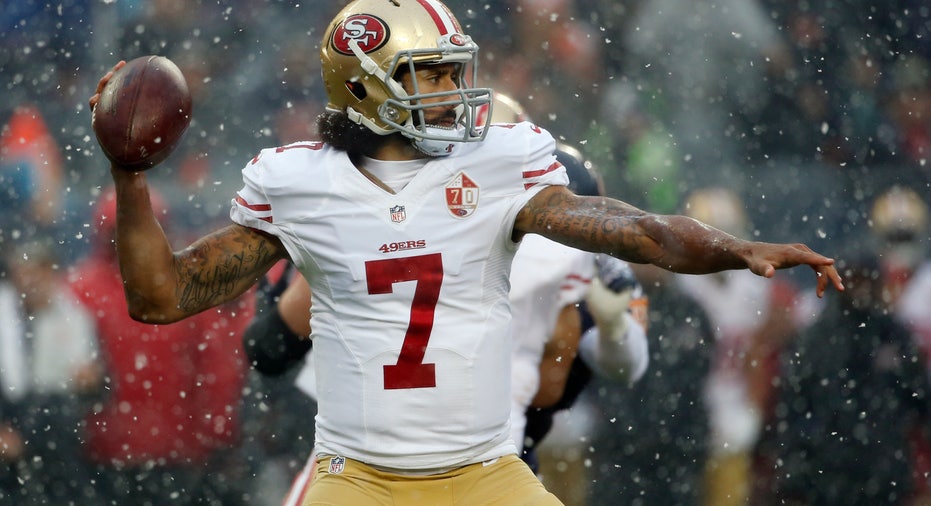 San Francisco 49ers quarterback Colin Kaepernick's historically-lackluster performance during a 26-6 loss to the Chicago Bears on Sunday renewed doubts about his ability to land a new long-term contract this offseason.
Kaepernick was benched in the fourth quarter after completing just 1-of-5 passes for four yards and no touchdowns. The 29-year-old signal-caller was also sacked five times for a loss of 25 total yards, which left the 49ers with minus-21 net passing yards when he exited the game.
The 49ers-Bears contest marked the first game in 28 years where neither team completed a pass in the first quarter. Kaepernick had averaged more than 275 yards and more than 50 yards rushing per game in his last four contests prior to Sunday's debacle.
The game was a major setback for Kaepernick, who restructured his six-year, $126 million contract to drastically reduce his guaranteed money in exchange for the right to opt out of the deal and test the free agent market. Prior to Sunday's game, the NFL Network's Ian Rapoport reported that Kaepernick is indeed planning to waive the remainder of his deal to pursue a new contract, whether with the 49ers or another franchise.
For risk-averse franchises, Kaepernick's on-field struggles are compounded by his divisive behavior outside the gridiron.
A polarizing figure, Kaepernick has drawn widespread criticism this season for refusing to stand during the playing of the National Anthem in protest of perceived social and racial injustice. In November, Kaepernick was involved in a testy exchange with a Miami Herald columnist after wearing a T-shirt emblazoned with an image of deceased Cuban leader Fidel Castro to a press conference.