Kaepernick's former 49ers teammate resumes anthem protest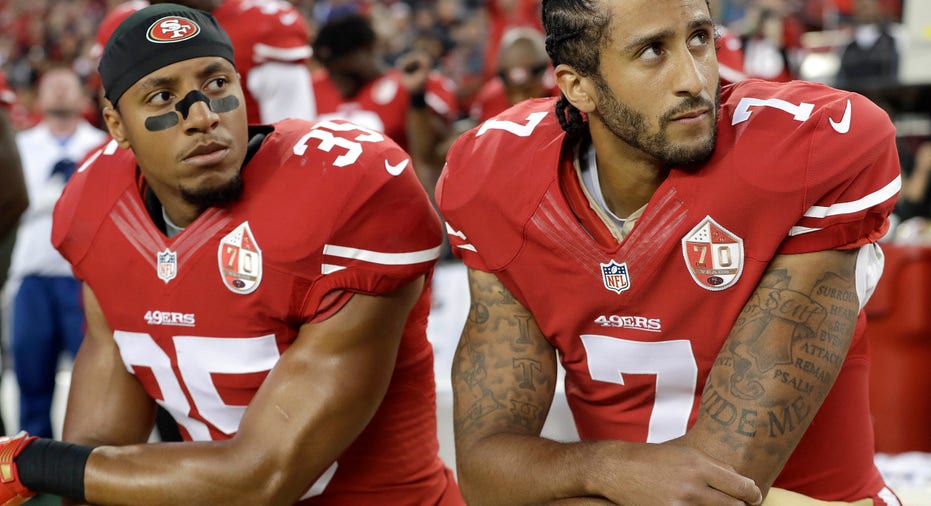 San Francisco 49ers safety Eric Reid has resumed kneeling for the national anthem before games, one year after he joined former teammate Colin Kaepernick in the protest that sparked a nationwide debate last season.
Reid knelt for "The Star-Spangled Banner" on Sunday night before the 49ers played at Minnesota in an exhibition game. Reed stood for the anthem during the team's first two preseason games. He initially said he had stopped because of frustration last year about the way his protest over human rights was portrayed and perceived by some of the public.
The change of heart, Reid said after the 32-31 victory by the Vikings , came after a white nationalist rally in Charlottesville, Virginia, on Aug. 12 resulted in the death of one counter-protester and injuries to many more.
"We've got to keep talking about the issues that are happening in this country," Reid said. "That's the only way things will change, if we keep shedding light on these topics. Our plan is to continue to do that."
Reid's renewed protest came days after several civil rights groups held a rally to support Kaepernick outside NFL headquarters in New York. The NAACP has requested a meeting with NFL Commissioner Roger Goodell to discuss the situation, including why Kaepernick remains a free agent amid allegations that NFL teams are blackballing him over his social activism.
Wide receiver Marquise Goodwin was among the 49ers teammates who put a hand on Reid's shoulder during the anthem.
"It's no secret. All the things that are going on in America, especially being African-American, it's just hard," Goodwin said. "When you have somebody who chooses to take a knee, that's just his right. So as a friend, as a brother, as a teammate, I wouldn't want him to go through anything like that alone. So I had to go support him and let him and everybody else know that I do support him."
Reid said he appreciated the solidarity. Coach Kyle Shanahan said he had no problem with the demonstration. The strong safety said he thinks he'll kneel all season, the goal being "change."
"Accountability for officers that step outside the line," he said. "We want our president to be a president and not threaten to shut down the government over a wall. To change the oppression that happens in this country. It has no place in the world, let alone America.
"Our goal is to just keep talking about it. Hopefully we inspire people to do something about it through our protests. And this isn't something that's new. I've learned a lot of things throughout the past year about athletes that have talked about the same things that we're talking about. So the goal is just to create some change."
Kaepernick and Reid remain close. After a hard hit on Vikings wide receiver Adam Thielen during the game, Reid kissed his flexed biceps as Kaepernick used to do. The quarterback, who helped lead the 49ers to the Super Bowl after the 2012 season, became a free agent this spring and has not been signed by another team . Other players around the league, such as Seattle Seahawks defensive end Michael Bennett , have staged their own anthem protests this month.
The Associated Press contributed to this report.