Just Married: Best Credit Cards Deals for Newlyweds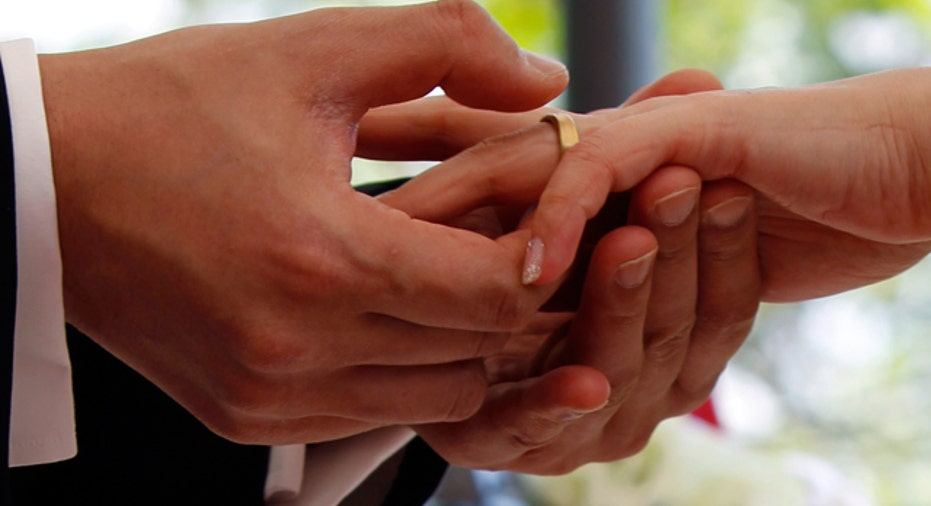 You've shaken the rice out of your shoes and you know that one set of tough decisions is behind you: where to marry, where to honeymoon, who's really the best man. Now wedding decisions give way to newlywed choices--less fun but no less important. One easy choice could save you money and better secure your future: Pick the best credit card deals for your newlywed life.
Use Credit Cards Wisely to Manage Wedding Debt
With the average wedding running close to $27,000, according to The Knot, you may find the billing statements from your old card are looking a little inflated. Transfer your balance to a lower-interest card to make paying it off easier.
Consider these options:
Discover More - 18 Month Promotional Balance Transfer: You may need some time to pay down that open-bar tab from the reception or great memories from your honeymoon. Discover offers a zero-percent APR for 18 months on balance transfers. As an added bonus, the Discover More card also has a six-month zero-percent APR on new purchases. After that, the interest rate is variable: from 11.99 to 20.99% based on your creditworthiness. Discover's card has no annual fee.
Citi Platinum Select MasterCard: Want to enjoy a long grace period on new purchases with a balance transfer perk? The Citi Platinum Select MasterCard could be the offer for you. The card offers zero percent APR on both balance transfers and new purchases for 21 months. After the introductory period, the card's rate is a variable 11.99 to 20.99%. The card also charges no annual fee.
PenFed Promise VISA Card: An appealing choice if you're eligible for the Pentagon Federal Credit Union, the PenFed Promise VISA Card features a generous introductory offer--4.99% for 36 months on balance transfers. It also has no fees--no late fees, balance transfer fees or annual fees. For new purchases, the card's rate is 7.49%, also for 36 months. The card's standard rate varies and is currently 9.99%.
Build the Basics, With Cash Back
So you got three slow-cookers but no silverware. No matter how thoughtful were your relatives and friends, you're still missing a few things from your joint household. If you anticipate a lot of purchases in the near future, take advantage of your spending spree with a cash-back program.
The American Express Blue Cash Everyday Card will earn you money back as you make purchases for your new home together:
*You'll earn 3% back at supermarkets.
*You'll get 2% back at department stores and gas stations.
*All other purchases will earn you 1% back.
The card has no annual fee. The card has a zero-percent introductory APR for six months; after that, the rate varies from 17.24 to 21.24% depending on your creditworthiness.
Kids to Come? Never too Soon for Disney
You may already be dreaming of starting a family--dreams that include road trips to the Grand Canyon, beach outings and, of course, a Disney vacation. One card brings that dream closer to reality.
The Chase Disney Rewards VISA Card offers some of the best credit card rewards for a new family (or anyone who loves Nemo). In addition to being eligible for discounts at The Disney Store and Disney theme parks, you can save Disney Dream Rewards Dollars toward many things Disney, including:
*Park passes
*Stays at Disney Resorts
*Dining at Disney restaurants
*Store merchandise
You also can design your own card with different themes and characters from Disney films (including Nemo).
The card has no annual fee and a variable APR currently at 14.24 or 16.24% depending on your credit history.
Invest in Your Future, Together
Merging finances can be one of the most challenging parts of starting a life together. But while you're discussing whose student loans to pay off first, plan for the future by investing and building your retirement nest egg. Two cards make that easier.
Fidelity Investment Rewards American Express Card: Get your nest egg growing when you make purchases on the Fidelity Investment Rewards American Express Card, which deposits 1.5% of your purchases into a Fidelity account. Spend big on your card? The contribution is 2% once you've spent $15,000 each year. The rewards benefit is unlimited, and the card has no annual fee. The variable APR is currently 13.99% with an introductory rate of zero percent on balance transfers for the first seven months.
Fidelity Retirement Rewards American Express Card: A great choice if you're looking even farther into the future, the Fidelity Retirement Rewards American Express Card is similar to the Investment Rewards card, but deposits are made to an individual retirement account, or IRA. The benefit for the retirement card is 2% of purchases. The rates and terms of the retirement card are the same as the investment card.
Compare credit cards whenever you reach a new milestone. A card for you or your spouse that fits your goals as a couple may be just the thing to get your lives together off to a strong financial start.
The original article can be found at CardRatings.com:Just married: Best credit cards deals for newlyweds