JPMorgan's $2B Blunder Raises Transparency Questions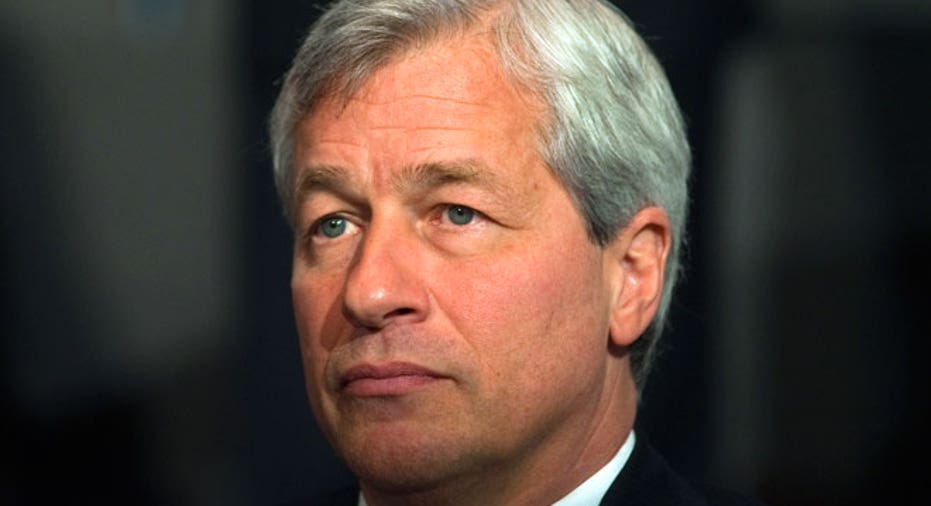 One of the things rattling Wall Street about JPMorgan Chase's (NYSE:JPM) surprise $2 billion trading loss is the lack of transparency the bank is providing about the nature of the trades that led to this embarrassing blunder.
While it makes sense on some levels, JPMorgan's reluctance to give specifics is helping to drive down its shares and that of other big banks as investors and pundits speculate about whether they could suffer similar trading stumbles.
At the same time, questions are swirling about whether JPMorgan should have been more forthcoming about the existence of the losses and massive positions, especially given CEO Jamie Dimon's very public dismissal on April 13 about concerns that emerged in the media just days earlier.
"The press turned up this issue, not the bank. That's devastating. It's basically leading to a confirmation of the view you simply cannot believe anything a banker says," Dick Bove, a banking analyst at Rochdale Securities, told FOX Business.
Specifics?! I'm Not Talking About Specifics
Late Thursday JPMorgan said it has lost more than $2 billion on positions in its synthetic derivatives portfolio, which is used as a hedging mechanism by the company's chief investment office.
While Dimon was quick to admit mistakes were made, he declined to reveal any specifics at all about what types of trades the CIO lost money on. It's believed JPMorgan's losses stem from very complex bets made in insurance-like products called credit default swaps.
Asked a reasonable question from an analyst about how difficult it would be for JPMorgan to completely exit its position, Dimon said, "I am not going to talk about specific risk positions at all."
"That sort of reticence does nothing more than continue to destabilize the market," said Charles Geisst, a finance professor at Manhattan College, who cautioned it's not clear JPMorgan had an obligation to disclose specifics. "It has a destabilizing effect because now people are starting to worry about bank positions in general. If this is the best of the banks…it doesn't say much for the rest."
Barclays (NYSE:BCS) said the lack of specifics are also causing concerns in the markets about JPMorgan itself.
"The losses announced are not the primary concern, but rather it is the opacity of the risk and the potential for losses to develop in coming quarters that may drive spread weakness," Barclays credit analyst Brian Monteleone wrote in a note.
'Cutting Your Own Throats'
Of course, there are likely legitimate reasons why JPMorgan, like many big banks, doesn't wish to detail these painful trading positions.
For one, JPMorgan has yet to unwind its position, meaning it would suffer further losses if increased pressure is put on these contracts.
"You've got guys on the other side of the market. To the extent you are telling them specifics, you are cutting your own throats," said Saul Cohen, former general counsel at Lehman Brothers in the 1980s.
Cohen, who acknowledged this strategy opens banks up to speculation, also said executives are wary of mistakenly detailing complex trades during public conference calls.
On the other hand, Peter Tchir, founder of TF Market Advisors, said forcing banks to disclose these trades might encourage them to keep their positions smaller and thus less risky.
"The lack of transparency lets them do things they might not otherwise do," said Tchir.
One analyst who follows JPMorgan, but who wasn't authorized to speak on the record, said he thought the company was "fairly forthcoming about the actual loss." However, he said questions still need to be answered about the "exact size and form" of the synthetic derivatives portfolio.
'Tempest in a Teapot?'
Chatter about JPMorgan's debt positions were brought to the forefront on April 6 when The Wall Street Journal revealed a member of the bank's CIO as the identity of a deep-pocketed trader known in the markets as "the London whale."
The story, which even caught analysts who follow JPMorgan off guard, said the trader's positions were so enormous that they were rattling the market.
Sources told the paper Dimon is regularly briefed on the group's activities and that the positions were likely to be profitable in any market downturn.
According to The New York Times, JPMorgan didn't inform the Federal Reserve or U.K. officials about its trading activities until media reports surfaced in April, presumably alluding to the Journal story.
However, during JPMorgan's earnings call on April 13, Dimon dismissed concerns about the CIO's trading moves as an exaggeration, describing them as a "complete tempest in a teapot."
The Securities and Exchange Commission is looking into JPMorgan's accounting practices and public disclosures about the trades.
According to SEC fair disclosure rules, companies must publicly disclose events deemed to be material.
It's not clear if these concerns were behind JPMorgan's decision to announce the losses this week.
Timing Questioned
Geisst said it's not uncommon for banks to be reluctant to disclose these types of losses.
"They realize the market can turn quickly and bail them out," said Geisst. "If there's no loss tomorrow what are you bothering me today for?"
During Thursday's conference call, Dimon was pressed by analysts about the timing of the disclosure, especially when the bank was able to absorb a $2.5 billion litigation hit in the first quarter.
Dimon cited the duration of the losses and potential for them to worsen, the inaccurate guidance given during the earnings call and an effort to keep analysts informed.
"It is a little odd to me that they directly denied it during first quarter conference call. They must have known that something was happening even if the whole magnitude hadn't become clear to them," said Erin Davis, a financial analyst at Morningstar.
Citing the complexity of the derivatives portfolio banks control, Cohen disagreed with the timing criticisms.
"I don't think disclosure is an issue," said Cohen. "Without knowing absolute details but knowing the way Dimon runs companies, I thought they got it out relatively quickly."
Whether or not regulators ultimately find cause for concern with JPMorgan's disclosure practices, it's clear the markets are concerned about the bank's risk management. Shares of JPMorgan tumbled about 9% on Friday.
"What is perceived to be the best managed bank in the United States just made a massive mistake," said Bove.