JPMorgan Disappoints in Third Quarter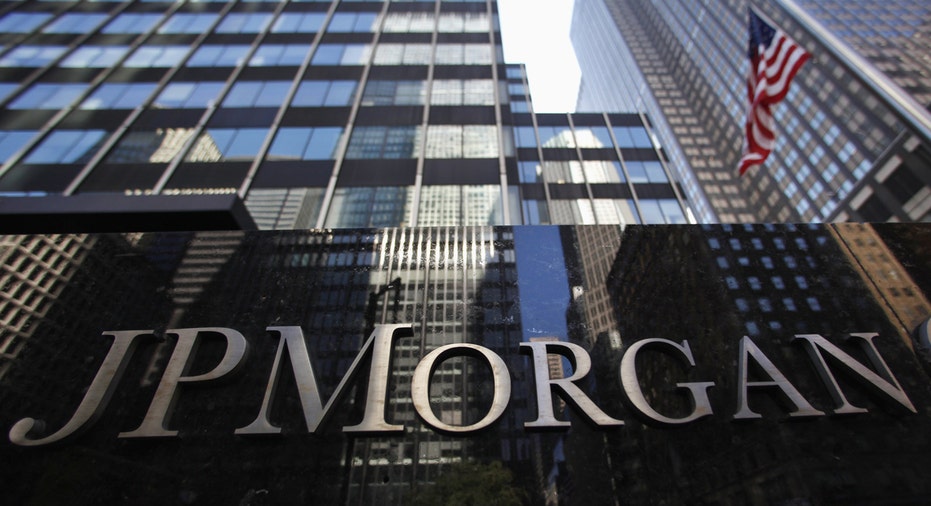 J.P. Morgan Chase & Co. said its third-quarter revenue declined as the bank wrestled with volatile markets and continued low interest rates.
Shares dropped 0.6% to $61.16 after hours.
The largest U.S. bank by assets reported a profit of $6.8 billion, or $1.68 a share. That compares with a profit of $5.57 billion, or $1.35 a share, in the same period of 2014. Excluding $2.2 billion of tax benefits and other one-time items, earnings were $1.32 a share.
Analysts polled by Thomson Reuters had expected earnings of $1.37 a share.
Revenue fell 6.4% to $23.54 billion. Analysts had expected $23.69 billion.
Trading revenue decreased 15% to $4.34 billion from $5.07 billion in the third quarter of 2014. Chief Executive James Dimon said at an investor conference in September that trading results would be "similar" to other banks, following comments from Bank of America Corp. and Citigroup Inc. executives that revenue at their units trading equities, bonds, currencies and commodities were expected to fall about 5% in the third quarter.
Costs decreased 3% to $15.37 billion from $15.8 billion in the third quarter of last year. Banks have been under continued pressure to keep costs in check as interest rates have remained low, which limits the profit margins in lending businesses.
Overall, the bank's legal tab totaled $1.3 billion in the third quarter, higher than the $1.06 billion it reported in the same period a year ago and the $291 million it recorded in the second quarter. The Wall Street Journal reported over the summer that J.P. Morgan is expected to settle in coming weeks with the Securities and Exchange Commission and Commodity Futures Trading Commission for more than $150 million regarding whether the bank steered some clients into its own investment products without proper disclosures.
Return on equity, a measure of the J.P. Morgan's profitability, was 12% in the third quarter compared with 10% a year earlier. J.P. Morgan faced some questions from analysts and investors earlier this year over whether it might be better for shareholders if the global bank broke itself up into smaller, more manageable units.
The bank continued to cut its workforce last quarter, shedding 1,781 people to 235,678. That includes reductions across its consumer & community banking and corporate divisions. In May, The Wall Street Journal reported the bank began to eliminate more than 5,000 jobs as it looks to save on expenses.
J.P. Morgan kicks off the third-quarter earnings season for large U.S. banks, offering investors and analysts a snapshot of a quarter that is expected to be characterized by a decline in bond trading amid summer market swings and continued pressure on revenue.
Shares in J.P. Morgan hit an all-time record of $70.61 in July but have fallen 13% since then. For the year, they are down 1.7% compared with a 5.1% decrease in the KBW index of bank stocks over the same period.
By Emily Glazer