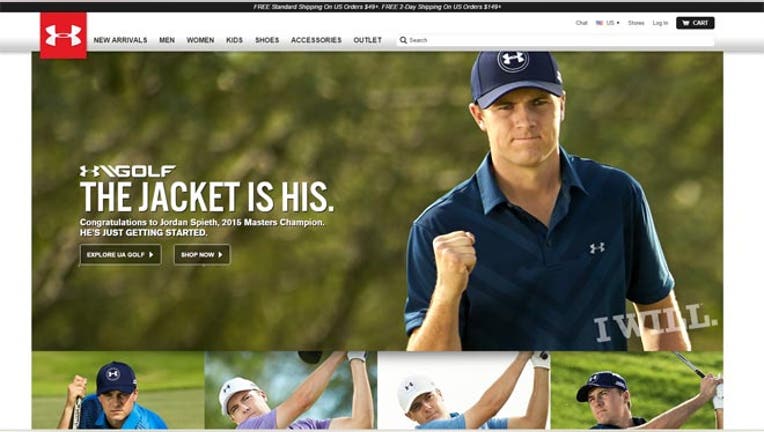 Jordan Spieth wasn't the only winner at the 2015 Masters tournament. With his record-setting victory, the rising star gave Under Armour (NYSE:UA) a major boost over rival sports apparel brands including Nike (NYSE:NKE).
Spieth, just 21-years old, turned pro in December 2012 and went on to beat Phil Mickelson and Justin Rose by four strokes to cap a miraculous run Sunday at Augusta National. He led the field from day one, becoming the fifth wire-to-wire champion in Masters history.
It was Spieth's first major championship of his young career, and it cements his place among the best golfers in the world.
After taking the green jacket, Spieth is now the highest-ranked American golfer. The Dallas native moved to the No. 2 spot in the official World Golf Rankings, trailing just Rory McIlroy of Northern Ireland.
Under Armour is celebrating the win. The Baltimore-based sports apparel maker signed Spieth to a new 10-year endorsement deal in January. When Spieth signed his original deal with Under Armour in 2013, he was the company's first head-to-toe endorser in golf.
Under the arrangement, Spieth wears Under Armour hats, shirts, pants and shoes when he's on the golf course.
And if you catch the Masters champion on late-night television, don't be surprised to see Under Armour's logo.
"If you look at how much ad-equivalency screen time Under Armour got, it's probably unprecedented in the history of the Masters," said Kevin Adler, the president and founder of Chicago-based Engage Marketing. "It was a hole-in-one for Under Armour on a number of levels."
Sam Poser, an analyst at Sterne Agee, said Spieth will be a boon to Under Armour's brand. The company doesn't make golf equipment, but Under Armour is in the midst of rolling out a new line of golf shoes as it doubles down on golf apparel and accessories.
Investors are buying into the excitement, sending Under Armour shares to an all-time high of $85.94 Monday pushing the year-to-date gains to 23 percent. Nike, the industry leader, has gained 4 percent over the same period.
"Even if you didn't know anything about Under Armour or golf, if you read the paper or watched TV, you now know who Jordan Spieth is. I assume he'll be on [CBS's Late Show with David] Letterman, and he'll probably be wearing an Under Armour T-shirt. This isn't really about golf, it's about the brand," Poser explained.
The endorsement of a Masters champion "gives Under Armour broader appeal," Poser continued. "I think that all of a sudden, if you didn't think of Under Armour as a golf brand, it certainly makes you think that way."
Spieth's green jacket comes at the right time for Under Armour, which replaced German rival Adidas as the second biggest sports apparel brand in America last year.
The fast-growing brand now has a potential star in the making.
Spieth's ascent to a Masters championship is reminiscent of Tiger Woods, a longtime Nike partner. Woods won his first Masters at the same age, 21, in 1997, although he was five months younger than Spieth.
Spieth also tied Woods' mark for the best Masters performance at 18-under 270.
Yes, it's far too early to label Spieth as the next Woods, who currently holds the second-most Major championships behind Jack Nicklaus. But Spieth—along with McIlroy—is undoubtedly helping the sport user in a new era.
For Under Armour, having an up-and-coming golfer in its ranks can provide a significant advantage as it battles the likes of Nike and Adidas, especially in the U.S.
"Spieth associates Under Armour not only with winning performance in golf, but the next generation of great golfers. His age is really a positive for Under Armour," Adler said. "Tiger, one could argue, is on the back nine of his career. Spieth is on the front nine."
The PGA of America should find ways to leverage Spieth as an ambassador for the sport who can get more young Americans interested in golf, Adler added.
The golf industry has been dealing with waning participation in the sport, a trend that has hurt apparel makers and retailers. Last summer, Dick's Sporting Goods (NYSE:DKS) fired the majority of its golf instructors amid slow golf sales.
According to the PGA of America, golf courses nationwide saw a slight improvement in 2014. Golf rounds played per days open rose 0.6% compared to the prior year. Revenue from golf fees and merchandise grew 1.5% and 2.4%, respectively. However, golf courses were open for the fewest days in nine years.
Spieth, who earned $1.8 million in prize money at the Masters, may offer star power that transcends the sport. Just as Woods put Nike at the forefront, Under Armour is hoping Spieth can develop the same type of recognition.
"You've got one of the fastest-growing brands out there that now has the No. 1 U.S. player and No. 2 player in the world. It's certainly very good for the brand, the same way Tiger went beyond golf," Poser said.
The Spieth story certainly has a long way to go before reaching the meteoric rise of Woods, who was "well on his way to being a major brand" before winning his first major championship, Adler noted.
"Spieth is a phenom, but he's not quite a brand just yet," he said.