Jordan Spieth, Stephen Curry Drive Under Armour Sales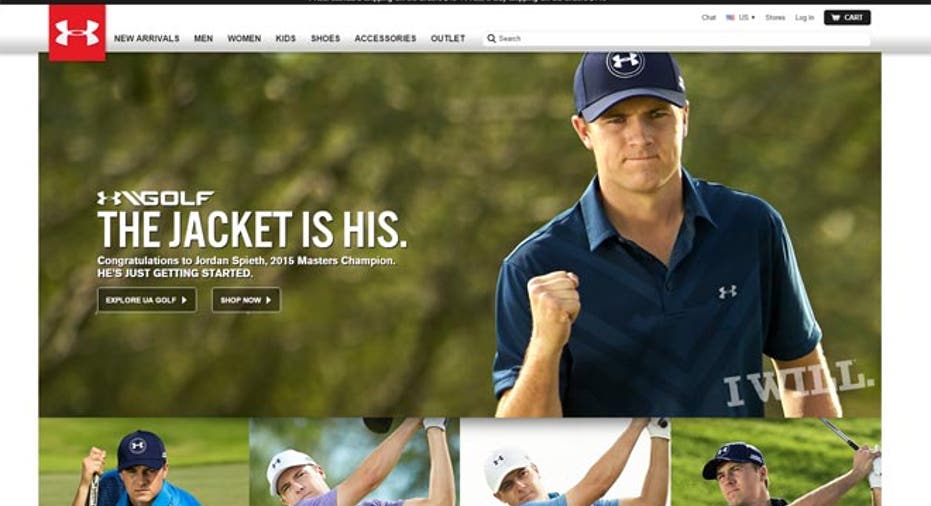 Endorsement deals with top athletes continue to drive sales growth at Under Armour (NYSE:UA), though currency impacts put a damper on first-quarter profit.
Under Armour leapfrogged Adidas last year to become the second-largest sports apparel brand in the U.S. Nike (NYSE:NKE) remains the industry leader by a significant margin, but Under Armour scored a big victory when Jordan Spieth won the 2015 Masters Tournament.
The Baltimore-based company has quickly gained ground as it brings more athletes into the fold. Spieth, NFL star Tom Brady, NBA All-Star Stephen Curry and Olympic skier Lindsey Vonn all have sponsorship agreements with Under Armour.
In the latest period, Under Armour posted its 20th consecutive quarter of at least 20% revenue growth.  Apparel sales jumped 21% to $555 million, and footwear sales were up 41% at $161 million.
Total revenue for the first quarter hit $804.9 million, a 25% increase year-over-year. Under Armour got a big boost from international revenue, which grew 74%.
Despite strong sales, Under Armour said Tuesday its first-quarter earnings slipped 13% amid currency volatility, which is putting pressure on many U.S. companies with footprints overseas.
The company booked a profit of $11.7 million compared to $13.5 million. On a per-share basis, earnings fell a penny to five cents.
Under Armour shares retreated 5% to $83.41 in recent trading. Through Monday, the stock was up 29% since the start of the year, easily outpacing the broader S&P 500.
During a conference call with analysts Tuesday, Chairman and CEO Kevin Plank touted the recent accomplishments of Under Armour athletes.
"We're just getting started," he said.
Spieth's record-setting win at the Masters provided great visibility for the brand and its golf apparel, Plank added.
The Masters championship came at an opportune time for the company. Under Armour is adding golf shoes to its portfolio, and according to its website, Under Armour's limited-edition Drive One golf shoes are sold out after launching early this month. Spieth wore the same shoes during the Masters.
As for basketball gear, Plank said there's already a high level of anticipation for its Curry Two sneakers. Under Armour reported "tremendous demand" for Curry One basketball shoes, which launched at the start of the first quarter.
Curry, a point guard on the Golden State Warriors, is widely expected to be one of the finalists for MVP this season.
Plank also provided an update on Under Armour's efforts to build an online community of athletes and fitness enthusiasts. The apparel maker added 10 million unique registered users to its Connected Fitness platform since February, when Under Armour agreed to buy mobile apps Endomondo and MyFitnessPal. Connected Fitness now has 130 million total users.