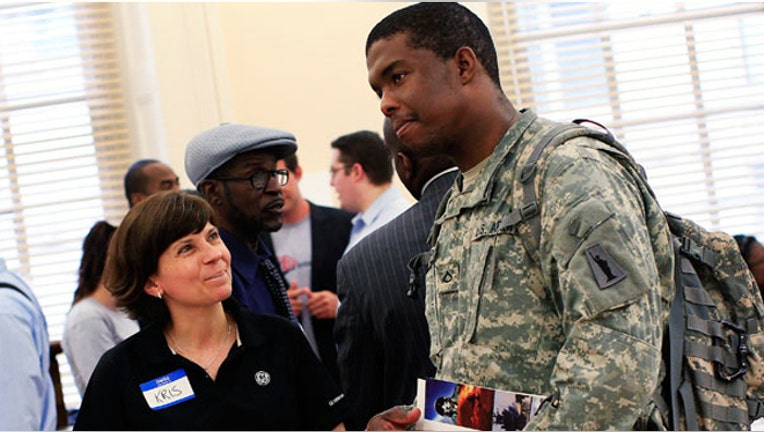 As one million servicemen and women begin to return home from more than a decade of overseas combat, the Obama Administration is continuing its push to find them jobs.
At a press conference Tuesday, the White House reignited support for the Joining Forces Program, which launched in 2011, that aims to help find employment for veterans and their spouses through increased recruiting initiatives.
Alongside Vice President Joe Biden, First Lady Michelle Obama and Second Lady Jill Biden, President Obama said every business should do its part to hire veterans.
"They deserve good jobs worthy of their incredible talents. Too often just when these men and women are looking forward to moving onto the next chapter of their lives, they are stuck in neutral."
When the program began in August 2011, the president  challenged the private sector to hire or train 100,000 veterans and military spouses by the end of 2013.
Thus far, American companies have hired or trained 290,000 veterans and military spouses, Michelle Obama announced today. The post- 9/11 veterans unemployment rate has also fallen 2.2% since 2011, but there are still about 200,000 veterans in this group looking for work. In 2012, the Bureau of Labor Statistics reported there were 773,000 unemployed veterans, down from 945,000 in 2011.
At the press conference, the vice president mentioned a simple act of kindness his own family experienced while his son was deployed: A neighbor shoveled his daughter-in-law's driveway to lend a hand. "We have a lot more driveways to shovel," he said.
Dr. Jill Biden said on average, American military spouses and families relocate 10 times more in their lifetime than the civilian families. "They never complain, whatever the situation they keep on serving, they do whatever needs to be done," she said.
Companies, including Wal-Mart (NYSE:WMT), UPS (NYSE:UPS), Home Depot (NYSE:HD), the Blackstone Group, Target (NYSE:TGT), AT&T (NYSE:T) and McDonalds (NYSE:MCD) have committed to hire or train an additional 435,000 vets and their spouses in the next five years.