Johnny Manziel's Next Move: Charging Fans For Selfies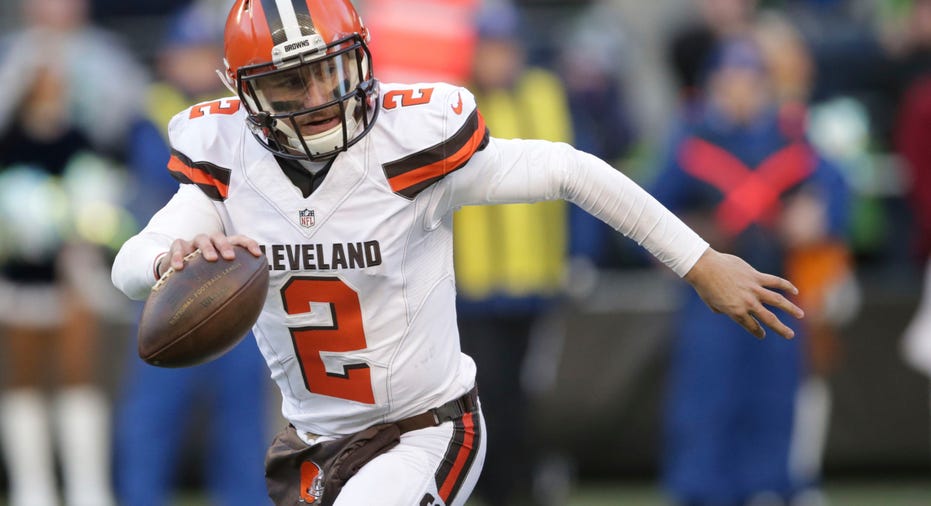 Johnny Manziel, the troubled NFL quarterback, is now charging fans for selfies.
Manziel, a 2012 Heisman Trophy winner who fell from grace because of his off-field antics, will host two autograph signings at "Stadium Signatures" memorabilia stores in Texas in the week leading up to Super Bowl XLI in Houston. The first signing is set to occur Feb. 2 at Katy Mills Mall and the second event is set for Feb. 3 at Woodlands Mall.
For $99, "Johnny Football" will sign any item or pose for a professional photo, according to the memorabilia store's Facebook page. Selfies cost $50 each, and Manziel will add a written inscription of four words or less for an additional $29.
It's unclear if Manziel will receive an appearance fee. A Stadium Signatures employee confirmed the Manziel signing, but management did not immediately respond to FOXBusiness.com's request for comment. ESPN was first to report the event.
Manziel has been a tabloid fixture since the Cleveland Browns cut him last March amid allegations of substance abuse and domestic violence. The autograph signing will mark Manziel's first official promotional appearance since his release.
After his release, Manziel lost more than $2 million due to contract stipulations that allowed the Browns to void his remaining guaranteed money in the event of misconduct, Pro Football Talk reported last July.
A star at Texas A&M University and first-round pick in the 2014 NFL Draft, Manziel saw his career derailed by a series of off-field incidents and poor play. Authorities in Dallas, Texas charged Manziel with misdemeanor domestic violence after a February altercation with his then-girlfriend, Colleen Crowley. The charges were later dropped on the condition that Manziel seek treatment.
Manziel, who hasn't played in the NFL since 2015, was suspended for the first four games of the 2016 season for violating the NFL's substance abuse policy. It's unclear if he will face an additional suspension in the future for the domestic violence case. Manziel is currently a free agent.