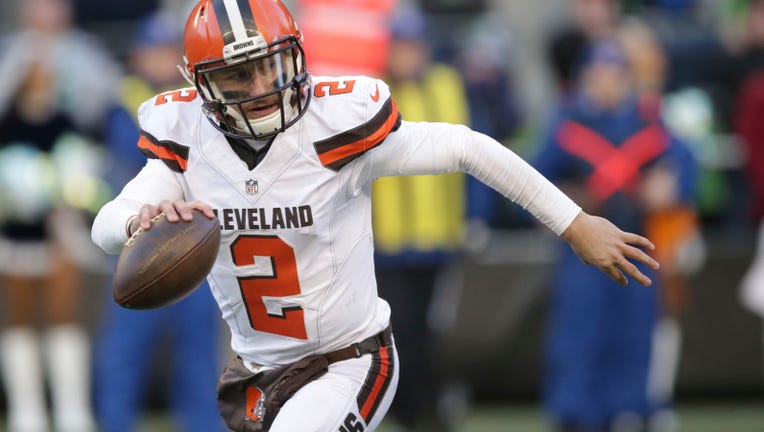 Former NFL quarterback Johnny Manziel is determined to restart his stalled football career in Canada, according to a report Thursday.
Manziel is having ongoing discussions about a potential contract with the Hamilton Tiger-Cats of the Canadian Football League, ESPN reported. The CFL franchise recently put Manziel through multiple workouts earlier this month to gauge the possibility of signing him.
"This is something [Manziel] very much wants," an unnamed source told ESPN.
Kent Austin, the Tiger-Cats' vice president of football operations, downplayed the possibility of signing Manziel, telling EPSN that a contract offer is "not imminent."
Canadian sports outlet TSN reported earlier this week that Manziel went through "a series of physical and medical tests," but the Tiger-Cats opted not to sign him because of "too many red flags." Team officials reportedly expressed concern about Manziel's physical conditioning and dedication to football, as well as his ability to manage the public spotlight.
A former Heisman Trophy winner and first-round draft pick, Manziel last played in the NFL in 2015 after a series of high-profile incidents off the field. After two years of inconsistent play, the Cleveland Browns released Manziel shortly after he was involved in a domestic altercation with his ex-girlfriend. Manziel was also suspended for the first four games of the 2016 season after violating the NFL's substance abuse policy.
Manziel has repeatedly expressed interest about a return to football. The former Texas A&M Aggie told "Outkick the Coverage" founder Clay Travis earlier this month that he would like to transition into coaching if he is unable to secure another position on a professional roster.
"I'd do something involved with sports. I can't get away from it," Manziel said. "I've had to ask myself that a little bit as of late over the past year, but at the same time I'd want to be involved in some way, whether it's coaching, whether it's doing something like that. So I think that'd be my route."