Job-Hunting Tips for Unemployed Grads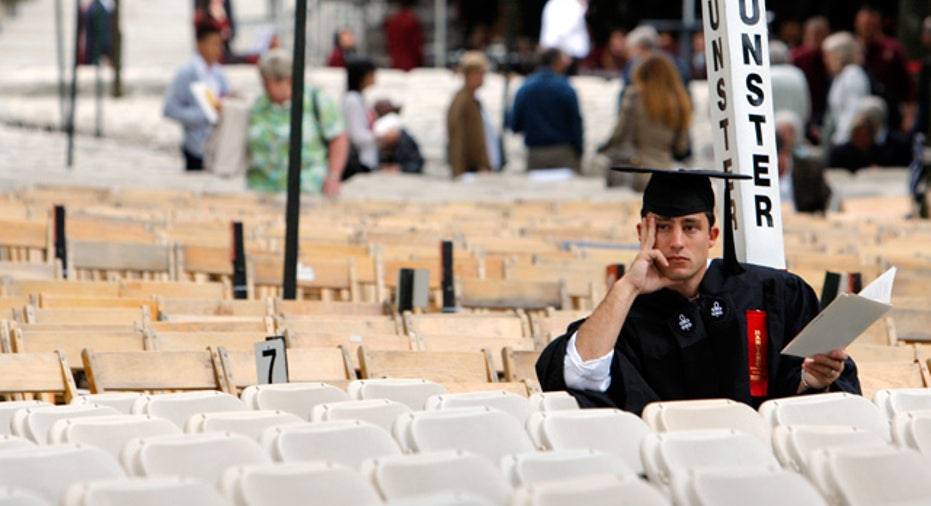 Growing up is tough enough without the worries of your financial future, so Money101  is here for you. E-mail us your questions and let us take off some of the pressure.
The unemployment rate might have dropped to 8.6% last month, but recent college grads are still having a hard time landing full-time employment.
Whether they graduated this past summer or in the past few years, grads need to develop a strategy to get their foot in the door in the recovering job market.
According a recent survey from the Career Advisory Board, 56 % of job seekers are confident they know what qualifications are required for employment. But over the past three years, only 14% of hiring managers reported that "most" or "nearly all" job candidates have had the skills their company looks for in a potential employee.
Preparation for the job-searching process is key to finding gainful employment, but navigating the market can be difficult for new grads—especially one as anemic as this one. Here are eight quick tips from experts on taking the necessary steps to land a position.
How often to apply
The experts recommend that candidates target seven to 10 companies they're interested in and once they've researched them thoroughly (company history, recent projects, job descriptions, etc.), they should be on the job hunt on a daily basis.
"Dedicate at least an hour or two each day to your job search and set goals for yourself, such as researching two new companies, applying for one job and have a friend or parent run a mock interview with you," says Christine Gaiser, career services director at Bryant & Stratton College Online.
Tap into online job tools
Fresh-out-of-college job seekers should cast a wide net by customizing their search with specific positions and criteria using algorithmic job search sites like SimplyHired.com and Indeed.com that send a daily email with the latest postings, says Cynthia Shapiro, career strategist and author of What Does Somebody Have To Do To Get A Job Around Here?
"If you really set up a good search for yourself, you can spend an hour on a Saturday morning and catch everything that comes up that week," she says.
The professional side of social media
While Twitter might not be thought of as a tool to help in a job search, many employers are now using job-hunting apps and social media outlets to seek out candidates.
"WorkDigital's Real-Time Jobs app lets you search the 50 million tweets per day for current job openings, whether you're sitting at your laptop or working from your iPhone," says Jeff Livingston, senior vice president of McGraw-Hill Education's College and Career Center.
Candidates should clean up their profiles across the social media market to make sure they don't get passed over by hiring managers for something they posted.
Don't get stuck in the online routine
Too many grads are hiding behind computer screens and need to bring the face-to-face connection back into their search by attending industry conferences, events and informal gatherings of people in their interested field.
"Although much of the job search now takes place online, new graduates need to remember that 80% of their efforts should be offline," says Heather Huhman, founder and president of Come Recommended. "Direct contact is often the only way to get noticed when employers are inundated with resumes."
Big misconception: holiday hiring slumps
Shapiro says that job seekers of all ages, not just grads, believe that companies aren't hiring this time of year—but she warns that if student wait until January to start their search, a large percentage of the jobs could be gone.
"The holiday season is the second largest hiring season of the year because companies get their budgets for 2012 in mid-November—they already know what they're going to hire," she says.
Landing the interview: 3 top things
Getting through the application process and securing an interview with a potential employer is only half the battle.
To show confidence and their qualifications for a position, recent grads should ask the interviewer for the top three things he or she is looking for in a candidate  during the interview, suggests Melissa Wilson, (http://www.networldingblog.com/ ) social media coach and author of Graduate To LinkedIn: Jumpstart Your Career Network NOW.
"If you ask that at the beginning of the interview, you'll be able to tailor your comments when they say what experiences have you had before in this area--you'll be able to speak to those filters."
Be aware of your talking to listening ratio
It's easy for recent grads to get excited during the interview trying to prove their qualifications, but experts warn they be aware of how much they're talking. Interviewees shouldn't let nerves prevent them from listening and answering questions directly.
"Listen to where the interview can go, because it doesn't have to be a standard process," says Wade Jones, co-founder of TruuYuu. "If you're listening to what they're saying, you'll ask better questions as well in addition to giving them the information that they desire."
Follow up
It's no secret that follow up is a must do after an interview, but timing is everything.
"If you send it in within 24 or 48 hours, they already remember you. If they've been interviewing a bunch of candidates and you send it five days later, they'll remember their interview when you may have gotten lost in the crowd," says Shapiro.