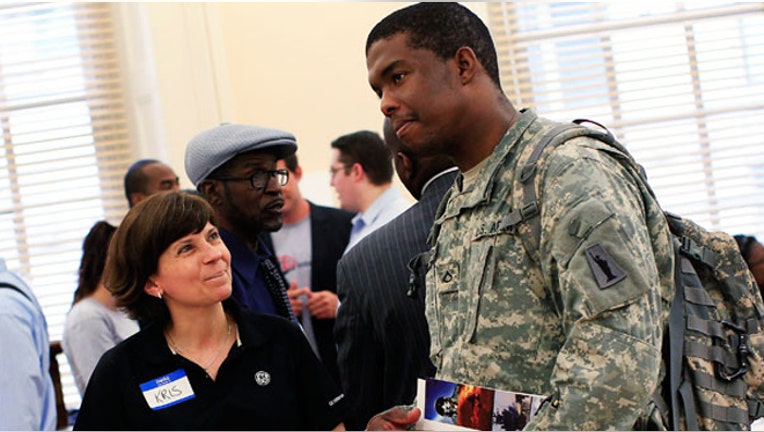 The anemic labor market has made finding employment tough for all job seekers, but new statistics show veterans who served post Sept. 11 are facing an even tougher market with unemployment for that group hitting 11.7% in January, compared to the national unemployment rate of 7.9%.
What's more, the unemployment rate for post Sept. 11 women veterans is at 17.1%, compared to 10.5% for men in this group, according to the Bureau of Labor Statistics.
Roy Cohen, career coach and author of The Wall Street Professionals Survival Guide, says veterans need to convey that the extraordinary skills they gained during their service are applicable to civilian careers.
Here are Cohen's tips for vets searching for work in today's market:
No. 1: Align skills, interests with an organization's needs. Cohen says many vets have a vast array of skills including leadership, structure, organization, project management and diplomacy and that they should target companies that would be receptive to these skills and begin your application process.
"Where ever there is a focus on operational efficiency and deadlines, and the ability to mobilize a team, a military background is exceptional," he says.
No. 2: Translate your background into the company's language. Veterans must describe their skill set in terms a hiring manager can see will help their company. He suggests veterans start with one or two jobs that speak to their interests and skills, research the company's offerings and their language and use it on a resume.
"Describe your core areas of experience," he says. "This way you can show your audience that everything you have done matches perfectly with what they are looking for. It's translating that military language for organization you want to work for."
No. 3: Learn to network. Veterans may not be used to networking, especially in terms of finding a career, Cohen says. He suggest starting with LinkedIn and to try to cultivate relationships at companies they wish to work for .
"If you have a real interest in security management, for example, go to LinkedIn and find people who work in companies as security managers and network," he says. "Also look for companies, like Goldman Sachs, who have made commitments to hiring vets."