Jimmy Carter: Affordable Housing Needs to Be Higher On America's Conscience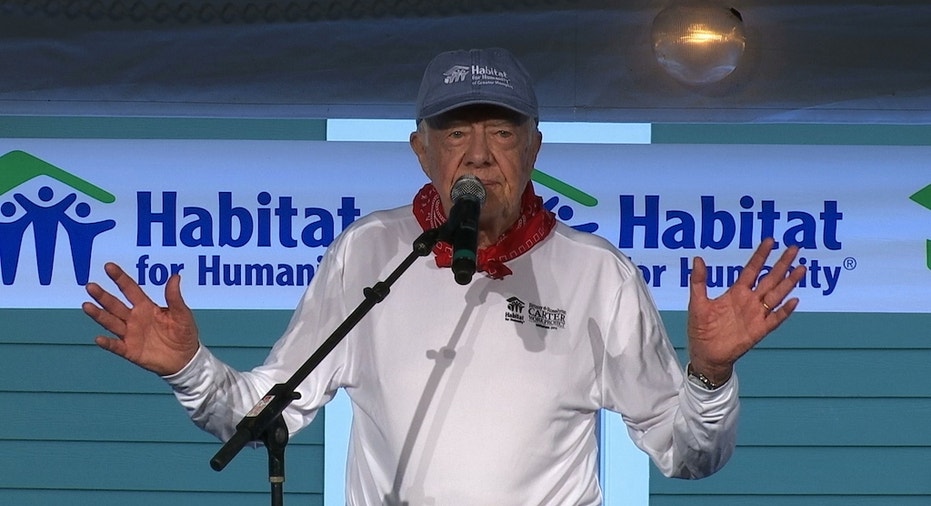 For the last 30 years, President Jimmy Carter and former First Lady Rosalynn Carter have partnered with Habitat for Humanity for the Jimmy & Rosalynn Carter Work Project.
This week,the Carters travelled to Memphis, Tenn, along with country music stars Garth Brooks and Trisha Yearwood, to build 19 new homes for low-income residents for their 33rd work project.
Carter is still involved in the construction process, working side by side with volunteers on beautification projects and fixing up homes in need. Jonathan Reckford, the CEO of Habitat for Humanity International, said no doubt the Carters have put Habitat on the map.
The former Democratic president tells FOXBusiness.com that one year after his cancer diagnosis, while he doesn't have as much strength as he used to, he can still do all of the jobs he did last year, the year before and 30 years ago when the project first started. He considers himself "very lucky."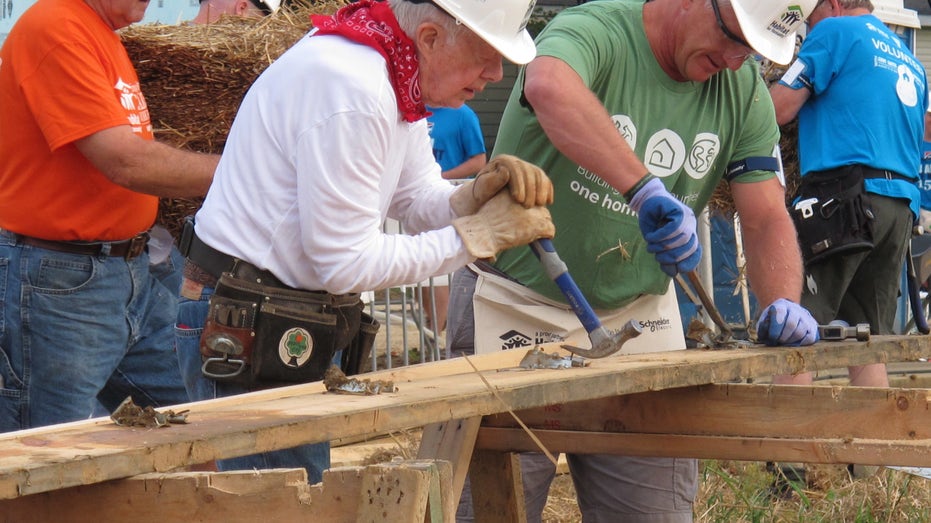 The project's goal is to raise awareness for affordable and decent housing.
According Reckford, the non-profit is now the largest private homebuilder in the U.S. and says "over 95% of the families we touch are outside of the U.S."
In a 2016 report, the Joint Center for Housing Studies at Harvard University found that households earning under $25,000 annually made up 45% of the net growth in U.S. households from 2005 to 2015, showing that the need for affordable housing is growing.
"There's nowhere in the U.S. where an individual on a minimum wage can afford a one bedroom apartment" Reckford said.
Habitat focuses on building quality homes that are energy efficient allowing for a lower cost of ownership for the family. In addition to the Carter Work Project, Habitat has partnered with other large corporations like Home Depot (NYSE:HD) for home refurbishing projects. Globally, Habitat has teamed up with the likes of Nissan and Dow Chemical (NYSE:DOW.WD).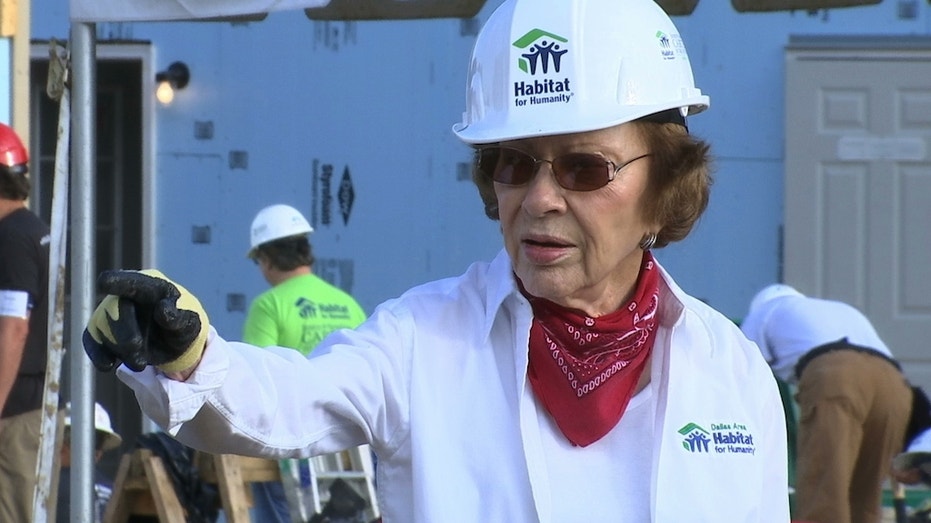 Both Habitat and Carter agree there has been no progress in improving affordable housing in the U.S.
"It's gone backwards. The federal government realizes now that we have a greater need for affordable housing than ever partially because there's such a growing disparity in income" Carter said.
Carter also said this same disparity has shown up in the justice system.
"The Justice Department, affordable housing  and job capabilities have all gone downhill in the last 35 years" he said, pointing out the spike in the number of incarcerated individuals.
When asked about the election, Carter said if anyone has discussed affordable housing on the campaign trail, he hasn't heard it.
"The issue is not as high on America's conscious as it ought to be" he said.
When pressed on which candidate would be better for affordable housing, Carter said, in his view, the Democratic Party has, on average, paid more attention to lower income people, but did not mention a specific candidate. To that point, former Secretary of State Hillary Clinton, the Democratic presidential nominee, has a briefing on her campaign site that states  she "will increase support for affordable rental housing in the areas that need it most and encourage communities to implement land use strategies that make it easier to build affordable rental housing near good jobs." Republican presidential candidate Donald Trump has not mentioned affordable housing while campaigning or written about it on his website.
Reckford added that the topic of affordable housing for low-income Americans doesn't make waves during elections because many influential folks did not grow up in affordable housing.
In light of the devastation from flooding in Louisiana, President Carter said he has no current plans to visit the region but will go if Habitat organizes an event. He notes that he's visited Louisiana five times to build houses and on his last trip built 328 homes across Louisiana, Alabama and Mississippi.
The ripple that the Carters have created goes on and on. Carter noted a man who started with the project 30 years ago and still comes back every year to build houses.