Jewelry Made From AK-47s, for the Greater Good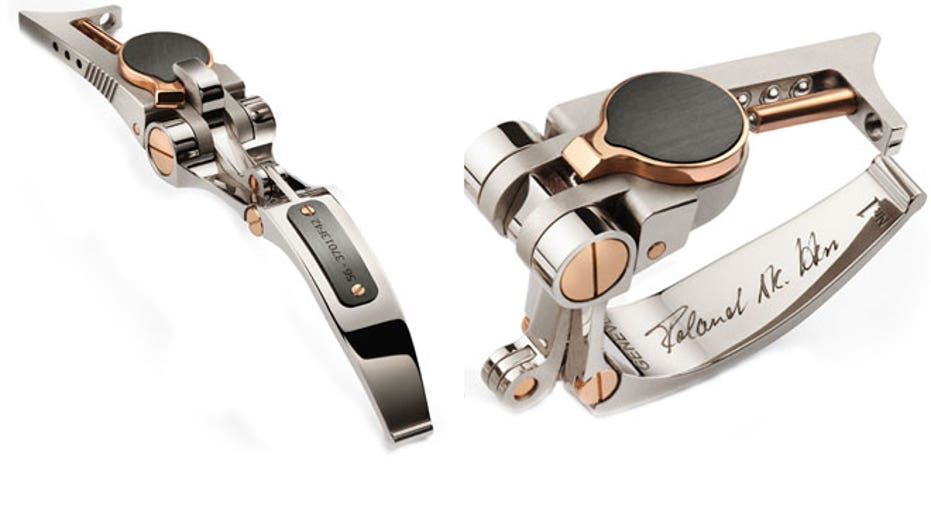 Social entrepreneurs are doing some pretty amazing things these days, with many taking unconventional and even daring steps to get the word out about their cause.
Among them is Peter Thum, CEO and co-founder of Fonderie 47. Thum's organization helps fund the removal of illegal assault rifles in Africa – in part by selling high-end, custom jewelry made from AK-47s.
Yes, you read that right: The company makes luxury rings, earrings and cufflinks from the very weapon it aims to destroy.
Thum is no stranger to philanthropic endeavors. In 2003, he co-founded Ethos Water, a bottled water company that supports clean water projects in deprived areas of the globe. Ethos was bought by Starbucks (NYSE:SBUX) in 2005 and Thum continued to manage the brand as a vice president at the coffee giant until 2008.
Thum and business partner John Zapolski, each of whom have spent significant time traveling in Africa, came up with the idea for Fonderie 47 in 2009 after seeing with their own eyes how common it is for African adolescents to be toting rifles. (In case you're wondering, the issue of how and why assault rifles are so prevalent in Africa is a complicated one, but the simple reality is that Africa's borders are weak, weapons are cheap and armed conflict is rampant; an October 2007 report by Oxfam estimates armed conflict costs the continent at least $18 billion a year.)
Thum and Zapolski got to work, forming Fonderie 47 and using private donations to support the Mines Advisory Group [MAG], a non-governmental organization that destroys weapons in conflict-ridden countries.
Though Fonderie 47 is only just putting itself on the public's radar, Thum says the company's support of MAG has already led to the destruction of more than 6,000 assault rifles. He is confident the company will continue to raise more toward the cause, through both donations and jewelry sales.
"I think that the potential for us to generate funds from the company we have founded is significant and in the millions," he says.
The jewelry Fonderie 47 offers is created by two high-profile designers – Philip Crangi in New York and Roland Iten in Geneva – and can cost anywhere from a few thousand dollars to hundreds of thousands of dollars.
One of the most intriguing aspects of the collection is that the sale of each piece is tied to a specific number of weapons destroyed. For instance, a $25,600 ring will enable the destruction of 75 assault rifles; a set of $35,000 cufflinks will lead to the destruction of 100 assault rifles.
The steel used in every piece comes from actual AK-47s seized in the Democratic Republic of Congo. Thum sees the transformation of a weapon into "wearable art" as a representation of the bad-to-good transformation that needs to happen in Africa.
"We wanted to take this incredibly prolific design that everyone recognizes… and essentially turn it against itself," he says.