Jeter's Jersey Retirement Sets Season High for MLB Ticket Sales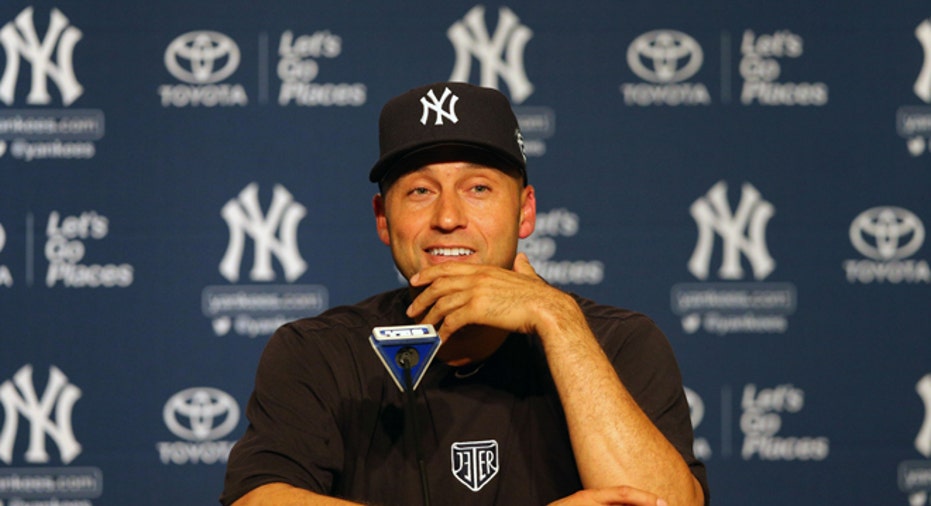 Tickets to watch the New York Yankees retire Derek Jeter's jersey number Sunday are in high demand on the secondary market, making it the best-selling game of the MLB season.
StubHub says fans have paid an average of $239 per ticket for Derek Jeter Night. The median price was $170 per seat as of Friday. The most expensive ticket sold on StubHub cost a whopping $4,160.
The cheapest tickets available for Sunday's 7:35 p.m. game between the Yankees and Houston Astros were going for $52.
"What's so incredible about this game is three years after playing his last game, Derek Jeter is still a draw for the Yankees. We've seen incredible demand," StubHub spokesperson Johnna Hoff told FOX Business.
Hoff added that the retired All-Star shortstop has drawn more than triple the total ticket sales for David Ortiz's jersey retirement ceremony in June, which is the second-best selling game this season. Fans in 10 different countries and 48 states have purchased tickets to Jeter Night, according to StubHub.
The best-selling regular-season MLB game in StubHub's history was Jeter's final home game in 2014. That game remains the second most popular game across all sports behind NBA standout Kobe Bryant's last home game with the Los Angeles Lakers.
"These milestone moments, people know they only happen once in their lifetime," Hoff said.
Jeter, a likely Hall of Famer, won five World Series titles and played in 14 All-Star games during his 20-year career in the Bronx. The New Jersey native ranks sixth in career hits (3,465) in MLB history. In Yankees history, Jeter ranks among the top 10 players in batting average (.310), home runs (260) and runs batted in (1,311).
The Yankees are one of the hottest teams to start the 2017 season. They entered Friday with a 21-11 record, just a half-game back of the Baltimore Orioles for first place in the American League East. The Astros own first place in the AL West with a 24-11 record.