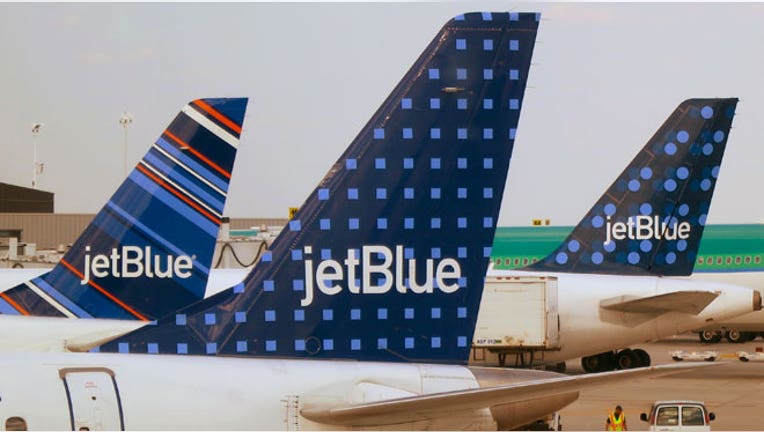 JetBlue Airways Corp. on Tuesday rolled out a new fare structure, setting a minimum $20 fee on the first checked bag for customers who book its lowest fares, leaving rival discounter Southwest Airlines Co. as the only major carrier offering free checked luggage.
JetBlue, a stylish budget carrier based in New York, had long been a holdout by allowing at least one bag to be checked free. It made the change as part of a revamp of its fare options, a plan it laid out without details in November at an investor-day event.
Customers who buy the cheapest "Blue" tickets will have to pay $20 for a first bag when booking online or at a kiosk, and $25 at the check-in counter. A second checked bag is $35, the company said. Marty St. George, executive vice president of commercial and planning, said in an interview that JetBlue hopes customers who need to check a piece of luggage will buy up to a "Blue Plus" fare, which on average is only $15 higher.
Blue Plus fares confer one free bag and the higher "Blue Flex" and first-class "Mint" fares allow two free checked bags. Exceptions will be made for flights to 10 Caribbean and Latin American destinations, where Blue and Blue Plus fares will allow one free checked bag, the company said.
Bookings made before Tuesday will still allow one free checked bag, the company said. JetBlue estimates that about half its customers don't check bags.
For a flight in mid-July from New York's John F. Kennedy International Airport to Fort Lauderdale, Fla., Mr. St. George said, a Blue fare will be $142 one way, compared with a Blue Plus ticket at $156 and a Blue Flex fare of $241. Blue Flex fares generally are $85 higher than Blue Plus fares, he said. Blue Plus and Blue Flex buyers also will receive higher online booking bonuses in JetBlue's TrueBlue frequent-flier plan.
As part of the revamp, JetBlue reduced the change fees it charges on the Blue and Blue Plus tickets. Instead of the previous tiered charges of $75, $100 and $150, depending on the price of the ticket, Blue change fees will range from $70 to $135 and Blue Plus fees from $60 to $120. Blue Flex fares won't carry any change fees.
Mr. St. George said JetBlue estimates that when the program is fully implemented, it will generate $200 million a year in additional revenue. The carrier, under a new CEO, has been trying to woo Wall Street with changes to its product that retain its passenger-pleasing reputation but generate more revenue. It is adding more seats in some coach cabins and has launched its first-class offering, Mint, on competitive routes to Los Angeles and San Francisco from New York, and coming this fall, from Boston. Mint fares range from $599 one-way to $1,299.
But the company, which routinely wins awards for its service, still has generous legroom, offers free snacks and free Internet, DirecTV and Sirius XM Radio. Two carry-on bags that go in the cabin still are free. Mr. St. George said the new website went live at 5 a.m. Tuesday morning "and we've already taken bookings in all three [fare] categories."