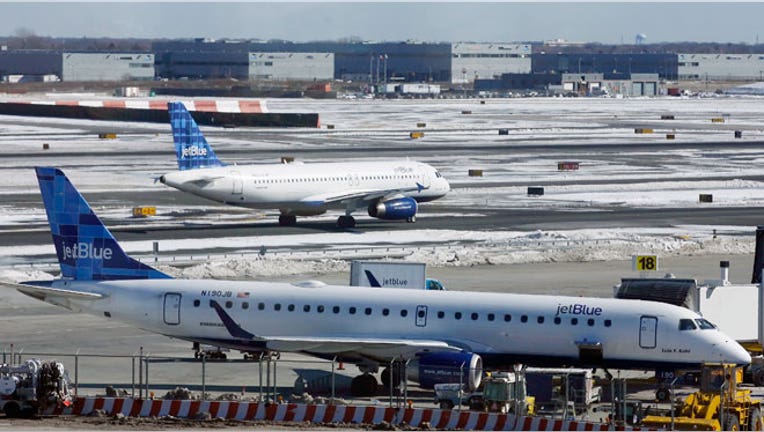 To keep with the times and meet growing demand for luxury air travel, discount airliner JetBlue (NASDAQ:JBLU) announced plans on Monday to enter the premium transcontinental market by offering first-class premium seats on flights between New York and California.
The Long Island City, NY-based carrier will feature fully customized lie-flat seats on "highly popular" transcontinental routes, debuting in the first few rows of the new Airbus A321 beginning in the second quarter along the New York to Los Angeles and San Francisco routes.
JetBlue said it will introduce the luxury feature at an "affordable price" that it hopes will "stimulate market demand." The highly-demanded New York to California routes typically cost 50% higher on an industry-wide basis than other U.S. routes.
"We expect to invigorate the market with our competitive price," JetBlue CEO Dave Barer said in a statement.
Along with the new seats, JetBlue plans to increase frequencies of flights from New York's JFK airport to San Francisco and Los Angeles International airports. SFO routes will utilize the new A321, using a dedicated sub-fleet of 11 aircraft. The A321, which competes with Boeing's (NYSE:BA) 787, will begin arriving later this year.
The seats, which will offer air cushions with adjustable firmness, a massage function a 15-inch widescreen TV and a "wake-me-for-service" indicator, will have the option to be completely closed off from the rest of the plane, with two sliding doors that provide the passenger with a suite-like experience. Rows one, three and five will offer two-by-two seating and rows two and four will offer private one-person suites.
"Our customers have requested more premium options on our transcontinental flights and we listened," Barger said.
The luxury feature was unveiled at the Global Business Travel Association's annual conference this weekend in San Diego. A computer-generated video gave a glimpse at the new interior design and how the seats and suites will operate.
The first-class overhaul comes as JetBlue refreshes the coach section with moveable headrests, added leg room, a new entertainment system displayed on a 10.1-inch widescreens and a USB power port at each seat.
Shares of JetBlue are up about 28% over the last 12 months, however, the carrier last week said its second-quarter earnings slid 31% as its margins were hurt by higher operating costs. Passenger revenue per available mile – a key growth metric for carriers – was down roughly 3.3%.
The airline has always prided itself on its discounts, diversifying itself from other low-cost carriers like Southwest (NYSE:LUV) by offering a whole suite of in-flight entertainment.
That helped it avoid plunging to a loss during the recession, though it has faced increased competition in recent years as the economy rebounds and consumers become more willing to spend money on extra services.