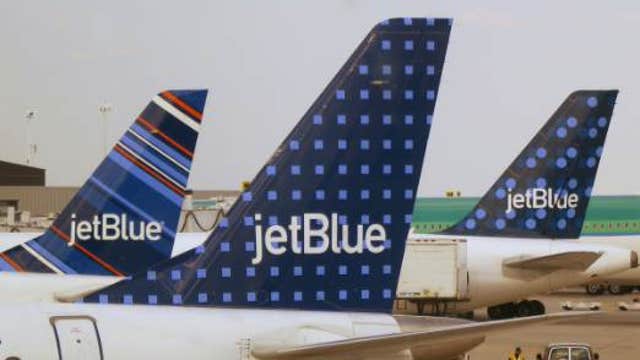 JetBlue Airways Corp (NASDAQ:JBLU) reported a better-than-expected quarterly profit as it benefitted from lower fuel prices and flew more passengers.
JetBlue, whose shares were up 4.6 percent in premarket trading, said average fuel cost per gallon fell to $2.70 in the fourth quarter ended Dec. 31 from $3.10 a year earlier.
The company's load factor rose to 82.1 percent from 80.9 percent, leading to an 8.5 percent increase in revenue passenger miles (RPM), a metric of an airline's passenger traffic.
JetBlue said it expects capacity to increase 11-13 percent in the first quarter and 7-9 percent this year.
The airline said in November that it would charge fees for low-fare customers' first checked bags, following industry practices.
JetBlue said on Thursday that it expects fuel costs, which amount to a third of an airline's total operating expenses, to be $1.97 per gallon for the first quarter.
Rival United Continental Holdings Inc last week forecast fuel costs to be $1.96-$2.01 per gallon for the quarter.
Barclays had said in December that airlines could see a fall of about $10 billion in fuel costs in 2015.
JetBlue's net profit increased to $88 million, or 26 cents per share, from $47 million, or 14 cents per share.
Total operating revenue grew 5.9 percent to $1.4 billion.
Analysts on average expected a profit of 24 cents per share on revenue of $1.45 billion, according to Thomson Reuters I/B/E/S.
New York-based JetBlue's shares had gained about 85 percent in the last 12 months to Wednesday's close of $15.77 on the Nasdaq. (Reporting by Rohit T.K. in Bangalore; Editing by Joyjeet Das)