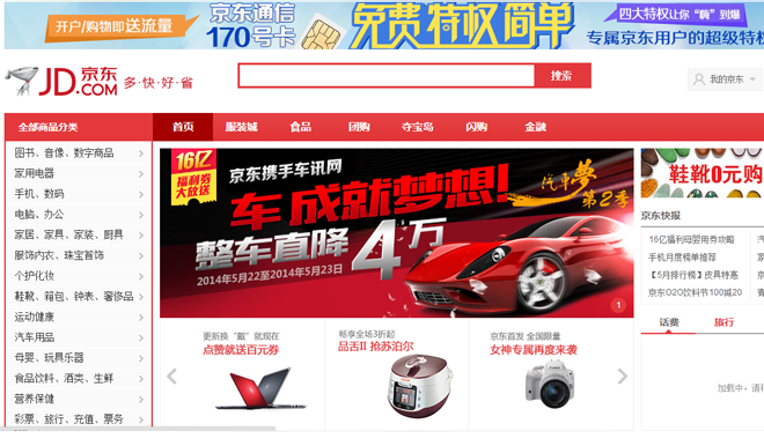 JD.com Inc, China's No.2 e-commerce company, reported a bigger quarterly net loss due to costs related to a partnership with Tencent Holdings Ltd and higher spending aimed at better competing with market leader Alibaba Group Holding Ltd.
The company's American Depositary Shares were down 2.5 percent at $29.25 in premarket trading on Friday.
JD.com, reporting quarterly results for the first time since going public in May, said its net loss widened to 582.5 million yuan ($93.9 million), or 5.86 yuan (94 cents) per ADS in the quarter ended June 30.
In the same quarter last year, the company reported a loss of 28.3 million yuan, or 0.57 yuan per ADS.
Expenses in the latest quarter jumped 66 percent to 29.4 billion yuan ($4.74 billion).
The company said the net loss was mainly due to the amortization of intangible assets and business acquisitions related its strategic partnership with Tencent.
Tencent, China's biggest mobile gaming and social media company, took a 15 percent stake in JD.com in March to better compete against Alibaba.
The increase in the loss per ADS reflected the conversion of preferred shares to ordinary shares ahead of the company's IPO.
JD.com beat market estimates on an adjusted basis, however.
The company reported an adjusted loss of 0.01 yuan, or nil cents, per ADS and a 64 percent rise in revenue to 28.61 billion yuan, or $4.6 billion.
Analysts had expected an adjusted loss of 2 cents per ADS and revenue of $4.39 billion.
The gross value of goods sold more than doubled to $10.2 billion, while fulfilled orders doubled to 163.7 million. Active customer accounts rose to 38.1 million from 19.6 million.
The company said it expected revenue in the current quarter to increase by 55-61 percent to 28-29 billion yuan.
JD.com's ADRs have gained about 44 percent since they started trading in May.