Jake Arrieta's No-Hitter Boosts New Endorsement Deal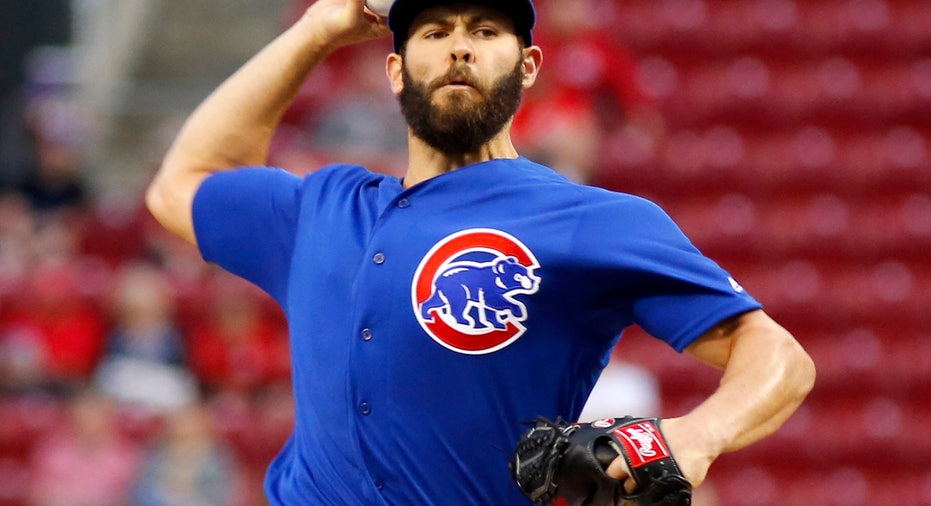 Talk about perfect timing. Chicago Cubs ace starting pitcher Jake Arrieta hurled his second career no-hitter Thursday against the Cincinnati Reds just hours after he announced a new endorsement deal with menswear startup Mizzen+Main, which wasted no time in incorporating the historic feat into its marketing campaign.
Arrieta struck out six Reds batters during the Cubs' 16-0 victory, marking the second time in the last 12 months that he's held an opposing lineup hitless. His dominant performance just happened to coincide with Arrietta's debut in the brand's "Step Your Game Up" digital marketing campaign via a video interview and photo shoot.
Both the endorsement deal and the marketing campaign were months in the making by the time Arrieta took the mound on Thursday. But Mizzen+Main, a growing startup at a crucial stage in its evolution, couldn't have asked for a better way to link its products to its latest endorser. The brand immediately parlayed the no-hitter into an advertisement, featuring a dressed-up Arrieta and the slogan "No-Hitter, No Sweat." As of Friday, the advertisement was one of the most popular social media posts in Mizzen+Main's history in terms of interactions.
"Seeing Jake get his second no-hitter in 11 starts, I thought, what a perfect day to have our partnership officially launched, but more importantly, how much this incredibly humble, hardworking pitcher deserved this extraordinary moment," Kevin Lavelle, Mizzen+Main's founder and CEO, told FOXBusiness.com. "I'm proud to be working for him and have our brands aligned."
It's just the latest in a series of fortuitous events for Mizzen+Main, which markets its line of breathable dress shirts toward athletes and entrepreneurs. Aside from signing Arrieta, the company named Houston Texans star J.J. Watt a brand ambassador last September and granted him an undisclosed equity stake. Earlier this month, Mizzen+Main announced it had secured $3 million in funding to fuel future growth, TechCrunch reported.
This isn't the first time that Mizzen+Main has shown an ability to quickly integrate a viral sports moment into its marketing efforts. When photos that showed University of Arizona basketball coach Sean Miller sweating through his dress shirt went viral during the NCAA tournament, Watt tweeted that Miller could use a Mizzen+Main replacement. Soon after, the brand offered, via social media, to send Miller a few samples.
The timing of Mizzen+Main's announcement of its partnership with Arrieta was lucky, but the company's immediate integration of the no-hitter ensured that the momentum wasn't wasted.
"Most savvy brands that invest in athlete endorsement have a 'win plan' in place to celebrate a big accomplishment or a win, such as in a NASCAR race, so they can turn those elements on quickly and take advantage of the moment," said Jonathan Jensen, a sports sponsorship expert and assistant professor at Merrimack College's Girard School of Business. "Mizzen+Main was prepared, and was quickly able to capitalize via custom digital creative and on social media."
Mizzen+Main isn't the only Arrieta sponsor poised to capitalize on the no-hitter. The 30-year-old ace also signed a deal this month with Saxx Underwear, another upstart menswear brand. Like Mizzen+Main, Saxx Underwear immediately tied Arrieta's feat into its ongoing promotional campaign on social media. The brand's congratulatory post garnered more social media interactions than the vast majority of its previous tweets.
"Jake is an absolutely spectacular and dedicated athlete and we're thrilled for him," Saxx CEO Tim Bartels said. "This is a huge milestone for any pitcher, but the fact that Jake's thrown two no-hitters over an 11-game stretch is simply incredible. He's been a fan of the brand for a long time, so the timing of our partnership is just very fortunate. We're using this as an opportunity to celebrate his no-hitter and we're just thrilled we could be a part of it."
Timing the announcement of a celebrity partnership can be tricky, especially given today's 24-hour news cycle. Marketing campaigns, photo shoots and press tours are often scheduled months in advance, making it difficult for brands to pivot. For example, the death of beloved rock musician Prince on Thursday drowned out all other news and announcements from the music industry.
"Sometimes timing is perfect. Sometimes you get lucky. Sometimes, unfortunately, things happen in the marketplace that make things change," said David Schwab, a senior vice president at Octagon who specializes in matching brand clients with celebrity endorsers. "If somebody had a music-related business launch yesterday or today, you're either going to release it and it gets lost in the Prince news or you choose to push it. Brands have to balance the news world we live in and try to be nimble."
Arrieta's no-hitter is a prime example of a news story working in a company's favor. In 2012, Schwab brokered a deal between golfer Bubba Watson and Motorola to promote the "Motoactv" smartwatch. A week after the announcement, Watson won the Masters tournament for the first time. To capitalize on the momentum, Schwab and his team added a print media promotion, placed congratulatory ads and revamped its digital marketing campaign.
Given Arrieta's current dominance and the Cubs' status as a National League frontrunner, the no-hitter provides an unlooked-for opportunity for Mizzen+Main and Saxx to rethink their digital campaigns and advertising budgets.
"You know that, for a short period of time, it's going to own national baseball news," Schwab said. "If you have a social or digital play, maybe it makes sense to put additional media dollars behind it to promote and keep it more relevant and keep it on top of the newsfeed."