It's not the Jetsons just yet, but CES shows smart-home gadgets starting to work together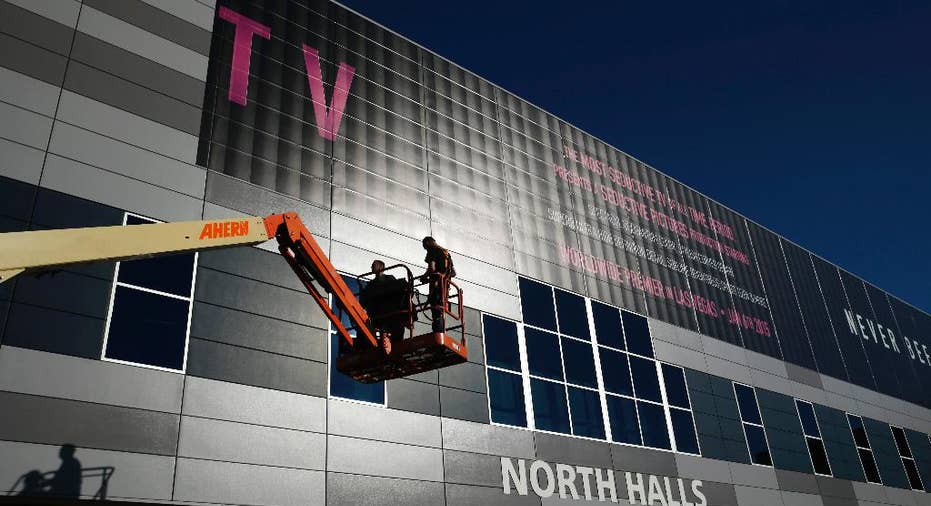 Imagine a world in which your garage door opens automatically as you pull into the driveway. The living room lights and heater turn on — perhaps the oven starts warming up, too. In the so-called "smart home," cars, appliances and other devices all have sensors and Internet connectivity to think and act for themselves, and make your life easier.
We're not there just yet, but we're getting closer.
The smart-home concept is known in tech circles as the Internet of Things. Current iterations primarily include our ability to control gadgets such as lights and security alarms or view data remotely through a smartphone app. At the International CES gadget show in Las Vegas this week, manufacturers will promote more devices and functionality. Some gadgets will be able to talk directly with one another, not just to an app. The four-day show opens to the public Tuesday.
The Internet of Things could mean big business for gadget makers. The Consumer Electronics Association projects sales of smart energy and security systems alone will total $574 million this year, a 23 percent increase from 2014. Although that pales by comparison to the $18 billion spent on TVs and displays, growth has been swift. In terms of people smartening up their homes in earnest, though, it will probably be another two years before devices are cheap and widespread enough for the typical consumer, says Eduardo Pinheiro, CEO of Muzzley, which makes a hub that allows devices to talk to each other.
For now, the smart home is more about possibilities than practice. Many companies exhibiting at CES are laying the foundation for what a smart-home system will eventually do, hoping to entice consumers to start thinking about upgrading to smart gadgets. It's not always an easy sell.
Consider wearable devices that track fitness and other activities. In many cases, the novelty wears off quickly, and devices end up in drawers. But what if a wearable device that tracks sleep could tell the coffeemaker to start brewing as soon as you awoke? When the coffee's done, what if the sprinklers on the front lawn automatically turned off so you didn't get wet walking out the front door to work?
For example, Lucis Technologies will soon ship a smart-lighting device called NuBryte that can learn your behavior, such as what time you tend to come home. Sensors can turn on the night light if you wake up to use the bathroom but switch on brighter lights during the day. A coffeemaker from Smarter will soon use data from fitness trackers such as Fitbit. If you had a bad night of sleep, the coffeemaker will know to make the java stronger that morning. Other products focus on better notifications: a battery for a smoke detector to alert you on your phone when the alarm goes off, or a bracelet that vibrates when the baby cries in its crib. (Moms rejoice: the bracelet is even smart enough to alternate which parent it alerts to get up.)
"It's got to be something people are seeing it can do and want it to do," says Chris Penrose, AT&T's senior vice president for the Internet of Things. "It's got to make their lives better and be incredibly easy to use."
"True consumer value will come when devices work in concert with one another and in many cases across manufacturers," adds Brett Dibkey, a Whirlpool Corp. vice president. "The home adapts to the way consumers live rather than the other way around."
At CES, Whirlpool will showcase dryers that can run at a slower, energy-saving cycle if you aren't home and thus aren't in a rush. The dryer integrates with Google Inc.'s Nest smart thermostat, which has sensors to figure out that no one's home and then lowers the heat automatically. Meanwhile, a smart-home hub called DigitalStrom plans to take cues from Nest. If Nest is trying to cool down the house, for instance, DigitalStrom will lower automated window shades to block out sunlight.
These are the building blocks for an eventual automated home. Once those building blocks are in place, services can better predict what you want. For example, Netflix is already good about recommending movies to watch based on your preferences, but it might suggest something different if it could read data from a wearable device or camera and tell that you're with friends, or stressed out, says Shawn Dubravac, senior director of research with the Consumer Electronics Association.
As we get closer to being able to live like the Jetsons, manufacturers will have to convince consumers that the technology is secure from hackers — and that convenience and peace of mind are worth any risks.
Ann Poletti, who now uses the Nest thermostat at her home in San Francisco, said her first apartment burned down, so she is sensitive to making sure all her appliances are off. The Internet of Things would let her check remotely.
"Toothbrushes and ironing boards, one day it will all be connected. I think that's great," says Poletti. "Some people don't want all the data out there. I'm worried about access to my bank account, less so about whether my heat is going on or off."