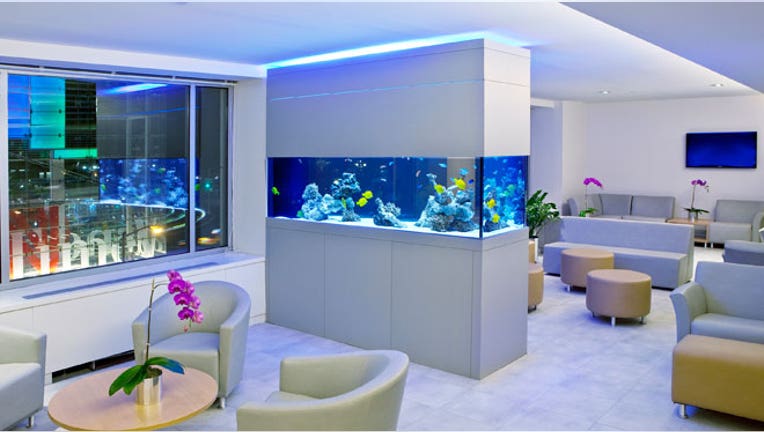 Designing fish tanks is a sink or swim business.
No one knows that better than Martin Schapira, the 29-year-old co-founder of Okeanos Aquascaping, a high-end aquarium and pond design firm based in New York City.
Schapira, who established Okeanos in 2002 with close friend Nathan Kamelhar, is behind some of the most elaborate and eye-catching aquatic projects in New York City and across the globe. Most recently, he and Kamelhar dreamed up a backyard pool-and-aquarium complex that earned a spot on the Robb Report's list of outrageous holiday gifts.
The price? $11 million.
Wait, let me correct that – starting at $11 million.
The complex features a 30-foot-by-60-foot freshwater swimming pool that shares two of its walls with a massive glass saltwater aquarium so that swimmers can virtually swim alongside angelfish, eels and black-tip reef sharks. The aquarium can also be viewed from outside the pool, as it stretches from the floor of the pool to 15 feet above its surface.
To date, no one has commissioned the complex – and understandably so. After all, if you had an extra $11 million lying around – or even an extra $1,000 – would you spend it on a fish tank?
That's the battle Schapira faces every day.
"If you can sell aquariums, you can sell everything else," he says. "It's a very, very difficult business."
For one, aquatic displays don't have the sort of following that designer watches or shoes have. Schapira says most of his clients don't know anything about aquariums when they first come to him except that they think they look cool from a design standpoint.
Aquatic displays also require upkeep. Schapira says that unlike buying a fancy car that needs its oil changed every once in awhile, owning a high-end fish tank means having someone come in to maintain it as often as once a week but no less than every three weeks. In short, it's a commitment.
"The same way that someone would have a maid, it becomes, 'Oh, the aquarium guy's here,'" he says.
And yet business is steady. The company is typically involved with 22 to 30 projects a year at an average rate of $50,000 to $75,000 a piece. Some of the company's current jobs include a 500-gallon freshwater plant aquarium in the lobby of a Manhattan office building, a live coral reef aquarium at a private residence in Franklin Lakes, New Jersey and a backyard Japanese koi pond at a 16,000-square-foot townhouse in New York.
For Schapira, who grew up in Queens, NY, designing fish tanks is a passion that was ignited when his father bought him a tank in elementary school. Something about the colors and calm of the scene inside struck him.
"Queens is not the nicest place in the world, and yet [I found] I could create this little space that's just gorgeous," he says.
His eye for design developed as he worked as a buyer for the string of apparel stores his parents owned. When business petered out, he and Kamelhar – whom he'd known since high school – decided to start Okeanos, determined to make fish tanks high-end design statements.
"Everyone was doing the chandeliers and the cool floors, but no one was doing this," Schapira says.
Unlike some of the other aquatic-design firms in the market, the duo focused on making sure the materials were natural (Schapira is strongly opposed to acrylic tanks and fake coral) and also paid close attention to the quality of their photography.
Things were good for awhile, but in 2008, the financial crisis hit and Schapira saw business volume fall by 30%. Like many other small business owners, he had to retool.
It wasn't the first time Schapira had had to fight to survive. In 2004, he'd been diagnosed with acute myeloid leukemia, one of the deadliest forms of cancer. He was 23 at the time and had just gotten married six months before.
He underwent treatment and was in remission for a year, but the cancer came back and he received a bone marrow transplant in 2006.
It was an incredibly difficult time, but Schapira credits his passion for his work as one of the factors that helped him get through it.
"It took my mind off of everything," he says.
So when their business hit rough waters in 2008, Schapira and Kamelhar snapped into action to steady it. They decided to do everything themselves, mastering search engine optimization (Schapira says most of the company's clients find them on the Internet) and reaching out to all sorts of new vendors. The biggest decision they made was to scrap advertising, realizing it wasn't the right fit for their business.
In their quest to become as self sufficient as possible, they developed reputations as marketing gurus and interior designers. They've since designed websites and marketing campaigns for other companies and are currently working on an interior design project at a rehabilitation center in Cherry Hill, New Jersey.
As for the future, Schapira says that while he would like to see where his business takes him next, the allure of simply designing aquariums is still what drives him. More than just a business, he says it's an inimitable personal joy.
"When you sit in front of a properly designed aquarium and shut the lights off… it completely calms you down. There's nothing like it. It's an escape."