Isaac Could Cause $36B in Residential Home Damage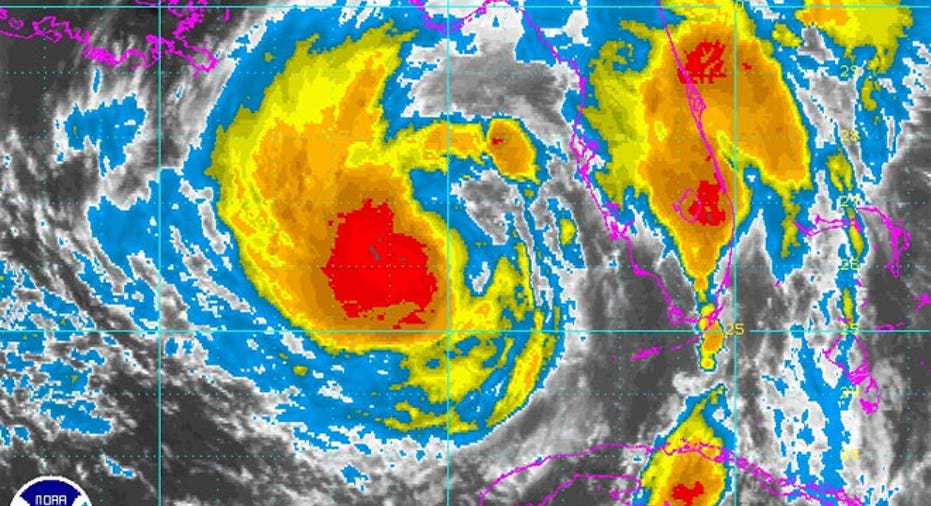 As Tropical Storm Isaac barrels toward the Gulf Coast, hundreds of thousands of people and billions of dollars in potential damages are on the line.
The potential exposure to residential property is estimated to be as much as $36 billion if Isaac hits the coast as a Category 2 hurricane, with New Orleans once again at risk for the brunt of it, according to real estate analytics company CoreLogic.
Current forecasts have Isaac making landfall as a Cat 2 hurricane early Wednesday, however storms of this magnitude can often veer off the predicted path. While it looks to be heading straight toward New Orleans, seven major metro areas along the Gulf Coast could be at risk in Louisiana, Alabama, Mississippi and Florida, depending on Isaac's ultimate route.
According to CoreLogic data, 269,081 total residential properties valued at about $36 billion will be at risk for potential damages if Isaac hits as a hurricane. Exactly seven years to the day since the wrath of Hurricane Katrina, New Orleans is expected to be the most impacted, with 222,672 properties at risk at a total value of more than $30.44 billion.
Panama City, Fla., as well as Pascagoula, Miss., both have potential exposure to damage of more than $1.1 billion, with 7,688 homes at risk in Panama City and 13,006 threatened in Pascagoula.
Some 6,405 homes in the Pensacola metropolitan area in Florida are at risk to exposure with a total value of about $942 million, while some 3,930 properties in the Ford Walton, Destin and Crestview areas of Florida at a value of $859 million may be exposed to Isaac.
In Mobile, Ala., and the Biloxi and Gulfport areas a total of 15,400 homes will potentially fall in Isaac's path with their potential exposure to damage valued at just under $1.5 billion.
CoreLogic measured damage from storm surge and does not include potential damage from wind and rain often associated with hurricanes. The study only includes residential properties and thus doesn't take into account the potential damage to business properties. It's also important to note that the $36 billion is not potential insured losses, as these properties are in danger of flood damage, which is typically not covered by private insurance.
Source: Research company CoreLogic
"Hurricane-driven storm-surge flooding can cause significant property damage when high winds, forward movement of the storm and low pressure causes water to amass in front of the storm, pushing a powerful rush over land when the hurricane moves on shore," CoreLogic said in the analysis.
Already following an eerily similar route as Katrina, the most destructive natural disaster in U.S. history, areas around New Orleans have issued mandatory evacuations. The Port of New Orleans will cease all operations at cargo terminals later today.
To give some perspective, Katrina, which made landfall at a Cat 3 Hurricane, caused an estimated $96 billion in damages. Hurricane Irene caused more than $4 billion in insured losses when it barreled up the East Coast about a year ago.
AccuWeather expert senior meteorologist Alex Sosnowski was careful to note on Monday that while Isaac "will not be another Katrina in terms of intensity, it is still a dangerous storm" and will test New Orleans' new levees. He added that the counterclockwise flow of Isaac could "drive a significant surge toward Chanderleur Sound, Lake Borgne and Lake Pontchartrain," which are all located in eastern Louisiana.
Shares of Travelers (NYSE:TRV), Allstate (NYSE:ALL) and Chubb (NYSE:CB) were all trading virtually flat on Monday afternoon despite the warnings from meteorologists that Isaac could reach the Cat 2 level.
Insurance broker Willis on Monday predicted that within 48 hours there is a 36% chance Isaac will remain at tropical storm strength, but a 62% chance it will strengthen to a hurricane. The company said that the combination of a storm surge and the tide will cause "normally dry areas near the coast to be flooded by rising waters."
Water could reach depths of six to 12 feet in areas of Louisiana, Mississippi and Alabama, by three to six feet in areas along Florida's panhandle and by one to three feet in areas of Florida's west coast. Total rainfall amounts of six to 12 inches with maximum amounts of 18 inches are possible along the counties on the Gulf Coast, Willis predicted.
Meanwhile, some major oil companies, including Chevron (NYSE:CVX), Kinder Morgan (NYSE:KMI) and Marathon Petroleum (NYSE:MPC) have begun evacuating personnel on offshore refineries.
Chevron on Sunday said that while it was evacuating essential personnel from some offshore facilities in the Gulf, it reiterated that production would not be affected at its Pascagoula refinery.
Marathon Petroleum said it would temporarily shut its 464,000-barrel-a-day refinery in Garville, La., until the storm passes and Kinder Morgan's 7,600-mile Southern Natural Gas system, which is comprised of pipelines extending across the Gulf Coast, said it is monitoring the situation. As of now, a "very small amount" of Southern's 250,000 million cubic feet per day capacity has been shut, a Kinder Morgan spokesman said.
In the Gulf of Mexico in 2005, Katrina forced the evacuation of more than 75% of the Gulf's 819 manned oil platforms and severely hampered oil production.