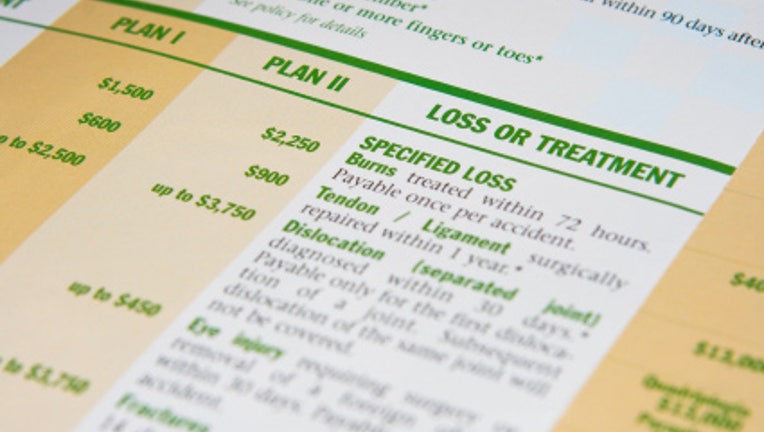 Under the Affordable Care Act, health insurance plans must fully cover preventive care without charging members anything out of pocket.
But there's one big exception that affects almost half of today's workers.
If a health plan is "grandfathered," it doesn't have to follow this and a handful of other Affordable Care Act provisions. According to the recent Kaiser Family Foundation/Health Research & Educational Trust 2012 Employer Health Benefits Survey, 48% of covered workers are in grandfathered plans this year, down from 56% last year.
A grandfathered group plan is one that your employer established before March 23, 2010, and has not changed substantially since then. To maintain a health plan's grandfathered status, an employer can't significantly increase your out-of-pocket costs, such as your deductible, or reduce your benefits.
Individual plans -- the kind you buy for yourself instead of getting through an employer -- can also be grandfathered. If your individual plan covered you on or before March 23, 2010, then it can be grandfathered.
A job-based grandfathered plan still can sign up new employees, so even if the employer plan is new to you, it could be grandfathered.
Rules for grandfathered health plans
Unlike other health plans, grandfathered plans don't have to:
Fully cover preventive care. A grandfathered plan can still charge you a copayment, deductible and co-insurance for preventive care.
Provide access to an obstetrician or gynecologist without a referral.
Let you get emergency care outside the health plan's network without prior authorization.
Give you additional rights for appealing health plan denials. Non-grandfathered health plans must give you the right to an external review if the health plan rejects your appeal.
In addition, individual grandfathered plans avoid a couple of other requirements. They still can put annual dollar limits on coverage, and they can exclude pre-existing conditions from coverage for children under 19.
All health insurance plans, whether they're grandfathered or not, have to extend coverage to adult children up to age 26. However, until 2014, grandfathered group plans don't have to extend that coverage if the young-adult dependent has access to job-based health benefits elsewhere.
The fact that almost half of workers are still in grandfathered plans doesn't surprise Judy Waxman, the National Women's Law Center vice president for health and reproductive rights. The center is a strong proponent of the Affordable Care Act.
"It's right on target for what I expected," she says. "It's only been two and a half years (since the health care reform law was passed) and already half are not grandfathered. I think we're coming along nicely."
And some grandfathered health plans are providing more protection than they have to, Waxman says. Her employer's health plan is grandfathered but fully covers preventive care, including preventive services for women, without charging a copayment, deductible or coinsurance. The law's requirement for non-grandfathered plans to fully cover general preventive care went into effect two years ago, and the requirement to cover a specific list of women's preventive care services, including birth control, went into effect in August of this year. More information is in: "Ladies: More medical care without health insurance co-pays coming in 2012."
The outlook for grandfathered health plans
A health plan can stay grandfathered indefinitely, but most plans offered by midsize and large employers will probably lose that status in the next two years, says Julie Stone, a senior consultant for Towers Watson, a global consulting firm. To maintain grandfathered status, an employer can't increase the plan's costs for workers -- a tough limitation for companies in the midst of rising health care costs.
Stone says most employers who maintained grandfathered status did so as a strategic move to keep their options open while they evaluated how to move forward.
Even after the Affordable Care Act was passed, many unknowns remained, says Chris Renz, a partner and Northern California leader of global consulting firm Mercer's health and benefits business.
"Regulations had not been issued for many of the health care provisions," he says.
The list of women's preventive services that health plans must fully cover wasn't hammered out until August of 2011, for instance. "Employers who lost grandfathered status early on have no choice but to implement that standard," Renz says.
Still, he says, "Our surveys have been fairly consistent -- the number of grandfathered plans will continue to dwindle each year."
So are you at a disadvantage if you're in a grandfathered plan?
"I don't think it's clear-cut from an employee's perspective," Stone says.
A grandfathered plan might provide you with more affordable health insurance overall. Remember, your employer can't significantly increase your costs, including the portion of premium you pay to keep a plan grandfathered. So even if it doesn't fully cover preventive care, a grandfathered plan might cost you less than a non-grandfathered plan when you add and compare the premiums, deductibles, and other out-of-pocket costs.
An overview of grandfathered health plans can be found at HealthCare.gov.
The original article can be found at Insure.com:Is your health plan 'grandfathered'? You may be getting gypped