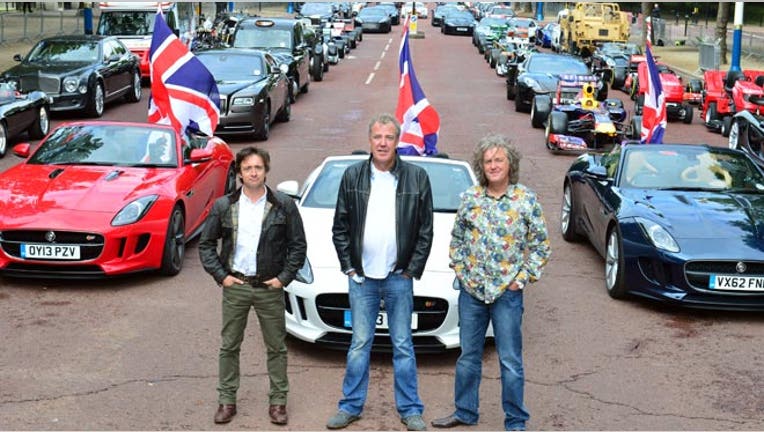 The former hosts of "Top Gear" are free agents, and the heavyweights of streaming video may be interested in a spinoff of the popular car show.
"Top Gear" has been crowned the most popular television program in the world, attracting 350 million global viewers each week. The final episode, which was initially scrapped by the BBC, aired Sunday and drew a peak audience of 5.8 million in the U.K.
The BBC allowed host Jeremy Clarkson's contract to expire following an altercation with a show producer. Fellow hosts Richard Hammond and James May are following Clarkson out the door after nearly 13 years on the air.
Reports out of the U.K. have pegged Netflix (NASDAQ:NFLX), Hulu and perhaps even Amazon.com (NASDAQ:AMZN) as three potential landing spots, saying Clarkson, Hammond and May would like as much control over their new show as possible.
A recent report by the Daily Mirror said British network ITV is also negotiating with the outgoing "Top Gear" crew. In that scenario, the hosts could still call the shots by producing the show on their own and selling it to ITV and U.S. streaming services for distribution.
None of the Web video giants have confirmed their interest, though. Hulu is jointly owned by Walt Disney (NYSE:DIS), 21st Century Fox (NASDAQ:FOXA) and Comcast's (NASDAQ:CMCSA) NBC Universal. 21st Century Fox is the parent company of FOXBusiness.com.
Rich Tullo, an analyst at Albert Fried & Co., believes a new version of "Top Gear"—BBC owns the rights to the show—would make more sense for Hulu than Netflix, saying the show's format is closer to reality, not scripted, programming.
"The question is do people want to binge watch reality? I don't know if I want to binge Celebrity Wife Swap," Tullo said.
Clarkson, a member of "Top Gear's" original run from 1978 to 2001, had his share of controversies. Prior to the "fracas" with the producer, Clarkson reportedly was told by BBC brass that he was down to his last strike.
Fans of the show came out in force, with the highlight coming in March when a group drove a tank through the streets of London to deliver a petition to the BBC's headquarters. The petition calling for the BBC to reinstate Clarkson currently has approximately 1.07 million signatures.
But there's no turning back for the BBC, which announced that British radio and TV personality Chris Evans will replace Clarkson as the main "Top Gear" host.
While Clarkson has expressed regret over how his run at the BBC ended, the longtime TV personality and writer appears ready to prove his former bosses wrong.
"Emerging networks have capitalized on bad boys or controversy," said Ramsey Poston, president of communications firm Tuckahoe Strategies and former NASCAR spokesperson. "It seems like Clarkson really brought something special to 'Top Gear.' He still has a great deal of value."
Netflix's reported interest may be linked to its ongoing expansion overseas. Early in June, Netflix announced plans to launch in Italy, Spain and Portugal later this year.
As of April, just 20.88 million of the video streamer's 62.27 million subscribers are international users. Netflix expects to add slightly less than two million new international subscribers in the current quarter alone.
Netflix shares have soared 93% since the start of 2015, helped by optimism over original programming like "House of Cards."
Clarkson, Hammond and May might provide another boost for the subscription service. The trio attracted more than five-times the number of Netflix users around the world as the hosts of "Top Gear." In the U.S., an average of 823,000 people watched the recent season of "Top Gear" on BBC America.
Tullo predicted between 5 million and 10 million global viewers would tune in for a "Top Gear" spinoff on the Web, adding that it could work even better on cable, even in the U.S.
"'Top Gear' is really a wildly popular show. People love it," Tullo said. "I think they would do great on whatever network they go on."