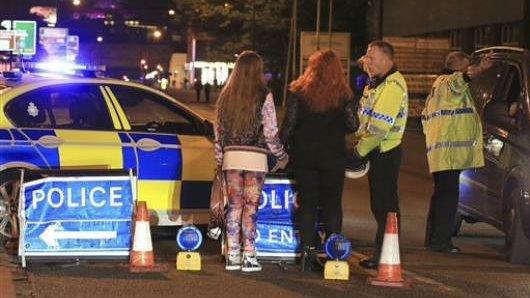 On Monday, a suicide bomber killed at least 22 people, and injured dozens more outside the Manchester Arena in England as fans, including children, were leaving the venue following pop artist Ariana Grande's performance.
ISIS claimed responsibility for the attack Tuesday, in which the terror organization said, "a soldier of the caliphate planted bombs in the middle of Crusaders gatherings." The claim has yet to be verified by U.S. Intelligence.
However if the attack is indeed terror related, Ryan Mauro, a national security analyst said it is part of the group's "strategic plan" called the "extinction of the gray zone" to create anti-Muslim backlash.
"The idea is to carry out horrible attacks, the most proactive attacks possible in Europe, in the hopes that just random people then attack innocent Muslims -- and they've published this," Mauro said during an interview with Stuart Varney on the FOX Business Network. "They have said what will happen is, the gray zone are the Muslims that are not on the side of ISIS, but not quite on the side of the West either, and they believe anti-Muslim backlash enable them to have a new wave of recruits."
Terror attacks have plagued the United Kingdom over the past few decades, in an attempt to instill fear and change the lifestyles of everyday individuals – and to some degree, they've succeeded said Mauro. The threat level in UK has been at "severe" for nearly three years.
"I would say in many ways we don't respond properly because the way to respond to this is to say, 'No, it is my patriotic duty to go out to that event.'"
He went on to add, "let's see if there's actual major economic downturn where people say, 'OK, we're not going to these types of events anymore.' I have enough confidence in Americans that they're going to say, 'there's no way I'm changing my life to that degree and rewarding the terrorists that way.'
More from FOXBusiness.com
Mauro believes that in order to defeat ISIS, the strategy needs to shift from defensive to offensive that destroys Islamist's infrastructure.
"I'm talking about a Reaganite strategy that says, where is this ideology coming from, hold the governments accountable that are sustaining it, and put an end to this. I don't believe we have to pass this on to the next generation," Mauro said.