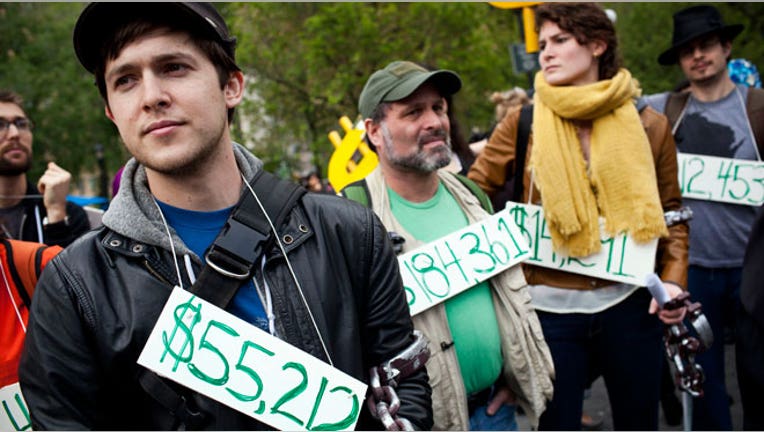 DeJoire Hall, a 24-year-old college graduate from Athens, Ga., is strapped with $70,000 of student loan debt and is turning to strangers to help pay off her hefty loans.
"I was looking for crowdfunding ways to help reduce my student loan debt, and move toward the things I want to do in life and in my career," Hall says. "Part of that involves me finding a way to reduce my debt."
With the average student loan debt topping, $26,000 per student, according to the College Board's latest figures for 2012, graduates are seeking out alternative means to pay off their obligations. Crowdfunding sites are cropping up that allows former students to post their  fundraising goal and hope to connect with people that will make contributions to the debt loads.
Hall received her undergraduate degree from Georgetown in Biology of Global Health in December 2012, and currently has a pharma-incubation internship with Athens Land Trust (ALT) to help launch her career.  Unfortunately, the position doesn't pay.
Hall also volunteers in ALT's Community Agriculture Program for up to 10 hours a week, and is hoping that her internship and volunteering experience is enough to inspire people to help chip away her debt, piece-by-piece.
Hall is one of eight featured crowdfunders on the site Zerobound, a platform that will allow people (referred to as volunteers) to ask for donations to help pay down their student debt. The site is currently in beta testing with eight campaigns that are capped at $1,000 each. Founder Sabrina Norrie says the startup is aimed at creating a conversation about "people in a generation carrying more than $1 trillion in debt" and what that means for their future.
"It's exciting for us to think about not only the impact this can have on students and their debt, but how it can impact the community in a positive way," Norrie says, adding that the company is in talks with a national corporate sponsor to begin donating to the campaigns. "You can support people who are giving back for their skills and education, and indirectly support the causes you care about as an individual."
ZeroBound vets the volunteers through verifying student loan totals and volunteer information with the organization he or she works for. The platform takes a 5% service fee on funds raised for successful campaigns and 8% service fee on those that do not reach their goal. Funds are transferred directly to lending companies on behalf of the borrower, and are not tax-deductible for lenders.
A similar platform, Piglt, launched in August 2013, and serves as a platform to raise cash for not only college debt, but also nonprofits and causes related to the education sector. Founder Casey Wallace says 300 people have created campaigns, but about one dozen have gone live and around $10,000 has been raised so far through contributions.
Wallace says donors are investing in the fundraiser's life and career. If a campaign on the site doesn't hit its goal, Piglt takes a 5% cut, or they have an option where fundraisers can receive any amount raised, but give the company an 8% cut.
"They have to figure out a way to market themselves," he says. "It's a tougher sell, it's not an 'if you build it, they will come' scenario. Sixty percent of donations come from family and friends."
Getting a Return on Investment
For contributors looking to get a return on their investment, there's Upstart. Founded in April 2012, the crowdfunding company offers Income Sharing Agreements (ISA) between lenders and borrowers. The payback period is three years on loans, which Upstart just announced this week, and five years on ISAs.
Loan rates vary from 6.5% and 20%, while with ISAs individuals agree to share between 1% and 7% of their annual income.
Paul Gu, co-founder of Upstart, says the company has done 3.5 million in ISA transactions. The site says there have been 368 investors and 320 "upstarts" or borrowers. He estimates one-third have used the site to fund their college debt and educational purposes.
"Student debt has grown massively, and the way it's structured leads to bad things happening," Gu says. "Borrowers going into default, people asking for loan sizes they aren't able to pay back. You get a situation that isn't ideal for either side. This is an opportunity for the private sector to step in and offer innovative solutions."
Investors are accredited on the site, and are often looking for alternative investment, Gu says. Those seeking funding go through a "rigorous vetting process" which include educational and job credentials being referenced.
"Our approach to underwriting is looking forward rather than backward," he says. "We don't care about credit history, because we know they don't have it. And for investors, this is a purely financial investment, not a donation."
Crowdfunding a Part of the Conversation
Mark Kantrowitz, senior vice president and publisher of Edvisors a financial aid site for students and parents, says many of these crowdfunding sites are still too new to make a big difference. But as the student loan debt continues to climb into record highs, he says it's important to bring new ideas to the table.
"These sites are still in their infancy as far as making a big dent. It's just a drop in the bucket now, but there's promise of potential scalability."
Students using Upstart getting degrees in liberal arts, for example, may be more willing to take on an ISA because their post-grad salary would seemingly be lower than an engineering student in the work force, Kantrowitz points out.
For sites like Zerobound and Piglt, it's about having benefactors who are willing to invest in public service by taking on former students' debts.
"Twenty or 30 years ago, the debt at graduation was a lot lower among those who borrowed, and while family income hasn't increased, debt has," he says.
But Ani Mercedes, a 28 year-old educational-tech consultant from Miami, says she isn't looking to pay off her full loan amount via Zerobound. Mercedes has $28,000 in student debt from her Master's degree in public administration from Syracuse University and her undergrad degree in anthropology from the University of Chicago, down from the $42,000 she had in 2007.
"I do not have the expectation to have all of my loans paid off, or to have large amounts of contributions," she says. "I want to give back to the community, while being able to become financially independent."
In addition to her job, she also volunteers at the Indie Film Club in Miami around eight hours a week, and is part of Zerobound's beta campaign.
"I want to draw attention to community service, despite my financial burden," she says.