Is Redbox Dumber Than Netflix?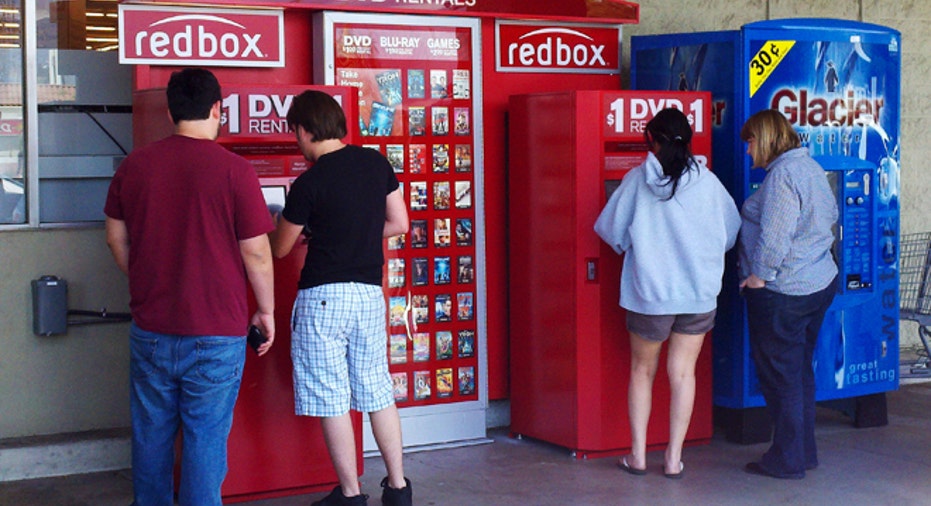 The buck stops here at Redbox.
Renting a DVD from one of the shiny disc-spewing kiosks will set you back $1.20 a night starting this week, up from the round $1 price point that Redbox parent Coinstar (CSTR) has been promoting for years.
Hiking its DVD rental rates by 20% is a gutsy call. It comes on the heels of Netflix (NFLX) facing 800,000 net domestic cancellations in its latest quarter after a poorly received move to begin charging subscribers on its unlimited DVD plans for streaming -- and that's despite lowering the price of its stand-alone DVD plans. Brick-and-mortar rival Blockbuster has been embracing lower price points on its rentals.
It's the wrong move at the wrong time, and the sad clincher is that it's not even necessary.
Seeing Red over Redbox
"This marks the first price increase for a Redbox standard-definition DVD rental in eight years," Coinstar CEO Paul Davis explained last week. "The change is primarily due to the increase in operating expenses, including the recent increase in debit card interchange fees as a result of the Durbin Amendment."
Consumers know all about the debit card interchange fees that recently went into effect. It's what inspired the notorious $5 monthly fees at Bank of America (BAC) for debit card holders who use the plastic for purchases. It may seem like a case of double dipping -- getting hit at both the bank level and merchant level -- but the bigger question here is why Coinstar isn't limiting the 20% increase to debit card users.
Coinstar points out that this is just one of the new cost components it's passing on to end users. However, its financials tell an entirely different story. Coinstar's revenue and earnings from continuing operations climbed 23% and 73% respectively in its latest quarter. Anyone who sees profitability growing three times as fast as actual sales would question why customers are being hit with an increase at a time of widening margins.
Is Coinstar hoping that Redflix customers can't interpret an income statement, or are costs about to ramp up substantially?
Four Weeks at a Time
Movie studios have always hated the way that Redbox, with its cheap rentals, and Netflix, with its video buffet model, devalue their product.
Warner Bros. parent Time Warner (TWX) came up with a solution last year. Realizing that 75% of its DVD sales take place during a movie's first four weeks on the retail market, it struck deals with Netflix and Redbox. If they would agree to hold off on making their new releases available for 28 days, Warner Bros. would provide the two companies with more DVDs at lower price points. It was a win-win for the parties. Time Warner would get the bulk of its DVD sales before the cheap renters began stocking the releases. Netflix and Redbox would get even cheaper DVDs. Couch potatoes were the ones who got mugged here, but you didn't see Redbox lowering its prices just because its costs got cheaper.
Why should prices go higher now? The Warner Bros. deals expire this year, and Time Warner is reportedly aiming for an even longer release window. There doesn't seem to be any conceivable way that Redbox goes through with a price hike in November when some of its discs are about to get even cheaper next year, unless Redbox doesn't think that its celluloid buffs know how to read distribution contracts either.
Blockbuster Gets Busy
Dish Network's (DISH) Blockbuster has been playing up the 28-day delays for many new releases at Netflix and Redbox since last year. Now it's armed with new ammo.
"First Netflix raises prices, now Redbox has you seeing red again," rival Blockbuster shrewdly Tweeted shortly after Redbox's 20% hike last week.
It's not a fair knock to Netflix, since the cost of its unlimited DVD plans fell by $2 a month when it began charging for streaming. Blockbuster doesn't offer unlimited streams with the exception of the new $10 a month Blockbuster Movie Pass, but that's only available to existing Dish satellite television subscribers.
Then again, Blockbuster can probably get away with a few mistruths while Netflix is in the doghouse.
Bucking the Trend
Redbox had a good thing going with its optical rentals at a round price. There's nothing magnetic about $1.20. Just ask McDonald's (MCD).
Mickey D's isn't the world's largest restaurant chain by accident. It has mastered the art of fast food at compelling price points. One of its biggest winners is its Dollar Menu. When franchisees began complaining of the hit that they were taking offering double cheeseburgers for a buck, the McDonald's solution was to introduce the McDouble in 2008. Offering two meat patties but a single slice of cheese would save operators a few pennies per burger, while also allowing them to charge a little more for the double cheeseburger itself.
Redbox could learn a thing or two about McDonald's -- a company that was actually an initial investor in Redbox.
Why didn't Coinstar work with more studios to be able to afford its buck rentals? Why didn't it stick to its old price, but offer brand-new releases at a slightly higher price? Redbox, after all, already offers Blu-ray discs and video games at higher price points.
This is just the wrong time to introduce an across-the-board hike. Two dimes may not seem like much, but the consumer perception of an insensitive -- and by most accounts unnecessary -- move can prove to be more costly.
Dumb move, Redbox -- and that's just my two dimes' worth.
Longtime Motley Fool contributor Rick Munarriz does not own shares in any stocks in this article, except for Netflix. The Motley Fool owns shares of Bank of America. Motley Fool newsletter services have recommended buying shares of McDonald's and Netflix.
This content was originally published on Daily Finance.
More from DailyFinance.com:
- Wal-Mart's Latest Fashion Fail Proves Again That It's No Target- Savings Experiment: Keeping Your Boots in Walking Condition- 5 Hot Utility Stocks After Early Snowstorm's Winter Wipeout