Is Red Gerard the next Shaun White? Snowboarder poised for stardom after Olympic win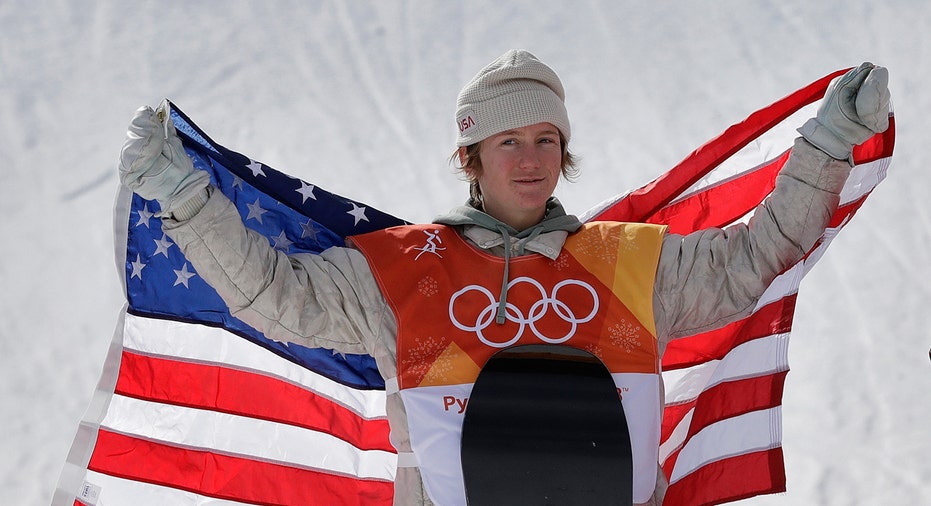 U.S. snowboarder Red Gerard became the first breakout star this month of the 2018 Winter Olympics with his surprise gold medal win in the men's slopestyle event, but experts say it could be years before the 17-year-old's newfound fame translates into a major boost for his wallet.
The Ohio-born teenager is the youngest American to win a gold medal at the Winter Olympics since 1928 after besting an international field on Sunday with an 87.16 score in his third and final run. By winning gold, Gerard also took home a $37,500 medal bonus from the U.S. Olympic Committee.
While Gerard is just gaining mainstream America's attention, he entered the 2018 Winter Games with a strong group of corporate sponsors that includes PepsiCo's Mountain Drew brand, Oakley, Comcast, Ice Breakers and Burton snowboards. However, given the niche popularity of winter sports and the four-year Olympic cycle, Gerard will need to build on his gold medal-winning campaign to earn the crossover stardom that fellow snowboarder Shaun White has achieved, according to sports marketing experts.
"There was a time when one gold medal could solidify an athlete financially from an endorsement perspective, but I don't think that is the case any longer. It's so difficult to break through the clutter today," Jonathan Jensen, a sports sponsorships expert and assistant professor at the University of North Carolina at Chapel Hill, told FOX Business. "The payoff for Gerard might not come until some years from now, assuming there's continued success, and he can be among a small group of athletes on the U.S. team featured by a select group of top tier USOC and TOP sponsors ahead of Beijing in 2022."
Gerard's career on the international stage is just beginning, but he's hardly inexperienced. Raised in Colorado, Gerard began snowboarding at age 2 and honed his skills at a makeshift snowboard park his parents fashioned in the backyard of his childhood home. By age 11, Gerard already had a sponsorship deal with Burton.
"I said it from Day 1," Brendan Gerard, one of Red's older siblings, told the Associated Press. "The kid was 2 years old when we started him snowboarding. I can recall him falling down the hill at 2 and him dragging ass behind me. Gave it two weeks, and he started moving faster. By 6, it was inevitable he was going to be something huge."
Historically, U.S. winter sports athletes have seldom achieved mainstream marketing success. White and Lindsey Vonn, Gerard's teammates on the U.S. ski and snowboard team, are rare exceptions, with earnings estimated in the millions of dollars and deals with major corporate sponsors.
Both White and Vonn have maintained their success over several Olympic cycles. Vonn made her Olympic debut at the 2002 Winter Games in Salt Lake City, Utah and later won gold and bronze medals at the 2010 Games in Vancouver. White is a two-time Olympic gold medalist, with wins in the men's halfpipe event at the 2006 and 2010 Winter Olympics.
Other one-time Olympic stars left the international stage without achieving crossover status. Snowboarder Sage Kotsenburg won the men's slopestyle event at age 20 during the 2014 Sochi Olympics, but chose to leave international competition rather than defend his crown.
"It's always a challenge with Olympians who only show up on mainstream fans' radar once every four years. And it's hard to imagine him becoming the next Shaun White, who peaked at just the right time to become the face of extreme sports in America," said Bob Dorfman, a sports marketing expert and creative director at Baker Street Advertising in San Francisco. "Not sure if Gerard has the personality of White, nor the dominating talent in a sport that seems to have tougher competition every Olympics. A daring mainstream advertiser, though, might take a chance on Gerard and sign him to a long-term deal, as the rewards would far outweigh the risks."
Gerard will have a chance to add to his Olympic resume on Feb. 24, when he competes in the big air contest. Even without another medal-winning performance, he could enter future Olympic and international competitions as one of Team USA's rising stars – particularly as current fixtures like White, 31, and Vonn, 33, age out of the spotlight.
"Despite his success in a comparatively niche sport, he has the ability to build and extend his brand over time provided he handles himself well. In doing so, his sport will be but one compelling aspect of his burgeoning personal brand," said David Carter, executive director of the Sports Business Institute at the University of Southern California's Marshall School of Business.