Is Butterball Shortage Good News for Small Turkey Farmers?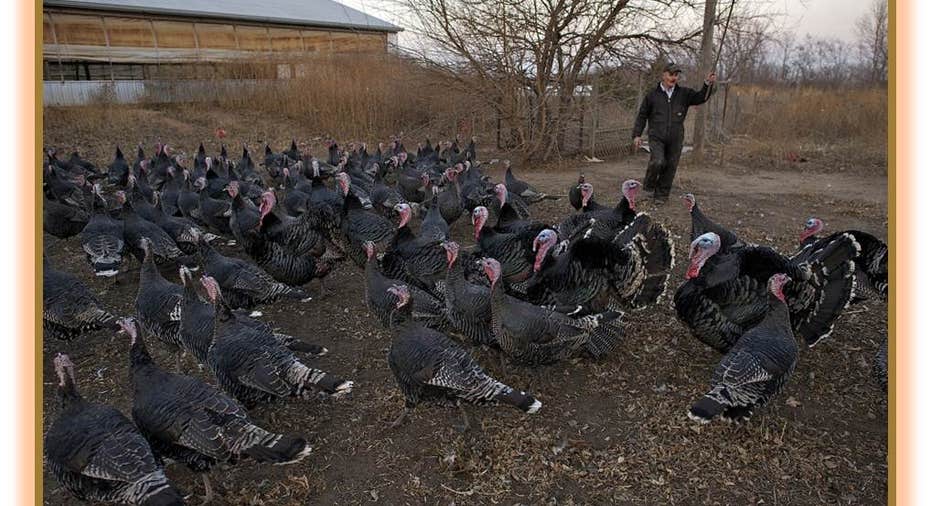 For some small turkey farmers in the U.S., a shortage of large Butterball turkeys this Thanksgiving season means an opportunity to gobble up potential customers.
Butterball announced this week there may be limited availability of its large fresh turkeys due to a decline in weight gain. The North Carolina-based company, however, says it has shipped all orders of frozen whole turkeys, so Butterball products will still be on the shelves this holiday season.
The United States is the world's largest turkey producer and exporter, according to the USDA; and Americans love their turkey, eating over 16 pounds per person in 2011. Within the U.S., Butterball is the top producer: The National Turkey Federation reports that Butterball processed 1.3 billion pounds of live turkey in 2012. The next largest producers are Jennie-O and Cargill, which process nearly 1.28 and 1.1 billion pounds respectively.
While a spokesperson from the National Turkey Federation says that small family farms make up only a fraction of the overall market, some of these producers are welcoming Butterball's announcement.
"The shortage of large Butterball turkeys … will open up the market to everybody," says Mary Pitman of Mary's Turkeys, which sells organic, free-range turkeys near Fresno, California.
Challenges Facing Turkey Farmers  
A number of factors may have contributed to the Butterball shortage, says Dr. Scott Beyer, a poultry expert at Kansas State University.
"This past year there was a lot of uncertainty with feed costs, and you've got to remember that it takes a year in advance for egg breeders to plan," says Dr. Beyer. Turkey farmers who feed their birds a corn-based diet have been affected by regulations that require a certain percentage of corn be turned into ethanol, which has raised the price of the grain.
Weather also affects how well turkeys grow.
"If the weather was hotter, birds [may have] consumed a little less feed. Sometimes it's the simple stuff," says Dr. Beyer. Given that birds must hit a certain weight before heading to the processor – and Thanksgiving creates a sharp deadline – Dr. Beyer says it's possible that many Butterball turkeys are just ounces shy of the necessary shipping weight, leading to the shortage.
Dr. Beyer says Thanksgiving is just a blip on the radar for poultry giants like Butterball and Jennie-O, given the popularity of turkey as a deli meat year-round. So while Butterball may take a slight hit, Dr. Beyer says it's not going to be catastrophic for the company's bottom line.
"They sell turkeys 365 days a year," says Dr. Beyer – not just Thanksgiving.
For smaller farmers, however, Thanksgiving may be the best opportunity each year to attract new customers. While some home cooks may be willing to splurge on a local, free-range or organic bird for the Thanksgiving celebration, small farmers are hindered by their limited processing capabilities. Whereas major companies have their own processing plants, Dr. Beyer says the majority of smaller farmers need to rely on outside processors, which may not be able to handle a spike in demand for one single holiday.
"The biggest thing inhibiting [small turkey farmers] is that they don't have the opportunity to get [their turkeys] processed. For one day of the year, who wants to invest in tens of millions of equipment to rapidly process birds?" says Dr. Beyer.
Heritage Turkey Farming on the Rise
Through Mary's Turkeys, Pitman sells "heritage" turkeys, the ancestors of the Broad-Breasted White turkey sold by industrial producers.
For a little over ten years, there's been a resurgence of small farmers breeding these heritage varieties, which include the Narragansett and the Bourbon Red. Due to the popularity of the Broad-Breasted White, the Heritage Turkey Foundation says that heritage varieties were nearly extinct by the 1990s, until farmers like Pitman took up the cause.
"Slow Food asked us to raise 200 of them in 2003, and we raised 1,000," says Pitman. She says they sell nearly 300,000 turkeys this year.
In addition to being heritage varieties, Pitman says her birds are free-range and fed antibiotic-free, vegetarian diets. She believes that the Butterball shortage may bring more attention to the availability of local and heritage birds. Even without the shortage, however, local foods are on the rise; the 2007 Census of Agriculture indicates that sales of local foods nearly doubled from 1997 to 2007.
Other farmers say it may also cause shoppers to take pause and reconsider the origins of their Thanksgiving birds – even if it doesn't result in an overwhelming spike of sales.
"Americans get complacent about their food and assume it will always be there. This is a live product and despite the name Butterball, American family farms need to raise these turkeys and it's not without issues," says Kate Stillman, the owner of the Hardwick, Mass.-based Stillman's at the Turkey Farm, which sells both traditional broad-breasted birds and heritage breeds. Stillman says in the past eight years she's seen a steady increase in interest in heritage and locally grown birds; she sells approximately 500 turkeys each Thanksgiving for about $5.50 per pound.
One of the leaders behind the heritage turkey movement, Frank Reese, owner of the Good Shepherd Turkey Ranch in Tampa, Kansas, says he will sell 8,000 heritage turkeys this year, up from 800 in 2001. Reese has been in the business for 60 years, and says the tide is turning in the favor of local and organic farmers.
"There's a younger generation who thinks much more differently about food … they are getting smarter and are more aware of the food that they buy and are far more willing to make sacrifices to get sustainable food," says Reese. He says it's unlikely that the Butterball incident will cause more people to suddenly pay for a more expensive, local bird, but he's confident that the movement is growing regardless.
Cost and Other Factors
Many of the farmers say cost is a major factor that keeps consumers from switching over to local or organic birds. The farmers who spoke to FOXBusiness.com quoted prices that were as much as five times more expensive per pound than Butterball's price; shoppers can find Butterball turkeys for just over $1 per pound.
"The people who want to go out and buy a fresh turkey for a dollar a pound don't consider my turkey – they're in two different camps," says Reese.
Others may be turned off by the taste or color. Heritage varieties are hardier, since they run around and forage. "There's going to be more dark meat percentage," says Reese.
And some experts take issue with the health benefits claimed by organic, local or free-range farmers, who tout the fact that their birds have been fed antibiotic- and hormone-free diets.
"There's no nutritional value. Organic says nothing about the nutrition and nothing about the quality," says Dennis Avery, director of the Center for Global Food Issues and a former agricultural analyst for the U.S. Department of State. Avery says a growing organic or local food movement could jeopardize the food supply in the United States, as more resources are necessary to produce food without technological advances.
"I fear this very much. Feeding a few housewives in Manhattan is no big deal, but try to feed the whole world with organic principles and half of the humans will starve within a few years," says Avery.
"Millions of people have spent thousands of years making it easier for us to eat well with minimal fear and concern and share of income and we're unhappy," says Avery.
That said, Avery doesn't seem too concerned about heritage turkeys taking over the marketplace.
"The flavor is good – but they're tough," he says.