IRS Sets Back Yahoo Plan for Tax-Free Alibaba Spinoff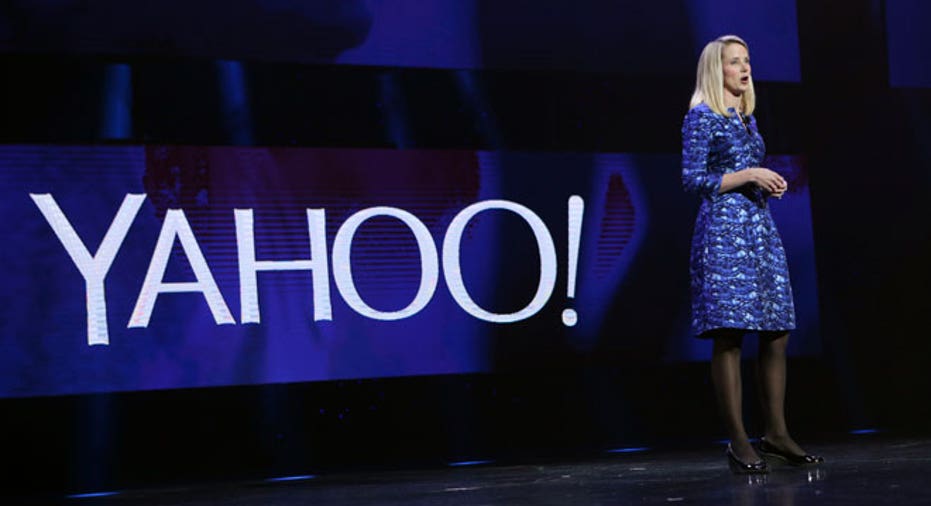 The federal government dealt a setback to Yahoo's tax-free plan to spin off some $23 billion worth of shares in Alibaba, potentially jeopardizing one of Chief Executive Marissa Mayer's defining moves in her three years running the company.
The Internet company said in a filing Tuesday it withdrew its request for a ruling from the Internal Revenue Service last week after it received word that the agency wouldn't approve it.
But Yahoo (NASDAQ:YHOO) said the IRS indicated it hasn't concluded the planned spinoff should be taxable, and therefore wasn't ruling against it.
In the filing, Yahoo General Counsel Ron Bell said Yahoo's board "will continue to carefully consider the company's options, including proceeding with the spinoff transaction."
A Yahoo spokeswoman declined to comment beyond the filing. A spokesperson from the IRS said the agency doesn't comment on individual taxpayers.
Tax concerns have weighed on Yahoo investors since the company announced in January its plan to spin off 384 million Alibaba (NYSE:BABA) shares, representing about 15% of the Chinese e-commerce giant.
Failing to get the IRS to sign off on a tax-free deal could force Yahoo to choose between incurring a tax in the billions of dollars or scrapping the plan for a spinoff altogether.
Completing the spinoff is important for Ms. Mayer, who has failed to show meaningful growth in the company's core ad business.
Yahoo's stock gains under Ms. Mayer are largely tied to investors' growing enthusiasm for its Alibaba stake and the CEO's commitment to return billions of dollars to shareholders through a spinoff. The value of the Alibaba stake, worth nearly $40 billion when Yahoo unveiled its spinoff plan, has since declined.
The IRS said in May that the agency is considering changes to its rules governing spinoffs, sending Yahoo shares sliding.
The company listed the possibility of a rejection by the IRS as the first "risk factor" in its registration statement for Aabaco, the name of the planned spinoff company.
Yahoo also said it faces "uncertainties" around whether the plan will qualify for exemption of taxes by Chinese authorities.
"The board of directors at Yahoo is not going to risk incurring billions of dollars in taxes unless it has adequate assurance that the transaction will be tax free," said Gary Friedman, a tax partner at law firm Debevoise & Plimpton LLP.
Typically, a board can seek assurance on a tax-free spinoff in two ways: Obtaining a ruling from the IRS or seeking the opinion of an outside legal counsel.
"It would be difficult for outside counsel to provide Yahoo with a tax opinion that reaches a very high level of certainty now that the IRS has refused to rule," Mr. Friedman said.
When it announced the spinoff plan in January, Yahoo said it expected to receive "a favorable ruling from the Internal Revenue Service with respect to certain aspects of the transaction and a legal opinion with respect to the tax-free treatment of the transaction."
The IRS has scaled back its practice of private letter rulings in recent years, and now only rules on specific questions or issues that are part of a broader spinoff deal. Neither Yahoo nor the IRS has said what the company was seeking a ruling on.
One issue the IRS may have declined to rule on is whether Yahoo has met the requirement to include "active trade or business" along with the company it is spinning out. Yahoo said in February it would jettison Yahoo Small Business, a division that sells tools to help small business owners sell their goods online, as part of the spinoff.
The IRS may have viewed this unit as too small or failing to meet the requirement of an active trade or business, Mr. Friedman said. Yahoo could revise its tax plan to include a different, possibly larger, business as part of the spinoff, he said.
"It's been anything but a smooth ride toward monetizing Alibaba," said Brian Wieser, an analyst at Pivotal Research. "We find ourselves in situation now where it's uncertain how this will proceed."
Yahoo's stock fell nearly 4% to $29.68 in after-hours trading on Tuesday after the company's announcement.
Ms. Mayer has aimed to quell investor fears about a potential tax bill, saying at a tech conference in June that she has been reassured proposed changes to IRS tax rules wouldn't apply to Yahoo's planned spinoff.
Investors are still waiting to hear what the company plans to do with its stake in Yahoo Japan, another Asian asset worth billions.
On a call with analysts in July, finance chief Ken Goldman said Yahoo has met with advisers to weigh options on Yahoo Japan, but that its "highest priority" is spinning off the Alibaba stake this year.
Write to Douglas MacMillan at douglas.macmillan@wsj.com