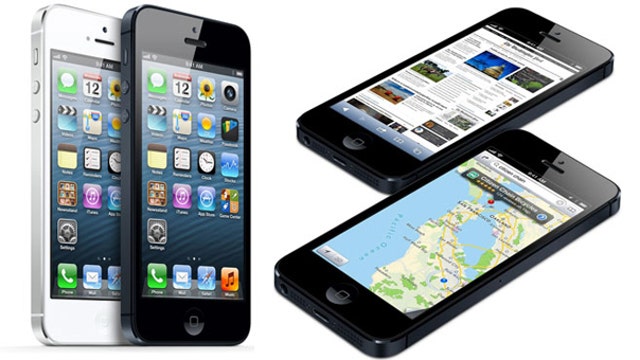 Apple (NASDAQ:AAPL) disclosed a 22% drop in fiscal third-quarter profits on Tuesday amid stalling sales, but the consumer-electronics giant still managed to handily beat forecasts as iPhone shipments unexpectedly climbed.
Shares of the former tech darling jumped more than 4% following the company's stronger-than-expected profits and iPhone numbers.
The report offers a glimpse inside Apple as the company continues to grapple with increased competition in the increasingly-mature smartphone industry from Samsung and others. There have also been concerns about iPad production cuts and pressure on profit margins.
Apple said it earned $6.90 billion, or $7.47 a share, last quarter, compared with a profit of $8.82 billion, or $9.32 a share, a year earlier. Analysts had been calling for EPS of $7.32.
Revenue inched up almost 1% to $35.23 billion, narrowly topping the Street's view of $35.02 billion. Gross margins dropped to 36.9% from 42.8%, trailing estimates for 36.6%.
Apple said it sold 31.2 million iPhones last quarter, compared with 26 million the year before and well above estimates for 26.5 million.
However, the company said it sold 14.6 million iPads, down from 17 million the year before and shy of the Street's view of 17.8 million. Apple said it shipped 3.8 million Macs, down from 4 million the year before and below estimates for 3.9 million.
Looking ahead, Apple sees fiscal fourth quarter revenue of $34 billion to $37 billion, compared with consensus calls for $37.05 billion. While that is shy of forecasts, the company is known for issuing conservative guidance.
Apple's geographic performance was mixed. Sales in the Americas jumped 12% year-over-year to $14.41 billion, but revenue fell 14% in the critical Greater China market to $4.46 billion.
Revenue in struggling Europe slid 8% to $7.61 billion, while sales in rebounding Japan jumped 27% to $2.54 billion.
"We are especially proud of our record June quarter iPhone sales of over 31 million and the strong growth in revenue from iTunes, Software and Services," CEO Tim Cook said in a statement.
Shares of Cupertino, Calif.-based Apple jumped 4.54% to $438.00 in extended trading on Tuesday evening.
Concerns about Apple's ability to continue to innovate have helped drive its stock down 21.3% so far this year, badly under performing a 13.9% jump for the Nasdaq 100 and a 27.8% rally for tech giant Google (NASDAQ:GOOG).
While earnings season used to be a time to celebrate for Apple shareholders, the company has struggled after posting results lately. The stock has declined an average of 4.4% after the past four earnings reports, although that was skewed by a 12.4% next-day plunge after posting results on January 24.
Shares of Cirrus Logic (NASDAQ:CRUS), which supplies audio chips for Apple's mobile products, jumped 4% in extended trading following the results.