Investigation Continues into the NJ Transit Train Crash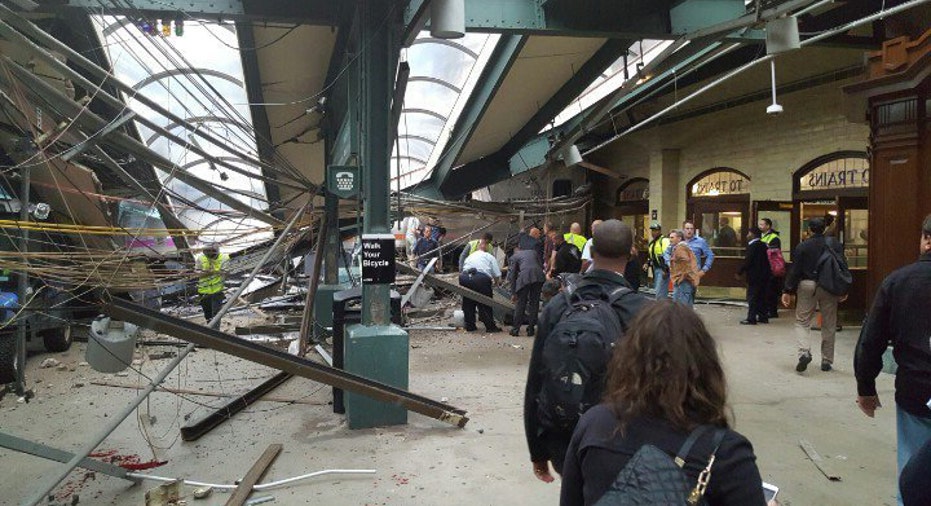 Investigators on Friday examined the black box recorder recovered from twisted wreckage of a New Jersey commuter train for clues as to why it plowed into a landmark terminal, killing a woman on the platform and injuring scores of people.
The event recorder was removed late on Thursday from the locomotive at the rear of the NJ Transit train that slammed through a barrier at the end of the track and into the Hoboken station during the morning rush hour, National Transportation Safety Board spokesman Christopher O'Neil said.
He said debris from the crash, with beams supporting the roof down and wreckage strewn about the site of the historic Beaux Arts rail terminal, was preventing investigators from reaching a second recorder in the train's front car. It may not be until Saturday that the device is recovered.
The recorders hold data that includes the train's speed, throttle position and use of brakes and could offer clues as to why the train, crowded mainly with commuters heading into Manhattan, failed to stop.
NTSB Vice Chairman Bella Dinh-Zarr said the investigation was expected to take seven to 10 days. The agency scheduled a news conference for 5:30 p.m. EDT (2130 GMT) on Friday.
"We've started the process and it's ongoing," O'Neil said. "There are some structural issues there, and the structure is unsafe, potential for collapse, that kind of thing. So that has to be resolved. We want to get there as quickly as possible, but we want to get there safe," O'Neil said.
Train No. 1614, originating in Spring Valley, New York, was at the end of its 17-stop hour-long southward journey when it crashed, toppling support columns in the early 20th century building. Witnesses described a scene of horror and chaos.
Witnesses and officials said the train came into the station too fast and never slowed, but it was unclear why.
It was too early to say whether an anti-collision system known as positive train control (PTC) could have prevented the crash, they said. PTC is designed to halt a train if the driver misses a stop signal, and advocates say it helps to address human error. None of NJ Transit's train are equipped with PTC.
Peter Goelz, a former NTSB managing director, said that PTC is most effective at higher speeds out on open track, adding it is far from clear it could have made a difference in Hoboken. He said other factors, such as the alertness of the locomotive engineer, or driver, could turn out to be more important.
Representative Bill Pascrell of New Jersey, who toured the site Thursday, again on Friday called for new safety measures on commuter rail systems including more federal funding for PTC. "Commuters need to feel safe in our trains and on our tracks," he said in a statement.
WOMAN, 34, KILLED
NJ Transit on Friday suspended train service in and out of the Hoboken terminal, one of the busiest transit hubs in the New York area, accommodating some 60,000 people a day.
The crash killed a 34-year-old Hoboken woman who was standing on the platform when the train slammed through the barrier, jumped off the tracks and skidded across the station concourse. New Jersey Governor Chris Christie told reporters that 114 other people were injured.
NJ Transit said the train's engineer was Thomas Gallagher, a 29-year veteran of the railway, 10 of those as an engineer. He was taken to hospital for minor injuries and released, and is cooperating with investigators, officials said, without providing further details.
The NTSB also wants to speak with a conductor and a rear brake man who were also on the train, Dinh-Zarr said on Thursday.
Gallagher, who is married with two daughters, has a deep love for driving trains, said Penny Jones, 72, one of his neighbors in suburban New Jersey.
"He wanted to be a train engineer since he was very, very young," she said by phone, adding that she was heartbroken for what Gallagher went through even as the cause of the crash remained undetermined.
"No matter what, this is something they'll have to deal with the rest of their lives," she said, noting police officers were stationed outside the Gallagher house.
In 2011, a Port Authority of New York and New Jersey PATH train crashed at the Hoboken station, injuring more than 30 people. The NTSB determined the accident was caused mainly by excessive speed. The NTSB said it would also look for similarities between the two crashes.
New Jersey Transit ranked second for the most train accident reports nationwide for commuter railroads from January 2007 through June 2016, behind Amtrak. It had 271 accidents, or 18 percent of the total, compared to Amtrak's 44 percent, according to data from the U.S. Federal Railroad Administration Office of Safety Analysis.
The rankings in part reflect the heavy use of rail transit in the U.S. Northeast compared with other parts of the United States.
(Reporting by Brendan O'Brien in Milwaukee and Ian Simpson in Washington; Writing by Alan Crosby; Editing by Jeffrey Benkoe, Howard Goller, Grant McCool)