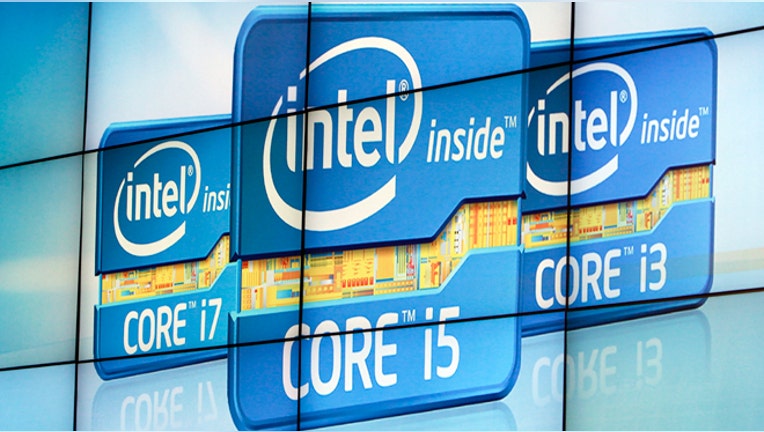 Chip-making giant Intel Corp. (NASDAQ:INTC) weighed in with better-than-expected first-quarter results, and forecast second-quarter revenue that bracketed analyst expectations on Tuesday after the market closed, yet the shares still fell in after-hours trading.
The Street may have been looking for a more optimistic forecast from the chip bellwether, since the company's second-quarter results will include the impact of the launch of its first smartphone and a new line of ultra-thin laptops called Ultrabooks powered by the company's Ivy Bridge processor.
Intel forecast second-quarter revenue in the range of $13.1 billion to $14.1 billion; analysts are expecting second-quarter revenue of $13.43 billion.  The company also forecast adjusted gross margin of 63% in the second quarter, plus or minus a couple of percentage points, and full-year adjusted gross margin of 65%, plus or minus a couple of percentage points.
The Santa Clara, Calif.-based company posted net income that slipped, compared with last year, to $2.74 billion, or 53 cents a share, compared with year-ago profit of $3.16 billion, or 56 cents a share. On an adjusted basis, earnings rose to 56 cents a share, even with last year's second-quarter adjusted earnings of 56 cents a share.
Revenue rose to $12.91 billion, up slightly from last year's second-quarter revenue of $12.85 billion.  Gross margin widened to 64%, up from 61.4% in the year-ago quarter.
Revenue fell slightly in all three of the company's business groups, the PC, Data Center and other Intel Architecture Group.
The results topped expectations, as the Street had predicted earnings of 50 cents a share on revenue of $12.84 billion, according to analysts polled by Thomson Reuters.
"The first quarter was a solid start to what's expected to be another growth year for Intel," said Paul Otellini, Intel's president and CEO, in a statement. "In the second quarter we'll see the first Intel-based smartphones in the market, ship products based on 22nm tri-gate technology in high volume, and accelerate the ramp of our best server product ever, providing a tremendous foundation for growth in 2012 and beyond."
Shares of Intel rose slightly in Tuesday's session, up 6 cents to finish the day at $28.47, before retreating 2% following the announcement of results after the bell.  Year-to-date, the stock is up 17.4%.