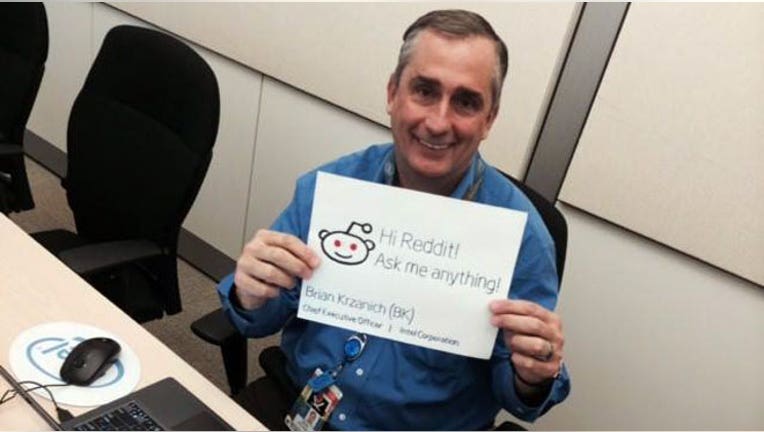 Underscoring the huge demand for talent in Silicon Valley, Intel (NASDAQ:INTC) CEO Brian Krzanich took to Reddit last week to encourage engineering students to stick with their programs no matter how challenging the curriculum.
The head of the world's biggest chip maker agreed to answer questions from Reddit users last Wednesday ranging from the color of his socks to his outlook on the 3-D printing industry.
The goal of the dialogue was to get students excited about the high-tech careers that drive innovation.
"I know how tough engineering school can really be, but it's worth it," Krzanich said on Reddit, promoting the company's engineering resource staywithit.org. "We need you, and we'll do what we can to support you along the way."
The dialogue comes as groups like DiscoverE and tech giants including Intel and TE Connectivity (NYSE:TEL) call for more homegrown engineers and scientists, an effort to loosen their reliance on foreign workers and fill a virtually insatiable appetite for top talent.
"We need more good engineers and scientists," TE Chief Technology Officer Rob Shaddock, who oversees some 7,000 engineers, told FOX Business.
In a resolution last week honoring National Engineers Week, U.S.  Rep. Dan Lipinski said that while only 4% of the nation's workforce is composed of scientists and engineers, the group "disproportionately creates" jobs for the other 96%.
We need you, and we'll do what we can to support you along the way.
"Throughout the history of our nation, engineers have always played a pivotal role," he said.
DiscoverE celebrated the week by unveiling 13 emerging engineers ranging from ages 25 to 30 that hold crucial roles in energy, technology, water processes, the environment and national security, and have an "inherent desire" to make the world a better place.
One of the winners, Kalyani Mallela, 29, said engineering is a foundation applicable to all industries and fields, enabling people to do anything from build chips and wearable tech devices to fix flood problems and innovate medicine.
"It's the 'why' and the 'curiosity' that make me a good engineer," she said.
Programs such as DiscoverE's Future City competition, which asks U.S. middle-school students to imagine, design and build cities of the future, have become crucial to these efforts.
"There's a whole bunch of kids that have creative ideas but might struggle initially with math and get left behind," Shaddock said. "We need to do more of stimulating kids' interests in how things work, how to solve problems in the world around them and build on that stimulus and curiosity."
Perhaps incoming Microsoft (NASDAQ:MSFT) chief Satya Nadella said it best in a recent memo to employees where he downplayed the importance of tradition and alleged the tech industry "only respects innovation."
"I think Satya said it well the other day," Krzanich said, adding that it is the responsibility of parents, teachers and lawmakers to "foster creativity" among America's youth.
"That is what's key," Krzanich said, to "try anything and not be afraid to fail."