Intel Beats the Street, Issues Upbeat 4Q View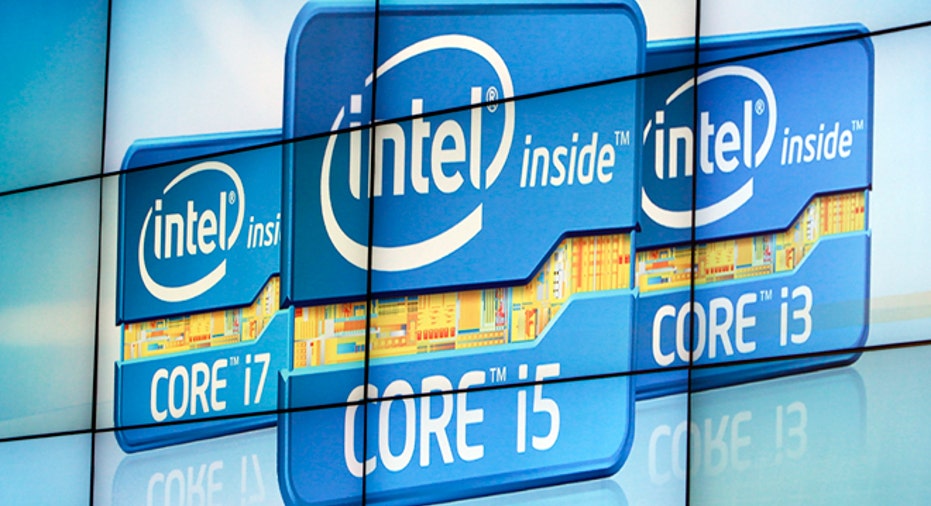 Overcoming the turbulent economic recovery, chip giant Intel (NASDAQ:INTC) revealed on Tuesday stronger-than-expected third-quarter earnings amid a 28% leap in revenue.
In addition to reporting record quarterly results, Santa Clara, Calif.-based Intel issued an optimistic outlook for the current quarter and unveiled plans to buy back an additional $10 billion of its own stock.
The news sent shares of the semiconductor company leaping about 4% in extended trading.
Intel said it earned $3.5 billion, or 65 cents a share, last quarter, up 34% from the year before. Excluding one-time items, it earned 69 cents a share, easily topping the Street's view of 61 cents.
Net revenue climbed 28% year-over-year and 9% over the prior quarter to $14.2 billion. Non-GAAP revenue jumped 29% to $14.3 billion, beating forecasts for $13.87 billion. Gross margins shrank to 63.4% from 66%.
"Intel delivered record-setting results again in Q3, surpassing $14 billion in revenue for the first time, driven largely by double-digit unit growth in notebook PCs," CEO Paul Otellini said in a statement. "We also saw continued strength in the data center fueled by the ongoing growth of mobile and cloud computing."
Intel's closely-watched guidance showed cautious optimism about the outlook going forward. The company said it expected fourth-quarter revenue of $14.2 billion to $15.2 billion. Even the conservative end of that range would basically meet consensus calls from analysts for revenue of $14.23 billion.
Gross margins are seen coming in at 65%, plus or minus "a couple" of percentage points.
At the same time, Intel said its board of directors has authorized an additional $10 billion to its share repurchase program, a sign the company believes its stock may be undervalued.
Intel's quarterly results were boosted by a 22% jump in revenue from its PC Client group to $9.4 billion. The company's data center business grew revenue by 15% to $2.5 billion, but its atom microprocessor and chipset revenue decreased 32% to $269 million.
Shares of Intel rallied on the upbeat news, gaining 3.97% to $24.33 in after-hours trading. The stock closed up 0.52% to $23.40 during regular trading, underperforming a 1.63% gain for the Nasdaq Composite.
Some other big tech stocks have also reported stronger-than-expected results, including Google (NASDAQ:GOOG) last week and Yahoo! (NASDAQ:YHOO) on Tuesday. However, IBM's (NYSE:IBM) stock retreated on Tuesday amid disappointment with its results.