Insuring Your Home Against Fire Damage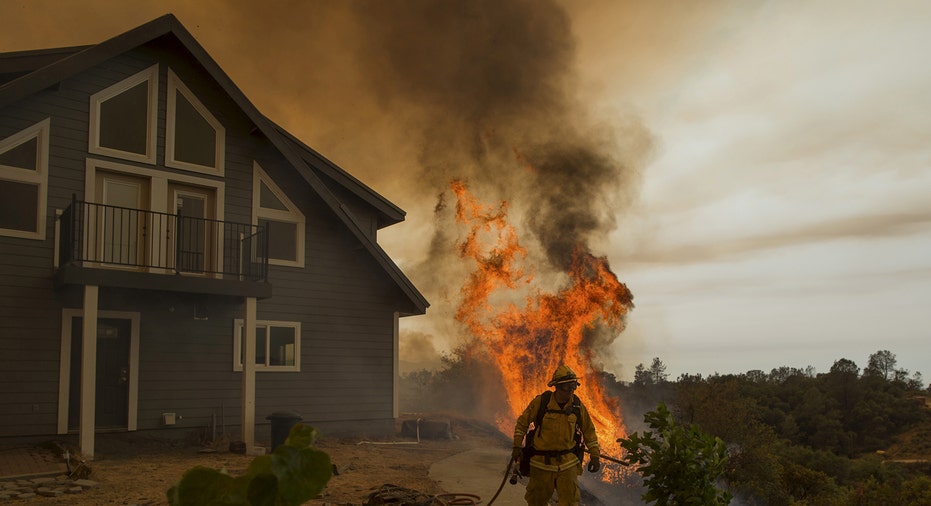 When it comes to threats to your home, there is little that's quite as damaging as a fire. In a matter of minutes, a small flame can spread out of control, destroying the structure of your home, as well as everything inside it.
Unfortunately, house fires aren't all that rare. In 2013, 387,000 residential fires occurred in the U.S., causing $7 billion in property damage, according to the National Fire Protection Association (NFPA).
The NFPA reports numerous causes for house fires, ranging from kitchen appliances being left on to lightning strikes. Since fires are not always preventable, it's vital that homeowners protect their property investments with the right insurance coverage.
Fire insurance coverage
Depending on what type of property insurance you have, you may already be covered for fire damage. However, it doesn't hurt to be sure.
Providers offer different coverage options, so you'll want to review the details of your policy to see what kind of protection you have. Here's why it's important: The average fire claim, according to the Insurance Information Institute, exceeds $37,150.
Here are two of the most common ways to insure your home against fires:
Standard home insurance
If you own a home, your mortgage lender likely required you to purchase a home insurance policy. If so, your home probably is protected from fire damage. Standard home insurance policies typically include coverage for a variety of perils such as fire.
A standard policy not only can protect the structure of your home but also the contents inside it – furniture, electronics and other personal possessions. Many policies also include loss of use coverage. This will kick in if your home is uninhabitable due to a covered claim, and can reimburse you for extra living expenses while the home is being rebuilt or repaired.
If you live in an apartment or rent a home, your landlord likely purchased coverage for the building itself. It's up to you, however, to protect your belongings. Fortunately, standard renters policies are relatively inexpensive and can provide coverage for your personal property in the event of a fire.
Dwelling fire coverage
Dwelling fire coverage is a bit different than the coverage in a standard home or renters insurance policy. The main difference is that dwelling fire coverage is generally less comprehensive. Like standard home insurance, dwelling fire coverage protects the building itself and other structures on the property, and offers loss of use coverage.
Unlike standard home insurance, however, dwelling fire coverage often doesn't include protection for your belongings, and offers no personal liability protection. Dwelling fire coverage generally is best used to protect a vacation home or vacant home.
How to file a claim
No matter how much insurance you have or how careful you are, fires can happen. If your home is damaged by fire, you'll need to file a claim.
First, take photos of the damage. Proper documentation can help the claims process go smoother. Then, you'll need to contact your insurer to actually file the claim. Make sure you do this promptly. Afterwards, your insurer will likely send a claims adjuster to your property to assess the damage and put together an estimate.
Next come the repairs. The whole process can take anywhere from weeks to months, and it's important to stay organized throughout. Keep all emails, invoices, estimates, and any other documents related to your fire damage claim.
To make the process smoother, it helps to have an up-to-date home inventory. A home inventory is a detailed list of all the items in your home. If yours ends up being a pile of ash, a home inventory can help you remember everything that needs to be replaced.
To prevent the list from being burned up with the rest of your home's contents, store an electronic copy somewhere. There are even home inventory apps that help you create and keep the list right on your smartphone.
Prevent fires before they start
Nobody wants to deal with fire damage to their home, which is why it's important to arm yourself with fire safety knowledge and outfit your home with fire safety equipment.
Smoke alarms, sprinkler systems and fire extinguishers can all prevent a small fire from turning disastrous. Some of these items can even help you save money on your home insurance premium. Many providers offer discounts to those who have smoke alarms and sprinkler systems in their homes.
In addition to installing fire safety equipment in your home, it's also important to teach your family about fire safety in general. From creating an evacuation plan to simply being aware of potential fire causes, check out the NFPA's fire safety information section for an arsenal of useful tips.
More from Zillow:Cut Home Insurance Costs, Not CoverageIs Forgoing Earthquake Insurance Worth the Gamble?Hurricane Insurance: What Homeowners and Renters Should Know
Note: The views and opinions expressed in this article are those of the author and do not necessarily reflect the opinion or position of Zillow.
HomeInsurance.com is an online resource for homeowners and drivers across the country. Offering comparative automobile and home insurance quotes, consumers rely on HomeInsurance.com for the most competitive rates from the top-rated insurance carriers in the country. The HomeInsurance.com blog provides fresh tips and advice on a range of financial topics to help homeowners and home buyers make educated decisions about their insurance purchases.