Insta-Pope the Pontiff is Coming to Instagram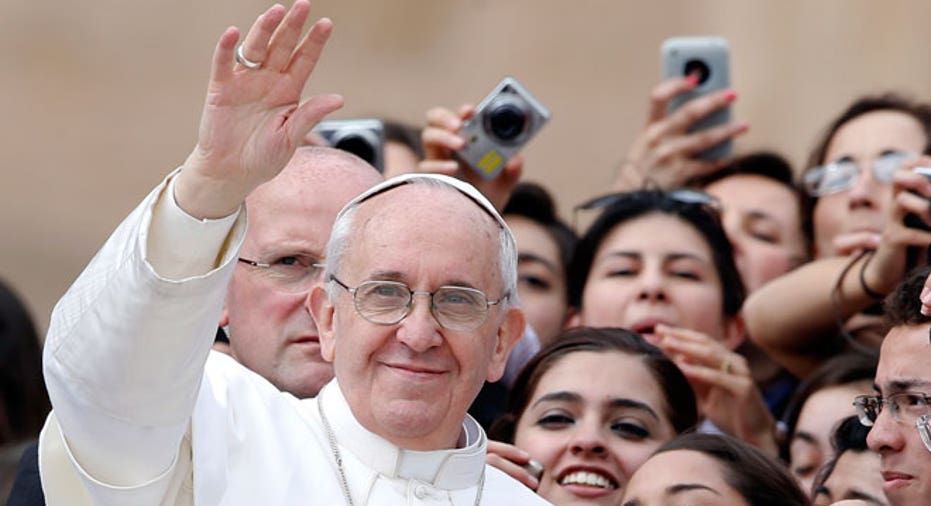 The Pontiff is expanding his social media reach. Starting this weekend Pope Francis officially joins Instagram according to Vatican officials.
The Pope will use the handle "Franciscus" on the Facebook-owned (NASDAQ:FB) photo-sharing network. Last month he met with Instagram CEO and founder Kevin Systrom. He posted a picture of the meeting with the pontiff on Instagram and wrote a message below: "Today I had the honor of meeting Pope Francis. We spoke about the power of images to unite people across different cultures and languages. It was by far one of the most memorable experiences of my life!"
The Vatican will control the Instagram account in similar fashion to the pope's Twitter (NYSE:TWTR) account, @Pontifex, which has nearly nine million followers. He joined Twitter back in March 2013, following in the footsteps on Pope Benedict XVI who was the first pope to join the micro-blogging site.
"Pope Francis doesn't actually tweet his own stuff but it's still an authentic experience for followers because he's actually approving every tweet that goes out, which I find fascinating," said Michael O'Loughlin, author of "The Tweetable Pope: A Spiritual Revolution in 140 Characters."
O'Loughlin said what makes social media a perfect tool for Pope Francis is his ability to get his message across in an effortless way.
"He can cut through all the noise with phrases that are memorable and stay with you like 'who am I to judge' when asked about gay people in the church. The phrases really translate well to Twitter when you are limited to just 140 characters," O'Loughlin said.
Last October, O'Loughlin met Pope Francis and said he seemed "like a normal guy who just happens to be one of the most popular religious figures on Earth."
He said "normal" in this day and age means engaging in social media, and Instagram is the next logical step for the pope.
"He realizes that people really want a piece of him. He loves being around people, and they obviously love being around him, but as Pope that is really difficult to do because you are head of a church with a billion people. I think he has become convinced about the power of the social media community among Catholics and other people interested in his message," O'Loughlin said.
The Pontiff is known for connecting with the masses by posing for selfies and tweeting his inspirational messages. O'Loughlin said Instagram might be more of a challenge for him.
"Pope Francis isn't comfortable with this cult of personality that revolves around him so he is going to have to use images that point back towards the gospel and to the teachings of Jesus," O'Loughlin said.
He expects the pope will use the picture-sharing app to feature powerful images about deeper issues such as taking care of the poor, the environment and importance of people treating one another in a positive way.