Inside BodyArmor's Plan To Catch Gatorade In Sports Drink Market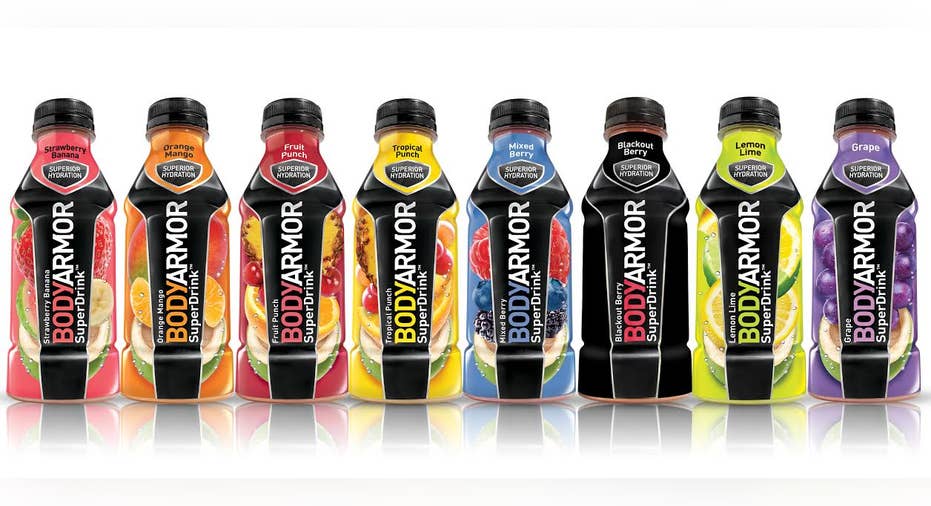 BodyArmor founder Mike Repole's plan to challenge Gatorade's supremacy in the U.S. sports drink market came together by chance about a decade ago, when the New York-based entrepreneur was still president of Vitaminwater.
Repole noticed that Vitaminwater and Smartwater, the "enhanced water" products he cofounded and sold in 2007 to Coca-Cola (NYSE:KO), were drawing business away from traditional sports drinks companies – brands that he hadn't initially considered direct competitors. Five years ago, that realization spurred him to found BodyArmor, a coconut-water infused sports drink that touts its nutritional content and lack of artificial colors or processed sugars.
Though still a bit player in a category dominated by Pepsico-owned (NYSE:PEP) Gatorade and Coca-Cola-owned Powerade, BodyArmor is growing. Repole says the company's sales are up 190% in 2016 and are projected to reach between $125 million and $150 million by year-end. This year, BodyArmor secured national distribution through the Dr. Pepper Snapple Group (NYSE:DPS), which upped its investment to become the company's second-largest shareholder. Repole is betting that increasingly fitness-minded consumers crave a healthier alternative to Gatorade and other traditional sports drinks.
"Sports drinks haven't evolved. Vitaminwater was not a sports drink, but people wanted to leave the artificial sports drink and go into something better for you, healthier," Repole told FOXBusiness.com. "When I decided to come back in, I think I saw an opportunity here, in a $10 billion category, with two players, basically."
But it's an understatement to say BodyArmor faces an uphill battle to catch Gatorade, whose vice-grip on the U.S. sports drink market is comparable to Nike Inc.'s (NYSE:NKE) dominance of the basketball sneaker category. Gatorade held an estimated 71.2% market share in 2015 through its eponymous brand and "G2" spinoff, with more than $3.5 billion in wholesale dollar sales, according to the Beverage Marketing Corporation. Its nearest competitor, the Coca-Cola-owned brand Powerade, controlled an estimated 18.5% of the market last year, with about $921 million in wholesale dollar sales.
No other sports drink brand was even close. Gatorade is still gaining market share, mostly at the expense of Powerade, according to Kevin Grundy, a senior vice president of equity research at Jefferies who specializes in the household products and beverages sector.
"They are very much the dominant player in the category," Grundy said. "It's, for all intents and purposes, kind of a duopoly within that category among Pepsi and Coke."
Private label companies, including BodyArmor, are not a "huge threat" in this category, Grundy added. Continued product innovation, such as the development of a tech-based "smart" bottle and athlete-driven marketing of its "Fierce" and "Frost" beverage lines, have spurred renewed interest in the Gatorade brand.
Small Firm, Big Endorsements
Repole is well aware of the disparity in resources. Without corporate cash flow on par with Gatorade, Repole has used equity-based deals to secure the likes of NBA legend Kobe Bryant, NFL star Andrew Luck and MLB slugger Mike Trout as investors. BodyArmor announced a similar deal this week with Dustin Johnson, marking its first foray into the golf industry, FOXBusiness.com reported.
A total of 12 active athletes have invested or partnered with BodyArmor. The recently retired Bryant is the brand's third-largest shareholder.
"That's one advantage of being a small, growing company – we're able to do creative deals that are not just about dollars, but about taking an equity stake," Repole said. "Many of these athletes have invested a lot more money in BodyArmor than they've ever been given. They're part of the team."
BodyArmor is also relying on its unique formula to shake Gatorade's grip on consumers. The brand's first national marketing campaign, which launched earlier this year and continues through the summer, juxtaposes BodyArmor's all-natural content with that of its "artificial" competitors.
"We don't have a $500 million marketing budget to tell our story. If we're going to compete in the dollars game with Coke and Pepsi, we're going to lose every time," Repole said. "For us, it's about educating our consumers, educating moms, educating purchases. At the end of the day, it's going to be up to the consumer to make the choice. I think prior to BodyArmor, they didn't have a choice."
Despite its recent strides, BodyArmor is a still a fledgling brand, competing with several other private-label sports drink companies for discernible market share. Jack Russo, a senior analyst at Edward Jones, said he doesn't currently "see any other brand as a challenger" to Gatorade's sports drink dominance, adding that he has "no idea who BodyArmor is."
But Repole is adamant that the competition is just getting started.
"We're creating this premium sports drink category that never existed. It's about connecting with retailers and connecting with consumers. Gatorade, they're an iconic brand. They're been around since 1965. I have to applaud them. But how many brand in their current stage are the same brand that they were 50 years ago?" Repole said. "There's been no evolution in the sports drink category."
"We're a direct competitor right now," he added. "We're a direct competitor today."