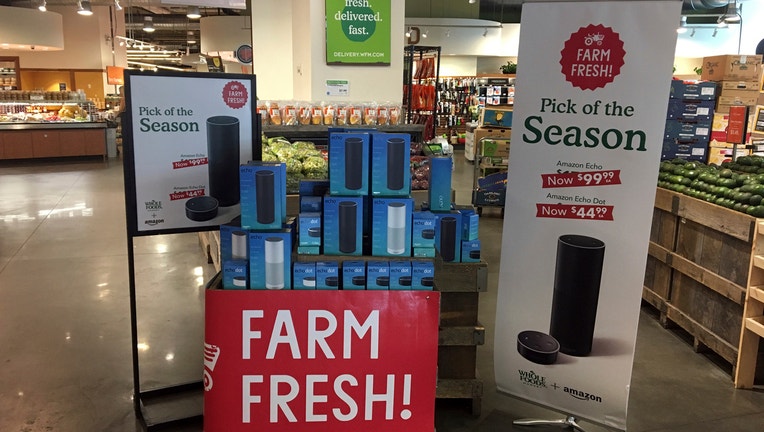 It's been a record-setting year for e-commerce giant Amazon (NASDAQ:AMZN) when it comes to M&A deals.
The online retailer has morphed itself into various new sectors this year with big acquisitions and partnerships including organic grocer Whole Foods, cancer-detection startup Grail, and mobile phone company Essential Products Inc.
According to Dealogic, Amazon completed 12 M&A deals since the start of 2017 with two pending, up from 11 in 2016 with many analysts saying even more are expected in 2018.
Here's a look at all deals Amazon made in 2017.
Harvest.ai Date completed: January 10, 2017 Cost: $20 million Amazon Web Services acquired San Diego-based harvest.ai, a data security firm that enables organization to identity and stop data breaches, insider threats and stolen credentials.
Grail Inc. Date completed: March 1, 2017 Cost: Stake in $900 million Series B round Amazon teamed up with major drugmakers including Johnson &Johnson Innovation to raise over $900 million for cancer-testing startup, Grail Inc.
ReDo Inc. Date completed: March 8, 2017 Cost: Unknown Amazon Web Services acquired ReDo, Inc. (Do.com), a provider of an enterprise collaboration platform to help people run meetings. Do.com was backed by Salesforce.com (NYSE:CRM), Inc., Sherpa Ventures and Mark Pincus.
Souq.com Date completed: March 28, 2017 Cost: $580 million Amazon acquired Arab e-commerce firm Souq.com for $580 million in cash. The deal helped the company gain footing in the Middle East's growing e-commerce space. Souq.com has over 45 million visitors per month and a range of 8.4 million products across 31 categories.
Essential Products Inc. Date completed: June 8, 2017 Cost: Stake in $300 million funding round Amazon and Chinese investment holding company Tencent invested in smartphone maker Essential Products in a $300 million funding round and signed up to sell its first smartphone device.
Whole Foods Market Inc. Date completed June 16, 2017 Cost: $13.7 billion In its biggest deal of the year, Amazon announced it will acquire Whole Foods Market Inc. for $13.7 billion. The deal now puts the online retailer into hundreds of physical stores across the country.
Graphiq Inc. Date completed: July 20, 2017 Cost: Unknown Amazon acquired Santa Barbara data analysis and search engine startup Graphiq to help improve its Alexa virtual assistant and other services.
GameSparks Technologies Ltd. Date completed: July 28, 2017 Cost: $10 million Amazon and its enterprise could division Amazon Web Services acquired GameSparks, a cloud-based development platform for game developers to help it build out its gaming muscle.
ClipMine Inc.Date completed: August 18, 2017 Cost: Unknown Through Amazon's video game platform Twitch, the company acquired Palo Alto-based video indexing platform, ClipMine, which analyses visual information in videos to generate metadata to help users easily locate streams they want to watch.
Shopper Stop Ltd Date announced: September 23, 2017, deal pending Cost $27.6 million Amazon.com NV Investment Holdings LLC, an affiliate of Amazon announced it has agreed to buy a $27.6 million stake in Indian retailer Shoppers Stop Ltd. The deal is still pending approval.
CloudRanger Date completed: September 27, 2017 Cost: $1.1 million CloudRanger, the simple backup solution for Amazon Web Services (AWS), announced it has completed a $1.1 million seed round, with investments from Enterprise Ireland and several private investors in both the United States and Ireland.
Amazon.com Inc (AWS cloud computing business) Date announced: Nov. 13, 2017, still pending Cost: $301 million Amazon announced it has sold parts of its cloud business in China to its local partner, Beijing Sinnet Technology Co. Sinnet said in a regulatory filing that the purchase, which is still pending, would help it "comply with China's laws to further improve the company's AWS cloud services" in terms of quality and security.