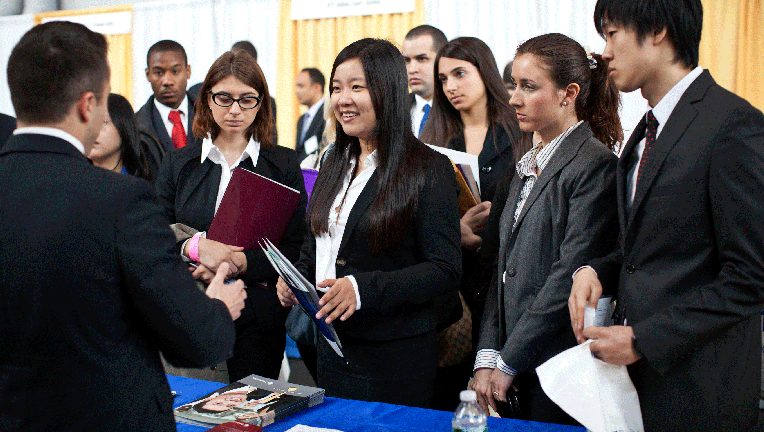 Compete America, a lobbying group that counts Microsoft, Intel and Google among its members, launched an online clock Wednesday that keeps count of its estimate of jobs lost due to immigration policy.
The Washington, D.C. lobbying group says restrictions on H-1B skilled visas translate into U.S. job losses—between the immigrants who aren't permitted to the U.S. to fill open jobs, plus the potential resulting jobs.
Compete America Executive Director Scott Corley says the clock counts from a "start date" of April 1, 2013. April 1 is the day U.S. Customs begins to accept H-1B visa applications for the coming year. Inspired by the U.S. national debt clock, Corley says the Compete America clock is updated every 43 seconds to indicate that another job has been lost.
Corley and Dartmouth Tuck School of Business economist Dr. Matthew Slaughter, who designed the "job loss clock," estimates that the U.S. loses out on approximately 500,000 jobs each year because of the cap on H-1B visas. Currently, only 85,000 H-1B visas are approved each year. From there, Dr. Slaughter says he uses a multiplier of four, which represents the number of jobs that he predicts would be created to support each H-1B worker.
"This is based on existing research … H-1B jobs tend to create a multiplier, both for the companies that hire these workers and for the suppliers in the supply chain," says Dr. Slaughter.
But Federation for American Immigration Reform Media Director Ira Mehlman says it's not the government's role to be a personnel service for companies.
"There are a lot of qualified engineers with STEM degrees in this company who are available for those jobs. They're just not the foreign workers that these companies prefer," says Mehlman.
He says these companies who say they're unable to fill their open spots with domestic workers just aren't trying hard enough.
"If somebody doesn't meet 100% of the requirements, but they meet 95%, it should be the obligation of the employer to work on the other 5%," says Mehlman.
Corley says the theatrical element was strategic, as the group is looking for attention on the growing debate.
"We decided to see if we couldn't put a little drama behind this number of jobs that are not being created in the U.S.," says Corley.
At the time of publication, Compete America's math finds that over 484,000 jobs have been lost due to the H-1B visa cap.