Images of suspect in 1992 Massachusetts slaying released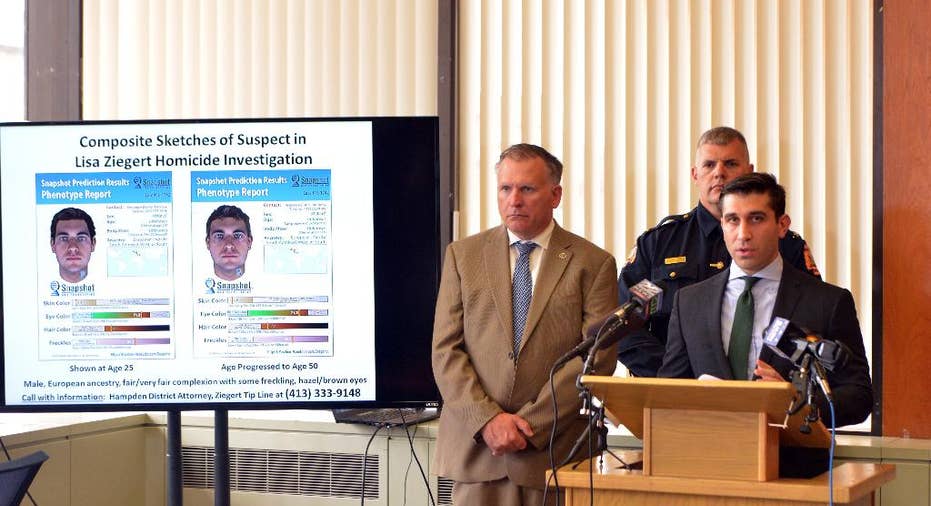 A prosecutor on Wednesday released composite images of a suspect in the unsolved slaying of a middle school aide nearly a quarter century ago, a rendering that uses genetics to predict someone's appearance.
The technology to produce such images were not available in 1992 when the body of Lisa Ziegert, of Agawam, was found just days after she disappeared from her night job at a card and gift store, Hampden District Attorney Anthony Gulluni said. She had been raped and stabbed.
"For the first time in 24 years in this investigation, we have a face to this crime," he said.
The process, called DNA phenotyping and pioneered by Reston, Virginia-based Parabon NanoLabs, uses genetic material to predict the physical appearance and ancestry of an unknown individual. It cannot account for nongenetic factors in appearance, such as hair style or scars.
One image released Wednesday depicts a white male with fair to very fair complexion, with some freckling, brown or black hair, and hazel or brown eyes, at about age 25. The other image depicts the same man aged 25 years. The man is a mix of northern and southern European ancestry.
Ziegert, a 24-year-old teacher's aide at Agawam Middle School, was working the night shift alone at the store when she disappeared April 15, 1992. The clerk who arrived at work the next morning found the store open, the lights on and Ziegert's car still in the parking lot. Her purse, her other personal belongings and the store's cash register appeared undisturbed.
Her body was found in a wooded area four miles away four days later.
Investigators have chased down thousands of leads and looked at hundreds of possible suspects without success, Gulluni said. The DNA sample they have does not match anyone in available databases.
"No expense, effort, or means has been or will be spared to bring the persons to justice who killed Lisa," Gulluni said. He asked anyone who recognizes the images to contact local or state police.
DNA phenotyping has been used in other jurisdictions, but Ziegert's case represents the first time the process has been used in Massachusetts, Gulluni said.