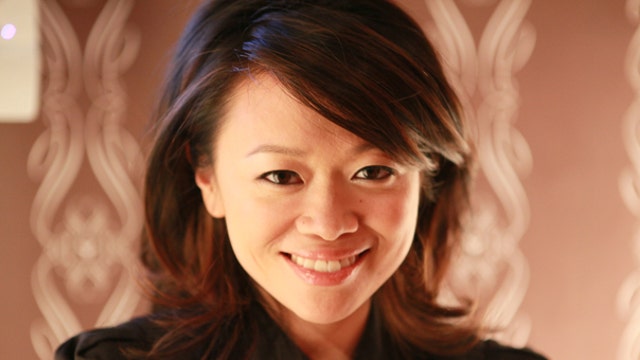 When you're mid-career and you feel like there's something missing from the workforce, the easy choice is to sit by hoping, willing someone else to come up with a great idea to fill the need.
Claudia Chan made the hard choice.
Frustrated that the U.S. was stuck in a rut when it came to hiring women in top corporate positions, she ditched a job and a company she'd invested nine years of her life developing and focused on a way to raise awareness to fix the problem.
"I want to be in a world in two years where girls aren't obsessed with the Kardashians, but want to be like XYZ CEO, or business owner, engineer, or the next Mark Zuckerberg."
Chan launched SHE Global Media and her namesake website ClaudiaChan.com: Resources aimed at changing the way women fit into the global workforce – and how they view their places in it.
S.H.E. Wants More Than Fashion Tips
Chan was destined to be an entrepreneur. Growing up she watched her parents run a successful restaurant business. Her mother's favorite mantra, which eventually became motivation to Claudia, was "to own your independence, you have to own your business."
That sentiment has become deeply rooted in Chan's life. When she set out to define her own career the fact that she was a woman never factored into her decision-making process. She never put limits on where she thought she could take her talents and passion.
Watching her mother run the family business with her father, Chan grew up unaware of workplace gender inequality.
"My parents were so equal in terms of what they did in leading the family," she said. "And I think that I just had this hard-core drive, this entrepreneurial instinct that was engrained in me from such a young age that I knew I wanted to have my own business."
What she didn't know was that she wanted to do something that would upend the way females – and males – thought about work environments, and that she would be perfectly situated to do so given her unique background.
Chan attended an all-girls high school, and after that all-women Smith College. After graduation, she went to work for publishing house W.W. Norton & Company right as the dotcom boom was gaining momentum in 1997. There, she gained a solid base knowledge of media and its growing role in business and everyday life. She realized she could leverage the new medium to connect with other women like herself, and decided to branch out and try something new.
"I noticed there was huge opportunity to convene influencers in tech and other industries, so I started creating networking events," she said. That's when she met the founder of Shecky's, a nightlife, media entertainment company.
Chan stayed with Shecky's for nine years before realizing there was a need in corporate America for more focus on career-driven women and for creating platforms for them to come together to brainstorm ways to become even more integrated in high-level positions.
That's when she made the difficult decision to leave Shecky's and launch SHE Global Media to encourage female empowerment. Having grown up in a female-dominated world, she felt she could lend a hand.
"That was the 2000-era, and that culture was so different. There weren't a lot of experts on female leadership and empowerment. It was more about the latest fashion trends for the season, health tips, and interior design," she said. "That's when the feminist in me woke back up and I studied it and got deeply immersed and became fascinated by the changing culture."
According to the Labor Department's most recent data, 27.6% of CEOs are women. Chan hopes to significantly move the needle on that statistic.
Nudging a Worldwide Culture Change
She started by interviewing 200 female leaders on-camera to put their personal stories of triumph and challenge online for other women to see and be inspired by …but more importantly, relate to and learn from.
"I believed this was the first business where I would lead with a mission and impact first, then try to monetize it," Chan said. "I cared about the impact first."
She launched SHE Global Media in 2012 and then held the first SHE Summit that year. It's become an instant hit, attracting highly successful and powerful women including former Bank of America (NYSE:BAC) global wealth and investment management division president Sallie Krawcheck, U.S. Ambassador to the UN Samantha Power, award-winning actress Marlo Thomas, and Maureen Sullivan, president of AOL.com.
Chan compares her SHE Summit to the likes of the media and tech mega-event South by Southwest – except with a focus and emphasis on women.
"A lot of those conferences are convening the world's thought leaders to come up with changes to problems, and that's invaluable. That's what we're doing with women at SHE Summit," Chan said.
Though it's become a smash hit with conferences convening across the United States, there have been challenges in getting Chan's vision off the ground. It's not easy gathering powerful women – and their supporters – into one place at one time.
"When you're starting anything really big and bold that no one's done, there's endless challenges," Chan said. "The first thing is just getting people to understand what your objective is, and you need to be extremely clear and persistent in communication. It takes constant, relentless believing in what you do."
She cited Steve Jobs' now famous Apple (NASDAQ:AAPL) iPhone. In the beginning, people questioned why they needed an all-in-one device. But with the right communication and finesse, it became a must-have device and set the standard for every smartphone that came after it.
"I did things that legitimized who we are and by the time it came to asking (powerful women) to be a  part of the movement, we showed them what we could do and had done, rather than telling them," Chan emphasized.
Another challenge for Chan was to stop comparing herself and her new business to other startups and established firms, and to have clarity of why hers existed.
"Don't fall into the hype of thinking like everyone else or comparing yourself. You're running your own race. You have a specific mission," she said.
Chan said this is an "unprecedented" time for driving women's empowerment and equality, emphasized by the push for more girls to move toward careers in science, technology, math and science. And that's the essence of Chan's initiative: To bring all of these movements together in one place where women can freely discuss what works, what doesn't, and how to advance the movement.
"I want to be in a world in two years where girls aren't obsessed with the Kardashians, but want to be like XYZ CEO, or business owner, engineer, or the next Mark Zuckerberg," she said. "I want us to not place value and worth on physical attractiveness, but more of who you are on the inside. I'm building a business around that space of empowerment, and it's really uncommon, but that's innovation."