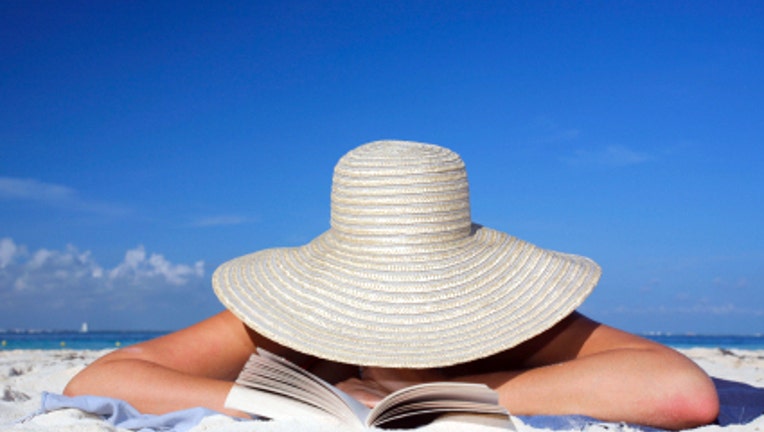 Welcome to On Sale at FOX Business, where we look at cool deals and insane bargains.
This startup has a way to keep the rain from ruining your day without taking up too much room in your bag. Spend your end-of-summer vacation at a great hotel on the cheap with American Express. Shop Butter London for oldies but goodies. And get spring and summer looks for less before they're gone at Zara.
Rain, Rain Go Away
As the weather turns from summer to fall, you'll want to check out this fashionable accessory  for rainy days.
Rainraps are wraps made of a light, breathable fabric that is water resistant and are reversible. The rain gear comes in a variety of colors and some come with hoods while others are longer in length. They range in price from $18 for the Original to $70 for the Spiritrap. Each Rainrap has a travel pouch that fits conveniently in a purse.
Shipping is free in the US. Visit Rainraps.com to see the whole collection.
Summer Travel
Calling all American Express (NYSE:AXP) cardholders: The summer hotel sale is heating up. Get great deals on luxury accommodations in New York, Washington, D.C., plus select destinations on the West Coast and Las Vegas, Mexico, Canada and Europe.
You can score savings of up to 50% off when you book by Aug.31 for trips before Sept. 30. Visit amextravel.com for more information.
Butter Sale
Butter London is making room for new nail and lip colors. The company is having a sale on select nail lacquers and Lippys ranging in price from $10 to $12. (Nail colors are normally $15 each and $20 for Lippys.) They've got some serious goodies, so make sure you get them before they're gone.
Beach Reads
It's not too late to stock up on summer reading – and with a paperback, you don't have to worry about getting sand on your Kindle (NASDAQ:AMZN) or sunscreen on your iPad (NASDAQ:AAPL).
Book seller Barnes and Noble (NYSE:BKS) is offering a buy two, get a third one free sale on select titles. The sale includes hundreds of paperbacks, including The Road by Cormac McCarthy, Wild by Cheryl Strayed, and Cat's Cradle by Kurt Vonnegut, to name a few. The sale is on now through Aug 22.
Zara Clearance
International clothing retailer Zara slashed prices again on its spring and summer collections. Now you can get discounts of up to 80% off in stores and online.
The selection is limited so start shopping now at Zara.com.