ICE Inks $8.2B Deal to Acquire Big Board Parent NYSE Euronext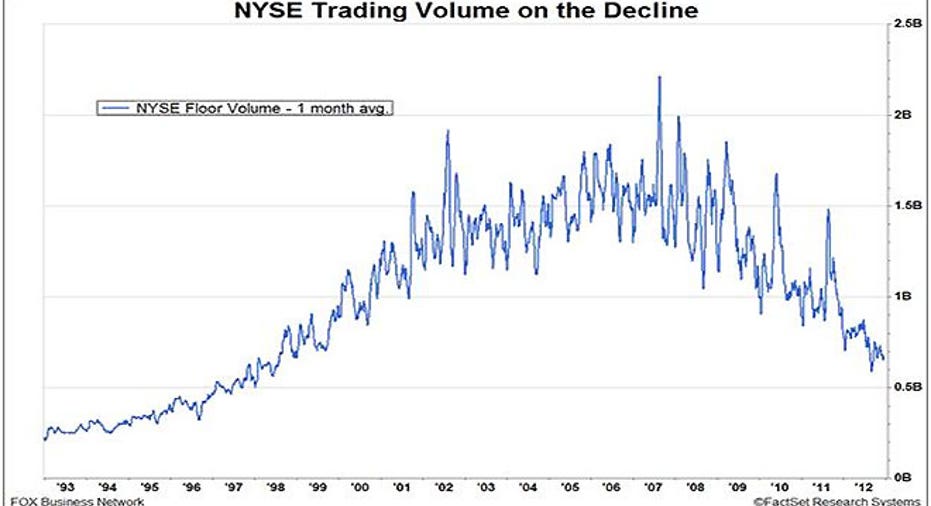 In the latest attempt to consolidate the exchange industry, Intercontinental Exchange (NYSE:ICE) unveiled an $8.2 billion cash-and-stock deal on Thursday to land NYSE Euronext (NYSE:NYX), the parent of the iconic New York Stock Exchange.
If blessed by skeptical regulators, the transaction would end more than 200 years of independence for the Big Board, which has been struck by tumbling trading volumes industry wide and a shift to so-called dark pools.
The tie-up values NYSE Euronext at $33.12 a share, representing a 37.7% premium over the exchange operator's closing price on Wednesday. Shareholders have the option to receive either that amount in cash, 0.2581 of ICE shares for each of their own or a mix of cash and stock.
With a limit of $2.7 billion of cash, the deal is weighted 67% equity and 33% cash, continuing a rising pattern of acquiring companies favoring stock deals.
While NYSE has one of the premier brands in the global financial system, Atlanta-based ICE is a lesser known player in the industry focused on futures trading and with a significant foothold in London.
Led by CEO Jeffrey Sprecher, ICE teamed up with Nasdaq OMX Group (NASDAQ:NDAQ) to make a joint bid for NYSE Euronext for about $11 billion in April 2011, but that deal crumbled under regulatory pressure.
NYSE instead stuck with a friendly deal to combine with Germany's Deutsche Borse, before that deal was ultimately scrapped by regulators due to antitrust concerns as well.
ICE said it expects its new deal to close in the second half of 2013, but noted it is subject to both shareholder and regulatory approval in the U.S. and Europe.
The Securities and Exchange Commission, which must sign off on the deal, declined to specifically comment on the news.
However, an SEC spokesman said: "As a general matter, the Commission's reviews of exchange mergers have focused on whether the combined entity's rules and governance structure promote regulatory compliance and effective SEC oversight."
The Department of Justice declined to comment on the NYSE-ICE deal.
NYSE shareholders applauded the announcement. NYSE's stock soared as high as $33.38 -- surpassing the $33.12 offer price -- but was trading more recently at $31.73, up 31.89% on the day. ICE initially rallied on the news before retreating, dropping 3.30% to $124.08 in recent action.
"Our transaction is responsive to the evolution of market infrastructure today and offers a range of growth opportunities, while enhancing competition in U.S. and European markets and broadening our ability to address new markets and offer innovative products and services on a global platform, Sprecher said in a statement.
While the low-profile Sprecher will stay on as chairman and CEO of the combined company, Wall Street power player and NYSE CEO Duncan Niederauer will take the lesser position of president and CEO of NYSE Group.
This transaction leverages the strength of our iconic brand and the value we have created in our global equity and derivatives franchises -- positioning the business for solid long-term growth and development," Niederauer said. "We are bringing together two highly complementary businesses, creating an end-to-end multi-asset portfolio that will be strongly positioned to serve a global client base and capture current and future growth opportunities."
The combined company will have huge influence in the financial markets, with 14 total exchanges and 5 clearinghouses.
If approved by regulators, the ICE/NYSE tie-up could raise pressure on other exchange operators to consolidate, including the Nasdaq Stock Market and Chicago-based CME Group (NYSE:CME).
The exchanges expect the tie-up will generate expense synergies of about $450 million in the second full year after closing. The deal is also forecasted to boost earnings by at least 15% in the first full year.
ICE said it is committed to preserving the NYSE Euronext brand, saying it plans to maintain the NYSE building, which is a symbol of American capitalism. ICE plans to keep dual headquarters in New York and Atlanta as well as open a new midtown Manhattan office in June 2013.
The companies said four members of the NYSE board will be added to ICE's, which will grow to 15 members.
ICE's team of bankers was led by Morgan Stanley (NYSE:MS), while NYSE was advised by Perella Weinberg Partners and BNP Paribas.
FOX Business reporter Peter Barnes contributed to this report.