Ice hockey: U.S. women claim gold to end Canada's reign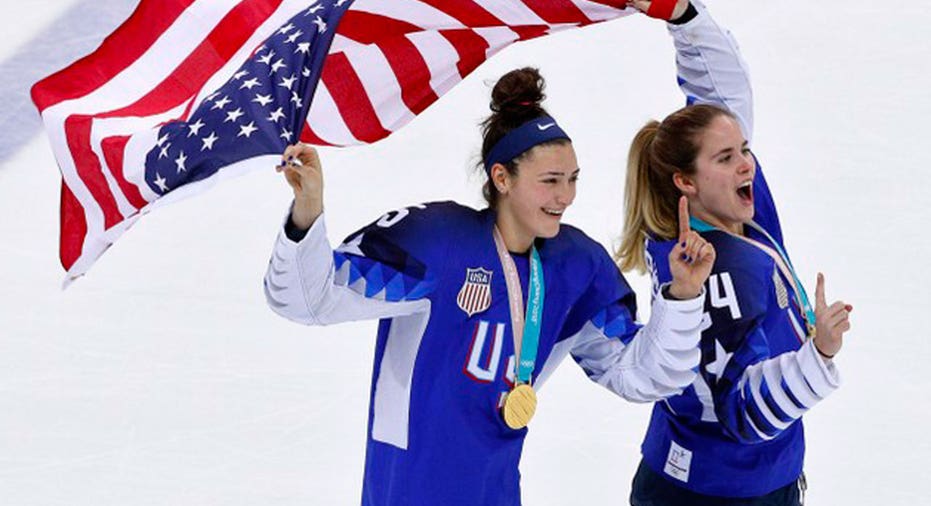 She's practiced the 'Oops, I did it again' thousands of times in training, and on Thursday her signature trick was worth its weight in Olympic gold as American Jocelyne Lamoureux-Davidson's shootout winner broke a Canadian 16-year stranglehold on the women's ice hockey title.
It was the perfect jaw-dropping finale to a game that was billed as a grudge match but swiftly developed into a classic for the ages at the Pyeongchang Winter Games.
At the same time as dashing Canada's dreams of a fifth straight gold, Lamoureux-Davidson's moment of magic secured the U.S. its first title since 1998 and avenged a heart-breaking and similarly dramatic loss last time out in Sochi.
The two titans of the ice are the only countries to have won gold in women's ice hockey since it made its Olympic debut 20 years ago in Nagano.
After a see-saw clash in regulation, the sides entered overtime locked at 2-2 but could not be separated.
It was just as tight in the shootout up until sudden-death when U.S. coach Robb Stauber tapped Lamoureux-Davidson to take the next U.S. shot.
She weaved in on twice gold medal winner Shannon Szabados, moved to her left with a backhand that drew the Canadian goaltender toward her and then pulled the puck to her forehand and slid it in behind her.
"I've done that thousands of times around tires just set out on open ice," Lamoureux-Davidson said. "It's called 'Oops, I did it again' and I'm just thrilled beyond words.
"I've butchered it a thousand times, ran into tires, tripped over tires just working on my hands. Just glad it worked out this time," the 28-year-old said.
With the medal now on the line, the Canadians sent veteran Meghan Agosta out for a second shot, having notched her first attempt moments earlier.
The 31-year-old's plan had been to set up American goaltender Maddie Rooney with a move that would allow her to score through her legs, but Rooney didn't bite, her save sealing a magnificent win for the Americans.
Within seconds she was at the bottom of a pile of blue-jerseys as her screaming and delirious American team mates celebrated their victory.
"Before she (Agosta) came down, I just looked over at the bench and saw my team mates like pointing at me, just one more and to have their support made it a whole lot easier," Rooney said. "I just reacted to her and everything kind of went into a blur."
As exhilarating and redeeming a victory it was for the Americans, it was devastating for four-time gold medal winners Canada. In Sochi four years ago, it was they who spoiled the Americans' late lead and snatched the win in overtime.
"I don't think we had any regrets, but this medal really hurt," said Canadian forward Melodie Daoust, pointing at the silver medal hanging around her neck as she spoke to reporters.
"And we're going to have to move forward from now, but it's painful."
(Reporting by Dan Burns; Editing by John O'Brien/Amlan Chakraborty)