IBM Watson Helps Shoppers Avoid Impulse Black-Friday Buys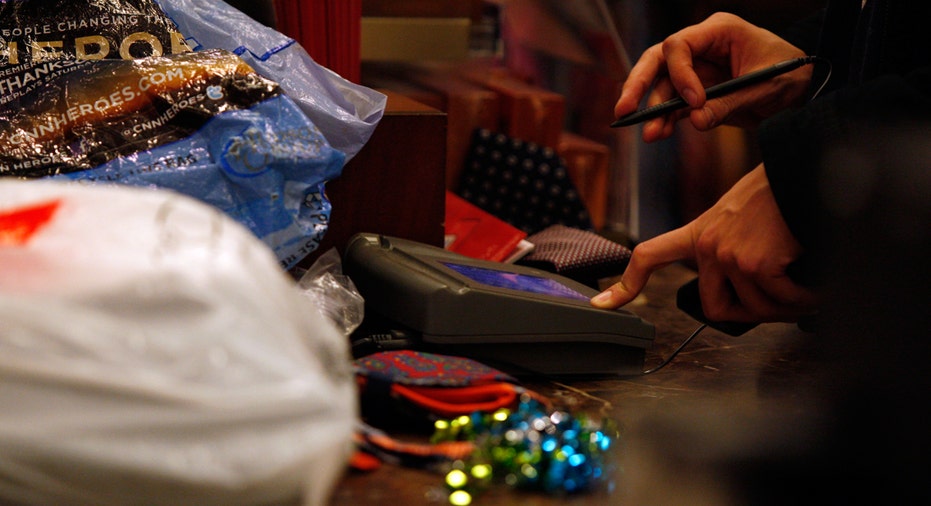 We've all been there: Standing in a ridiculously long line on Black Friday (or any other day from October to December, for that matter), for something we've planned to purchase. But after 20 long minutes in line and 15 people still in front of you, when the boredom sets in, your eyes start wandering. You innocently pick up a trinket here and there from the shelves lining the checkout line. By the time you get to the register, you've added $50 in extra items you didn't plan to buy.
Now you have one item on your gift list checked off, five things you didn't need, and three people for whom you still have no idea what to buy.
Enough is enough.
IBM Watson is stepping in this holiday season to help shoppers avoid the pitfalls of impulse buying and unorganized shopping plans. A new app called Watson Trend highlights in-demand items to help organize gift giving, to hit everyone on the list.
The app scans a whopping 10,000 different data sources from Twitter (NYSE:TWTR) and Facebook (NASDAQ:FB) to blogs and message boards to identify the most-wanted items for the season. It takes the context of every conversation – positive or negative – into account, and then grades the item based on a 0-100 scale nightly to give users the most up-to-date information as possible.
Obvious big-ticket items have so far dominated the top of the must-have list since the app's release last week. Those include the Apple (NASDAQ:APPL) Watch, a slew of different TV offerings, Microsoft's (NASDAQ:MSFT) Surface Pro 4, and a range of different point-and-shoot cameras. But there are some surprises on the list, like Hasbro's (NASDAQ:HAS) Pie Face game, whose objective is like Russian Roulette, but with whipped cream, or "pie," that's thrown in a user's face at random.
"It's become black November. We're seeing retailers already shift from planned promotions to unplanned ones around soft goods, especially apparel."
Justin Norwood, IBM Commerce Consulting partner said what makes the Watson app unique compared to, for example, a gift guide from any retailer,  is its ability to constantly update consumers.
"In general, when people go buy gifts, they rely on gift guides. But those only provide a point-in-time snapshot of what a particular retailer tells you is hot. Watson, though, is always on, always listening to the up-to-the-moment updates," he explained.
That idea of putting more power in consumers' hands is likely to only help shoppers win against the weakening retail machine this holiday season.
Steve Barr, retail analyst at PricewaterhouseCoopers said this season is shaping up to be a "wonderful holiday" to be a shopper.
And making purchases is getting a whole lot easier for consumers – as apps like the Watson Trend become a more dominant focus for shoppers before they head out the door. A holiday shopping outlook survey, assembled by PwC, showed 77% of retailers expect a digital revenue increase of 16% compared to last year as 79% of shoppers plan to use a PC for online purchases and 12% plan to use a mobile device or tablet.
"We're seeing more people like to research at home and either order online, click and collect, or go to the store to complete the transaction. The consumer preference is to [prepare at home and then finalize the purchase] in store," Barr said.
To that point, PwC's research indicated that 61% of those surveyed plan to use traditional payment methods like cash or debit/credit cards rather than mobile-payment options. Further, 42% of consumers said they won't shop at a retailer that's experienced a security breach.
Consumers: Holiday's Clear Winners
It's a culmination of factors that have come together to put increased pressure on retailers in the fourth quarter. A stronger dollar makes shopping in the U.S. less attractive to foreign buyers, while warmer weather so far this winter has kept buyers at home and out of stores to buy coats, boots, and other winter gear. In addition, Barr said geopolitical events are also likely to impact global consumer sentiment.
He said there's been so far a "significant" decline in overall foot traffic at retailers across the nation, which has forced those companies to push out promotions earlier aimed at luring shoppers in. He believes this will be the most promotional holiday yet.
"It's no longer [just] about Black Friday. Instead, it's become black November. We're seeing retailers already shift from planned promotions to unplanned ones around soft goods, especially apparel, where they're offering significant discounts on in-season products, not just out of season, or back to school products from the summer," he explained.
Despite the increased number of discounts that prime consumers to benefit most, data from the Consumer Federation of America show 38% of Americans plan to reduce their overall spend this holiday. The data show 10% of shoppers plan to spend more as spending overall is forecasted to rise by 2.5% to 3% from last year's level.
The numbers don't necessarily fit into the overall economic picture for consumers, though. PwC's survey results show that while consumer confidence has been fairly strong over the last year and the labor-market picture has improved, wages have yet to break out of their nearly-unchanged level and that is likely to weigh on holiday sentiment. According to the survey 90% of retailers are concerned about the condition of the economy, while 64% of consumers say their salaries and disposable income is likely to put a damper on their holiday shopping plans.
The survey also showed that those families making less than $50,000 a year are the least optimistic about the overall economy.
"Further slowdown in China, additional stock-market volatility surrounding a potential interest-rate hike, and a weak employment report are just a few of the headline risks that could motivate shoppers to spend less this year," survey analysis indicated.