I Want to Be a Rockstar When I Grow Up — and So Does Everyone Else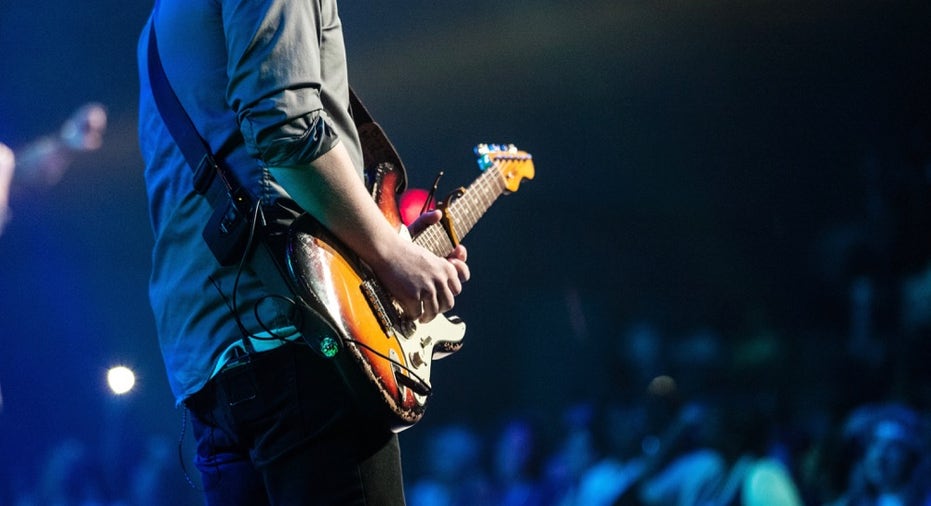 When I was a kid, I wanted to play baseball professionally. By high school, I realized I wasn't very good at baseball, so instead I wanted to be an actor, or possibly a pop singer. Or a police officer. Or a writer. Or an astronaut. Or join the Army. (I did eventually join the Army and later became a writer, but none of those other things worked out.)
Twenty percent of today's teens want one of 15 jobs that make up just 1 percent of the workforce (think art, design, entertainment, sports, and media), according to a study by C+R Research. The report also shows that only 7 percent of teens aspire to hold one of the 25 most common jobs in America, and only 3 percent aspire to hold one of the jobs most expected to grow.
Teenagers today aren't so different from that younger version of me in the '90s who couldn't put a finger on exactly what he wanted to do, but that doesn't mean there is no cause for concern, either.
"I think some of this echoes what we've always known, things fundamental to human experience, and some of it represents new, concerning trends," says Andy Kerns, content strategist at C+R Research. "So, there's no surprise a bunch of teens want to be musicians or athletes, and I don't think anyone expects our economy to suffer when many of those dreams don't manifest. At every company in America there's someone who wanted to be a rock star or baseball player but who found another career that suits them."
Kerns also isn't too too worried about the fact that common jobs don't seem to arouse much interest: "People may not aspire to be office clerks or retail salespeople, but those jobs reliably get filled."
What Kerns does see as concerning, though, is how few young people want to work in jobs expected to grow in the next decade.
"You could argue a quarter of that list is in some way tied to elderly care, and it's an unmistakable need we have," Kerns says. "I think teens are at least marginally aware of this, but our survey didn't show much interest. That's one of a few areas of concern when you compare these data sets."
Getting Teens Interested in Jobs of the Future
Many of the future jobs that will need today's teens to fill them lack a certain flair.
"If you look at those creative-class jobs so many teens are interested in, what's the common thread?" Kerns asks. "[It's] glamour. Musician, actor/actress, animator, author: These are glamorous jobs. They often come with a lot of money and notoriety, at least in the ways these jobs are traditionally conceived. On the other hand, there's very little glamour to be found on the list of America's most common jobs, which makes sense — that which is common can't be glamorous. And the jobs on the 'common' list are tough — they require physical toughness, mental toughness, and they rarely pay well."
With many inglorious careers needing new blood to stave off skills shortages, companies should be looking at ways to put themselves on the radars of high school students.
"In order to attract future workers, I think companies should be as genuine as possible about who they are and what their work is about," says Kerns. "Kids these days have great respect for authenticity. If you try to pretend your company is something it's not, they'll spot that a mile away. So companies should find that fundamental nugget in the work they do that is bright and attractive, and start there."
Kerns suggests having passionate employees collaborate with the communications teams "to bring real, authentic life to the way you position the company to the young, emerging workforce."
Teachers and educational institutions also play a role in shaping the future workforce by helping students discover their aptitudes and skills. For teachers, Kerns has the following advice: "Educators have an incredibly tough job of both supporting the dreams of young people and also taking a practical approach and steering them towards their truest strengths and opportunities."
"I think the best thing you can do is treat it like a Venn diagram," he continues. "Find the overlap and focus there. If someone has lofty, sparkling dreams, acknowledge that and salute it and don't knock it down, but at the same time, try to dig a little deeper and find out what exactly that person is after, what's the elemental attraction, and then look for all the other places and ways that can be found."
Companies that fear the future workforce may not be interested in their jobs could take steps now to get in front of the problem. Connect with local high schools. Participate in career fairs and offer summer internships to students to give them a real hands-on idea of what it is your business does day-to-day. In the meantime, also examine your corporate culture and make sure it doesn't contain elements that will keep Generation Z away.