Hurricane Matthew Weakens, But Still Packs a Punch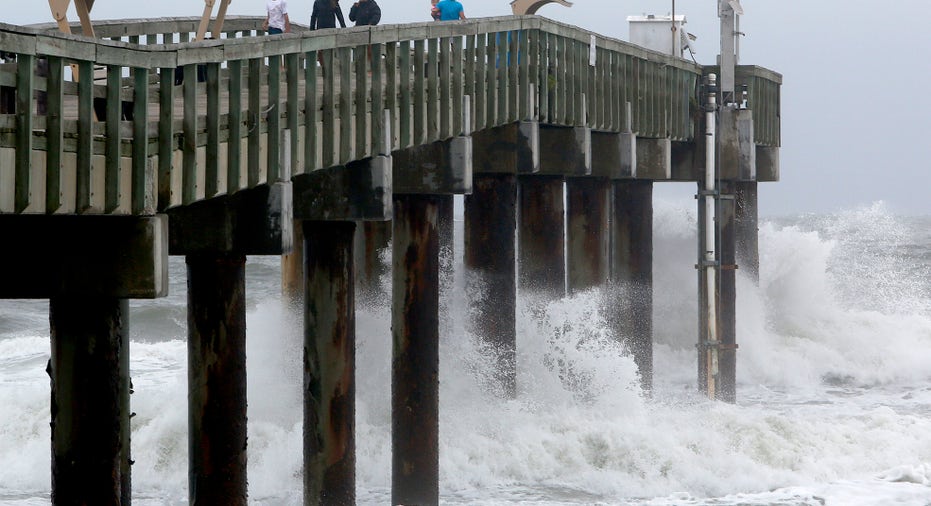 CHARLESTON, S.C./SAVANNAH, Ga., Oct 9 (Reuters) - Matthew was downgraded to a post-tropical cyclone on Sunday as it struck North Carolina and Virginia with a diminished yet still potent punch, causing flooding and widespread power outages along the U.S. Atlantic coast after killing hundreds in Haiti.
The most powerful Atlantic storm since 2007 unleashed torrential rains and powerful winds as it churned slowly north after pummeling the southeastern coast of the United States, killing at least 11 people in Florida, Georgia and North Carolina since Thursday and leaving more than two million businesses and homes without power.
Damage in the United States, however, was much less than in Haiti, where Matthew took nearly 900 lives. At least 13 people on the Caribbean island have also died from outbreaks of cholera since the storm, and around 61,500 people were in shelters, officials said.
Matthew continued to threaten coastal communities in North Carolina and Virginia, where flash flood warnings were in effect and gusts of 75 miles per hour (120 kph) were recorded.
"The wind is bending the trees to a 90 degree angle in my backyard, I've lost electrical power in my home and the rain is blowing sideways," Frank Gianinni, a 59-year-old occupational therapist, said in an email from his home in Wilmington, North Carolina.
Forecasters said widespread flooding was possible from heavy rain - 20 inches (50 cm) was expected to fall in some areas - along with storm surges and high tides.
"We are looking at very significant flooding. Almost every road in the city is impassable," Virginia Beach spokeswoman Erin Sutton told the Weather Channel from the city of almost 500,000 people between Chesapeake Bay and the Atlantic Ocean.
Media showed footage from across the region of motorists and passengers sitting and standing on vehicles stuck in rushing flood waters as crews used swift water boats to rescue the stranded. In Cumberland County, North Carolina alone, more than 500 people were rescued by crews, the Weather Channel reported.
At 5:00 a.m. EST (0900 GMT) on Sunday, the storm was about 50 miles (80 km) east of Cape Hatteras, North Carolina, the U.S. National Hurricane Center said in an advisory. The center of the storm was set to move south of the North Carolina coast early on Sunday and well east of the state later in the day as it weakens.
Matthew, which days ago briefly topped out as a ferocious Category 5 storm, made U.S. landfall on Saturday near McClellanville, South Carolina, a village 30 miles (48 km) north of Charleston that was devastated by a Category 4 hurricane in 1989.
The storm was blamed for at least 11 deaths in the United States - five in Florida, three in North Carolina and three in Georgia. More than 2 million households and businesses were without power, most in Florida and South Carolina.
The storm-stricken stretch of the Atlantic Coast from Miami to Charleston, a nearly 600-mile drive, encompasses some of the most well-known beaches, resorts and historical towns in the southeastern United States. Parts of Interstate 95, the main north-south thoroughfare on the East Coast, were closed due to flooding and fallen trees, state officials said.
Roads in Jackson Beach, Florida, were littered with debris, including chunks from an historic pier dislodged by the storm, and beachfront businesses suffered moderate damage.
Streets in downtown Charleston, known for its historic waterfront architecture, were flooded to the tops of tires on some parked cars.
The National Weather Service said record-high tides were recorded along the Savannah River at the South Carolina-Georgia border, peaking at 12.6 feet, surpassing those from Hurricane David in 1979.
(Additional reporting by Brendan O'Brien in Milwaukee, David Bailey in Minneapolis, Zachary Goelman in Orlando, Fla., David Shepardson in Washington, and Steve Gorman and Lisa Richwine in Los Angeles; Editing by Susan Fenton and John Stonestreet)