Hurricane Harvey: How much money could it cost Texas?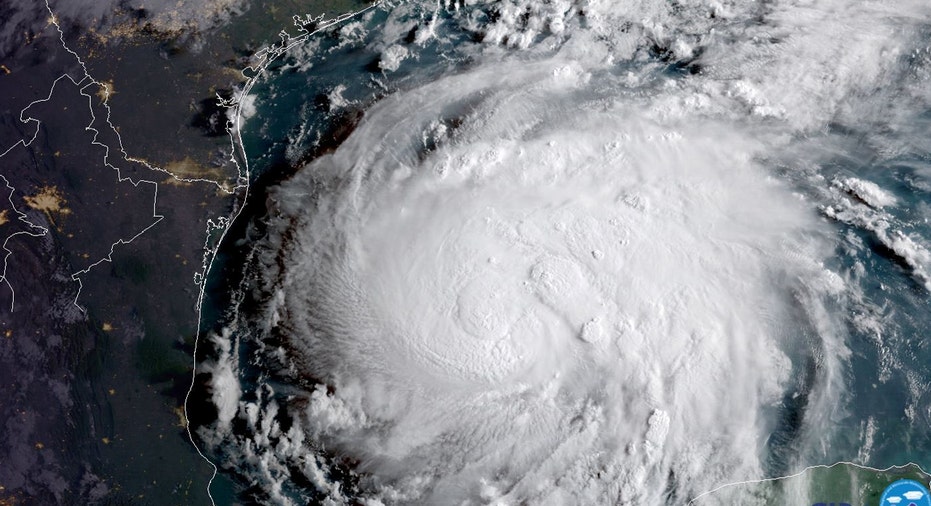 Hurricane Harvey is gaining strength as it heads for Texas, where it is expected to make landfall late Friday or early Saturday as a Category 3 storm, with winds of at least 111 mph.
Harvey will be the first in nearly a decade to hit the state and the worst since Hurricane Rita struck the region in September 2005, and may become the first major hurricane landfall, rated Category 3 or higher, to strike U.S. soil in 12 years. Wilma was the last in October 2005—the storm caused $29.3 billion in damage.
The National Hurricane Center predicts surges of 6- to-10-feet of water, possibly higher if the storm continues to strengthen. Rainfall forecasts are predicting 25 inches or more depending on how long Harvey stalls. Due to the serious dangers associated with the storm, the Federal Emergency Management Agency (FEMA) encourages residents of areas that could be impacted to heed warnings and prepare for "prolonged disruptions to normal services."
"FEMA stands ready to support state, local and tribal officials as they prepare for Hurricane Harvey," said Administrator Brock Long. "I encourage residents who will be affected to follow directions from their local officials."
The National Oceanic and Atmospheric Administration predicts the 2017 hurricane season will be "extremely active" compared to previous years. The 2016 Atlantic hurricane season caused more than 700 deaths and more than $16 billion in damage.
FOX Business takes a look at the human and economic impact of these deadly storms.
Hurricane Harvey: The Latest
The storm is currently centered more than 300 miles southeast of Corpus Christi and 325,000 people in the region are under hurricane watch. Another 12 million people are under a tropical storm warning, including the cities of San Antonio and Houston, according to Fox News.
U.S. Refineries, Oil Production at Risk:
The Gulf Region accounts for roughly 17% of total U.S. crude oil production. Valero (NYSE:VLO) is among the refineries monitoring the storm. As FOX Business reports, there are 30 or so refiners in the area. Oil production in the Gulf is shutting down, too. Royal Dutch Shell (RDSA), Exxon Mobil (XOM) and Anadarko Petroleum (APC) are evacuating workers from its offshore platforms.
Texas Hurricane History:
The last five hurricanes to hit Texas caused on average, $5.6 billion in damage. The last hurricane to make landfall in the state was Hurricane Ike in September 2008. The storm hit near Galveston as a Category 2 hurricane, causing 20 deaths and about $15 billion in damage. Hurricane Rita in 2005, was the last Category 3 storm to hit the state, resulting in seven deaths and an estimated $12 billion in damage. Fifteen hurricanes have made landfall in Texas since 1950.
Gov. Abbott Readies Rescue/Recovery Money:
Texas Gov. Greg Abbott has ordered the State Operations Center to elevate its readiness level, making state resources available for possible rescue and recovery actions. Texas has also preemptively declared a state of disaster for 30 counties on or near the coast to speed deployment of state resources to any areas affected.
Hurricane Season:
The five most intense U.S. hurricanes have all made landfall in a 17-day period between Aug. 17 and Sept. 2. Mid-August through mid-October is considered peak hurricane season, accounting for 78% of days when storms occur. Nearly all major hurricanes (96%)—categories 3, 4 and 5—have occurred between this period.